At the Kroc School of Peace Studies, we equip our students to address a wide range of challenges, spanning from armed conflict to human rights abuses to environmental injustices. The definition of peace and justice ranges depending on who you ask, but according to JD/MAPJ student Anya Janssen, creating systemic change is just one way to address the injustices seen in our world.
At Kroc School, students have the opportunity to pursue a interdisciplinary Juris Doctor (JD) and Master of Arts in Peace and Justice (MAPJ) Dual Degree, which is the #1 nationally ranked peace and justice program in the country. Continue reading to learn about current JD/MAPJ student, Anya Janssen, her experience with the University of San Diego Kroc School of Peace Studies, and her belief on how to establish peace and justice in the world.
Meet Anya Janssen, Current JD/MAPJ Student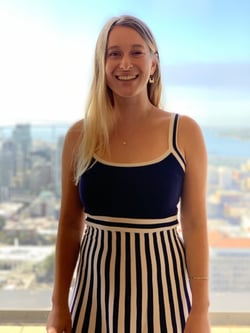 Anya Janssen is a current student in Kroc School enrolled in the JD/MAPJ Program. Anya ​​grew up in rural Wisconsin, surrounded by lakes and rivers. She moved to the north woods of Wisconsin to study Sociology and Social Justice at Northland College, an environmental liberal arts school located on the south shores of Lake Superior.
Anya credits her environmentally-based undergraduate curriculum and place-based learning experiences as where she really developed a passionate interest for environmental protection, as she learned about how to address local cultural impacts of climate change and environmental injustice.
Why Study Law and Peace and Justice at the Joan. B Kroc School of Peace?
Anya was already living in San Diego when she began her search for a graduate degree program. As soon as she found the JD/MAPJ dual-degree program, she knew it was the right path for her.
"It sounded like the perfect balance of justice-based learning, intentionally paired with a powerful legal education. It was, and still is, my hope that together the joint degrees would open new doors to institutions where I would be equipped for making systemic change," said Anya.
Equipping the Skills to Create Lifetime Achievements
Anya credits Kroc for providing a rich foundation for students to engage in high level academic discourse enriched by unique experiences outside the classroom. The project and achievement she is most proud of is her Master's Portfolio, which is a culmination of her best work produced during her time in the MAPJ program. Not only was it a valuable and memorable reflection on the evolution of Anya's personal growth and professional development, but the Kroc School recognized her achievement by presenting her with the Academic Excellence Award for the Best MAPJ Portfolio, something she is very proud of.
Anya was able to co-create and serve in a new position in the Peace and Justice Student Association (PJSA) as the Director of Sustainability (now titled Director of Equity and Sustainability). While she was serving as the first Director of Sustainability, Anya co-founded the Kroc Sustainability Committee, which was created to foster a culture of sustainability within the Kroc School and the USD community, and to encourage sustainable practices through policy, education, and collaboration.
With a specific goal to practice environmental law in Wisconsin, with an aim to protect the waters of the state and region, especially focusing on the Great Lakes, Anya believes the JD/MAPJ program will help her reach her goals.
"The MAPJ program augmented the JD program in significant ways that helped advance my career goals. At the Kroc School, I had time and space to evaluate elements of environmentalism, climate change, and environmental and climate justice on more abstract and theoretical levels. In the classes I took, and with the support of various faculty, I was able to deeply examine these topics and have consequently developed a comprehensive understanding of what environmental law can accomplish in a context of peace and justice," said Anya.
Anya was able to take the skills learned at Kroc and complete two notable law-related internships. She interned with a private environmental law firm that focused on California Environmental Quality Act (CEQA) litigation, building professional responsibility and client relation skills. Subsequently, she also worked for the California Governor's Office of Planning and Research (OPR), where she gained agency experience and completed various projects related to CEQA, tribal cultural resources, housing issues, and zoning ordinance implementation.
When discussing her achievement, Anya pays appreciation to Kroc School, saying, "I would like to express my heartfelt gratitude for all those who made this dual-degree program possible, and who continue to support those of us who pursue it. I know I would not have enjoyed law school or peace school as much separately as I did together. The purposeful coupling of the two programs offers students an unparalleled opportunity to use the power of law to realize peace and justice."
Where Can a JD/MAPJ in Law and Peace and Justice Take You?
Having a passion for creating peace and justice through the legal system can create many fruitful opportunities. JD/MAPJ graduates make a global impact through careers in the public and private sector, as well as intergovernmental organizations and nonprofits. Graduates pursue careers in immigration, human rights, advising global clientele, as lawyers who influence policy and as public interest lawyers who seek to tackle broad questions of social justice using both law and policy frameworks.
The list below offers a sampling of what roles our alumni have accepted.
United Nations Development Fund for Women
Department of Commerce
Catholic Relief Services
The Nature Conservancy
The World Bank
Let Your Passions Come Alive - Start Your Career in Law in Peace and Justice
Through a curriculum that emphasizes experiential learning through local and international field-based courses, applied peace-building within classes and an internship, students learn multiple approaches to law in peace and justice from world-class experts. If you share similar interests and passions as Anya, then please do what's needed to step into your role as a peace-worker.
Here are two steps you can take to get started right now:
Connect with

our admissions team

to begin your exciting journey toward providing peace and justice in the world

Begin your application

to join the Kroc School and begin working toward your Master of Arts in Peace and Justice.