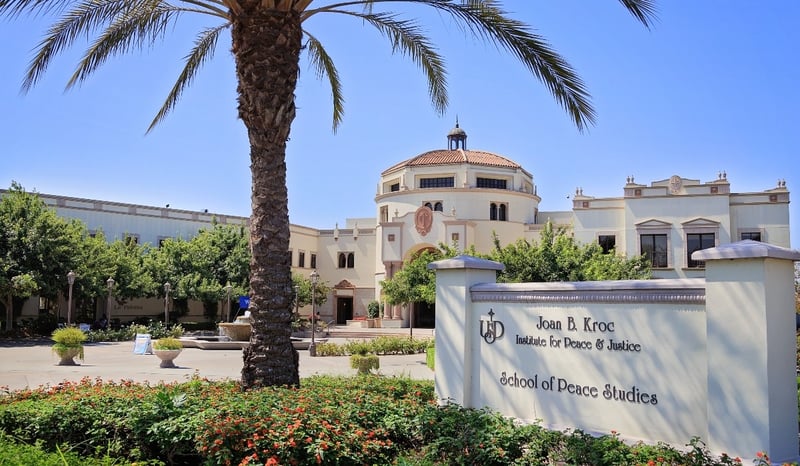 The demand for career professionals who work in peace and justice domains has never been greater, and the University of San Diego's Joan B. Kroc School of Peace and Justice was the first university in the U.S. to educate students who wish to become professional peacebuilders. The program, the Master of Arts in Peace and Justice (MAPJ), has since become the Peace School's flagship master's degree offering
The Master's in Peace and Justice at USD is #1 in the Country — Here's Why
If you want a career in peacebuilding, the Kroc School is not only an excellent choice to help you advance on your journey — it's the #1 school in the nation for peacebuilding, and these four ideas serve as the foundation of the MAPJ curriculum and degree.
USD Focuses on Experiential Learning
There's much more to our approach to experiential learning than what occurs within the walls of our state-of-the-art classrooms. Specifically, the Kroc School offers field-based courses designed for students to directly apply classroom knowledge in locations such as Mexico, Colombia, and Rwanda. The courses include opportunities to gain experience through immersion in post-conflict areas, dive into refugee and forced displacement issues, interact with local peace practitioners, and understand on a deeper level the mechanisms that are leading to peaceful progress.
In addition, every MAPJ student participates in a 250-hour internship. An internship preparation seminar prepares students to identify potential opportunities and secure placements in line with their career goals. In addition to the field study and internships, students create their professional portfolio, which enables graduates to showcase their real-world experience and tangible evidence of their peacebuilding knowledge and accomplishments.
A World-Leading, Practice-Backed Curriculum
The MAPJ curriculum is conveyed through three units of Foundations of Peace, Justice, and Social Change plus a minimum of six units in both core courses and skills and methods courses. Students can also follow their personal interests in 20 units of electives.
The core MAPJ courses include Peace and Conflict Analysis, International Justice and Human Rights, and Environmental Peace and Justice. All three of these courses build upon the Foundations of Peace, Justice, and Social Change, which introduces students to a series of big ideas for making the world more peaceful and just.
Take a moment to learn more about the MAPJ curriculum that has vaulted USD to the pinnacle of degree programs for peace workers.
Access to Internships
Internships allow students to put their classroom learning into practice, and that's why every MAPJ student enrolls in a 250-hour internship. While the Kroc School has a network of peace and justice organizations where students have completed internships in the past, students can also pursue an opportunity with any peace and justice-related organization that interests them. With guidance from their advisor, students decide what kind of experience will best help them to prepare for a rewarding career in peace and justice.
Fellowships, Assistantships and Financial Aid
More than 80 percent of our students receive some form of scholarship, discount, or aid that helps them meet the financial requirements of graduate school.
Incoming graduate students can apply for Kroc Practice Fellowships, which embed a student as a team member with the Kroc Institute for Peace and Justice, supporting initiatives related to cross-border peacebuilding; reducing urban violence; and women, peace, and security. Kroc Practice Fellowships are paid positions that come with their own merit scholarship applied to tuition.
Graduate assistantships provide tuition support and valuable experience working with faculty. Students work for 40 hours each semester and provide support related to research and pedagogical innovations.
The Kroc School also offers several scholarships and tuition discounts. In addition to aid specific to the Kroc School, students may also apply for the USD Graduate Grant award from the University of San Diego. The grant is a need-based scholarship awarded after a student is admitted.
Alumni Outlook: Where Are They Now, and How Are They Doing?
With every graduating class, the Kroc School challenges our students to go out into the world to change the failed status quo. And our alumni do not disappoint.
According to Scout Books, "From ESL teachers to company CEOs, Field Representatives to Foreign Affairs Officers, Community Security Specialist to International Trade Specialist, our alumni [from the Kroc School] are pursuing careers that position them as leading changemakers and peace workers. Every peace-working career path leads to positive social impact and helps shape a better world."
While the list below is not exhaustive, it offers a sampling of jobs in which our MAPJ graduates have found great success, and it illustrates the incredible diversity of career paths you may choose upon graduation.
Restorative Justice Practitioner
Government Officer
Homeless Outreach Coordinator
Family Policy and Human Rights
Committee Chair
University Professor
Lawyer
Development Director
Deputy Director
Community Engagement Officer
Sustainable Energy Project Manager
Conflict Resolution Senior Associate
Immigration and Anti-Trafficking National
Outreach Coordinator
Behavior Therapist
Tribal Services Manager
Immigration Legal Assistant
Executive Director
Global Ambassador
Human Resources Specialist
Advocacy Manager
Step into Peace and Justice as Your Career
Whether you are a recent graduate or a mid-career individual, there is nothing more crucial to peace and justice than the workers who begin each day to bring positive peace to the world. If that describes you, then please do what's needed to step into your role as a peace worker.
Here are three steps you can take to get started right now:
Connect with our admissions team to begin your exciting journey toward providing peace and justice in the world

Begin your application

to join the Kroc School and begin working toward your Master of Arts in Peace and Justice.