At the Kroc School of Peace Studies, we equip our students to address a wide range of challenges, spanning from armed conflict to human rights abuses to environmental injustices. The definition of peace and justice can vary on its own, depending on who you talk to. Current student Franco Escobar has his own ideals on peace and justice, and his passions on how to establish peace and justice in the world have led him to where he is today–studying peace and justice at the Joan B. Kroc School of Peace Studies.
At Kroc School, students have the opportunity to pursue a Master's in Peace and Justice (MAPJ), which is the
#1 nationally ranked peace and justice program
in the country. Continue reading to learn about current MA in Peace and Justice studies student, Franco Escobar, and his experience with the University of San Diego Kroc School of Peace Studies.
Interested in the field of peace and justice? Learn more including what it is, if it's the right fit for you, and potential career opportunities by viewing our free guide: Here's How to Make Peace and Justice Your Full-Time Job - A Look at Career and Education Opportunities in the Field
Meet Franco Escobar, Current MAPJ Student
Franco Escobar is a current student in Kroc School enrolled in the Master's of Peace and Justice program. Franco is from Puebla, Mexico, a city he describes being known for its "colorful, colonial architecture, unique, delicious food, and the place where the 5 de Mayo Battle occurred."
During his undergraduate years, Franco studied a BA in International Relations, a BA in Political Science, and undertook two and a half years of classical guitar. Franco's first contact with peace studies was a series of debates and discussions at the Latin American Model of United Nations, where they simulated international organizations.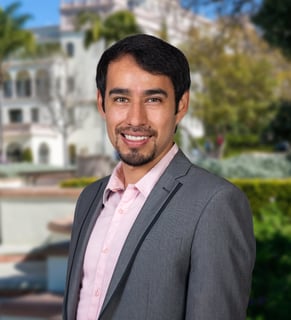 Franco credits becoming more interested in peace research due to a desire to help tackle some of the "wicked problems" humanity faces today. His passions to work addressing issues such as inequality, modern slavery, and other forms of oppression are just some of the reasons why he is earning his Master's in Peace and Justice.
Why Study Peace and Justice at the Joan. B Kroc School of Peace?
Franco credits his choice to study at Kroc School with many different reasons, one being the location.
"Perhaps a more mundane reason is that the idea of moving to a big border city, near the sea, with beautiful weather was very appealing to me. In retrospect, I love having Tecolote Canyon right next to me. I go on little hikes at least once a week there," said Franco.
Aside from its beauty, one of the biggest deciding factors for Franco was that he was offered a position at the Cross-Border Initiatives Program through Kroc. That, and he credits Kroc School for holding a special place in his heart.
"There is always something going on—conferences, panels, reports, events, etc. that feature practitioners or the current activist in residence. If I ever oversee a big project or initiative in the future, I am sure I will look back at programs such as the Women Waging Peace Network as a role model. I really like my advisor, who's recently helped me with a couple of projects and I feel very supported by my boss and Kroc friends. The sense of having a supportive community is also very special to me," stated Franco.
Equipping the Skills to Create Lifetime Achievements
Coming from a low-income family in Mexico, Franco stated that money has always been a concern. If he had not been offered a scholarship by the University of San Diego, a part-time job, and the financial support from Fulbright, Franco believes he could not afford to live in a city like San Diego.
Franco also feared not being able to find housing because international students do not always have a valid credit history or know eligible co-signers for the contract. However, he was offered a dorm room at the university, which he states made things much easier, and is very grateful for USD and Kroc School for their efforts in supporting his dreams.
Besides financial and housing stability, the Kroc School has also assisted Franco with equipping the skills needed to pursue his lifelong passions. Some projects Franco has been working on with guidance and assistance through Kroc are interviewing a forgiveness practitioner and facilitator and creating an insightful and knowledgeable video, fundraising for the Shelter Aid Program at Border Angels in Tijuana, and wrote toe tags for the Hostile Terrain - 94 installation at the Museum of Us, located in San Diego's famous Balboa Park.
Recently, Franco also had the opportunity to send in an article for publication at an academic journal, and it is currently being peer-reviewed. "I am quite happy to look back and see that, in the five months I've been here, these projects have been materializing," said Franco.
At Kroc School, Franco has also been working with people from both sides of the border in an attempt to reduce cycles of violence.
Where Can a Masters in Peace and Justice Take You?
Having a passion for creating peace and justice can lead to fruitful opportunities in many different aspects. Some of these opportunities include careers in conflict mediation, program officers, such as international officers for Red Cross or World Vision, development managers, and border control officials, among others.
Many of our graduates have gone on to pursue incredible career paths full of diversity. The list below offers a sampling of what roles our alumni have accepted.
Restorative Justice Practitioner
Government Officer
Homeless Outreach Coordinator
Family Policy and Human Rights
Committee Chair
University Professor
Lawyer
Development Director
Deputy Director
Community Engagement Officer
Sustainable Energy Project Manager
Conflict Resolution Senior Associate
Immigration and Anti-Trafficking National
Outreach Coordinator
Behavior Therapist
Tribal Services Manager
Immigration Legal Assistant
Executive Director
Global Ambassador
Human Resources Specialist
Advocacy Manager
Let Your Passions Come Alive - Start Your Career in Peace and Justice
The MAPJ curriculum courses combine theory and practice, and we prioritize and encourage hands-on learning and experience. Just as Franco has already obtained skills in this field, we recognize that some skills can only be acquired through first-hand action. If you share similar interests and passions as Franco, then please do what's needed to step into your role as a peaceworker. We need more individuals pursuing and creating peace in our world today.
Here are three steps you can take to get started right now:
Download our eBook titled

"

Here's How to Make Peace and Justice Your Full-Time Job

"

Connect with

our admissions team

to begin your exciting journey toward providing peace and justice in the world

Begin your application

to join the Kroc School and begin working toward your Master of Arts in Peace and Justice.