Kroc School students who are part of the MA in Peace and Justice (MAPJ) program have been spending their summer in internships working with peacebuilding organizations around the world. Before departing for their internships, students were asked to share updates from their internship experience, and this is one such contribution from MAPJ student Kendahl Kelly. This summer, Kendahl is a Supervising Intern with the California Innocence Project. Read about her experience below.
S
in
ce Mar
ch of 2019, I have been an intern at with the California Innocence Project (CIP). Since CIP was founded in 1999, they have walked 30 innocent people out of prison, people who might have spent their entire lives locked up for something they did not do. This non-profit organization has three missions:
To free the wrongfully convicted from prison

To work to reform the criminal justice system

To train law students to become zealous advocates
Each year, the California Innocence Project receives around 4,000 pieces of mail and around 2,000 individual claims of innocence from California inmates. As a new intern, this is where the majority of the work is done. Interns handle intake mail from inmates, answer phone calls from inmates or their families, decides a course of action as to whether to close the case or ask for further information and corresponds with the inmates. Many things go into a decision like this, one of these is that CIP only assists in cases where there is a claim of factual innocence. Accidents, self-defense, ignorance, or pressure are all examples of nonfactual innocence. Interns also document all correspondence and actions in our databases, which is critical to our work. This is especially due to the fact that innocence work takes years because of the many requests for assistance mentioned before and the limited resources available to the organization.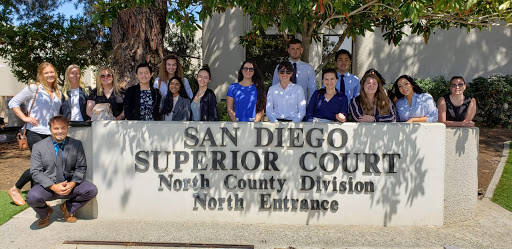 Visit to the Superior Court of California, County of San Diego to witness the trial of a double homicide gang case
CIP is filled with absolutely amazing people who are so dedicated to helping people that have lost their freedom due to a justice system that is built to make it easier to convict an innocent person than to get an innocent person out of prison. It is a system that fails to correct its mistakes and adjust to junk science and false experts.
Intern lunch with Staff Attorney Raquel Cohen discussing the case of Joann Parks and bad forensics
At times, I get extremely discouraged about the justice system on so many levels. Not long ago the 166th person was freed from death row. This means that there was a plan to execute a man for a crime that he never committed. That is the state of our justice system. Celebrating and being happy about someone being released from prison conflicts and disturbs me because although that is truly an amazing moment, it should have never happened in the first place. On the other hand however, being an intern with California Innocence Project has truly changed my view of the world and has convinced me that justice is worth fighting for. I have met the most amazing, selfless, fierce, and badass people, and I am truly grateful for this unique experience and life lesson.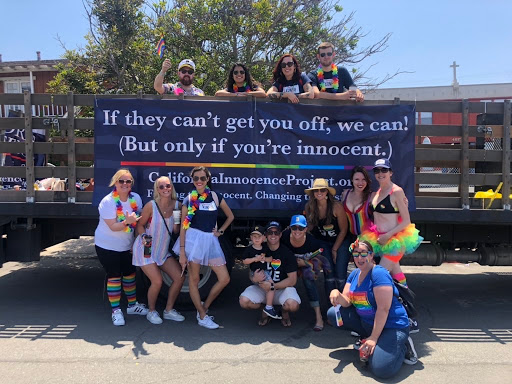 CIP float at the PRIDE parade
Many people are currently in prison serving time, possibly for life, for crimes they did not commit. Mothers, fathers, brothers, sisters, family members, and friends are torn away from their loved ones because of a system that has failed them tremendously. CIP is the last option for people like this, the last grasp of hope. Fortunately, the dedicated, brilliant, and amazing freedom fighters at CIP are doing everything they can to win back the freedom of innocent people. Because of CIP there is still hope for the wrongfully convicted and because of CIP I have a newfound energy and belief in freedom fighting on a larger scale.