Austin Choi-Fitzpatrick, university professor at the University of San Diego's Kroc School of Peace Studies, has a new book entitled Wicked Problems: The Ethics of Action for Peace, Rights, and Justice (2022 Oxford University Press) set for release later this month. Choi-Fitzpatrick co-edited the book with Ernesto Verdeja (Kroc Institute, Notre Dame) and Douglas Irvin-Erickson (Carter School, George Mason University). The anthology draws on contributions from 17 activists, scholars, and scholar-activists, each drawing on their own experience to discuss the wicked problems they face in their efforts to make the world a better place.
From these many voices, one message is clear: the fields of peacebuilding, conflict transformation, and social justice need a stronger and more practical sense of their ethical obligations.
"We wrote this book as our way of talking about ethical dilemmas where we have to choose between two bad options – where we're stuck between a rock and a hard place," said Professor Choi-Fitzpatrick of Wicked Problems. "Our goal was to help the reader develop an awareness of what questions we should be asking ourselves when we face difficult ethical decisions."
Watch Professor Choi-Fitzpatrick discuss Wicked Problems, available for preorder now.
Wicked Problems draws on the lived experience and expertise of activists, educators, and researchers working on issues of social change. As each of the book's contributors explore, when we seek to create change in our world, we often discover that things are much harder and more complex than they had initially seemed.
Kroc School Dean Patricia Márquez said of the book's release, "In Wicked Problems, Professor Choi-Fitzpatrick and his co-authors, discuss important questions that arise in peace and justice work. By analyzing and discussing real-life dilemmas confronted by those working in peacebuilding and social change, they help expand our understanding of what is involved in dealing with violence, injustice and oppression. They also expand our imagination for envisioning new possibilities to achieve peace and justice. This new publication will help us advance our agenda in peace education. It can also help changemakers who are experiencing similar dilemmas and situations as those discussed in the book."
For those engaged in change-oriented and human rights work, Wicked Problems offers important insights on the ethical enigmas in the field of peacebuilding — available for preorder from Oxford University Press now.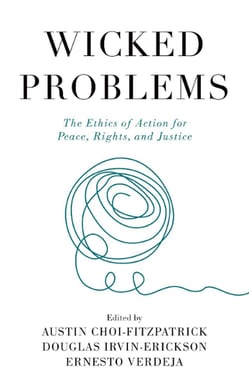 Join Austin Choi-Fitzpatrick and his fellow co-authors on Tuesday, May 24th at 4:00pm for a virtual discussion hosted by Warwick's Books.