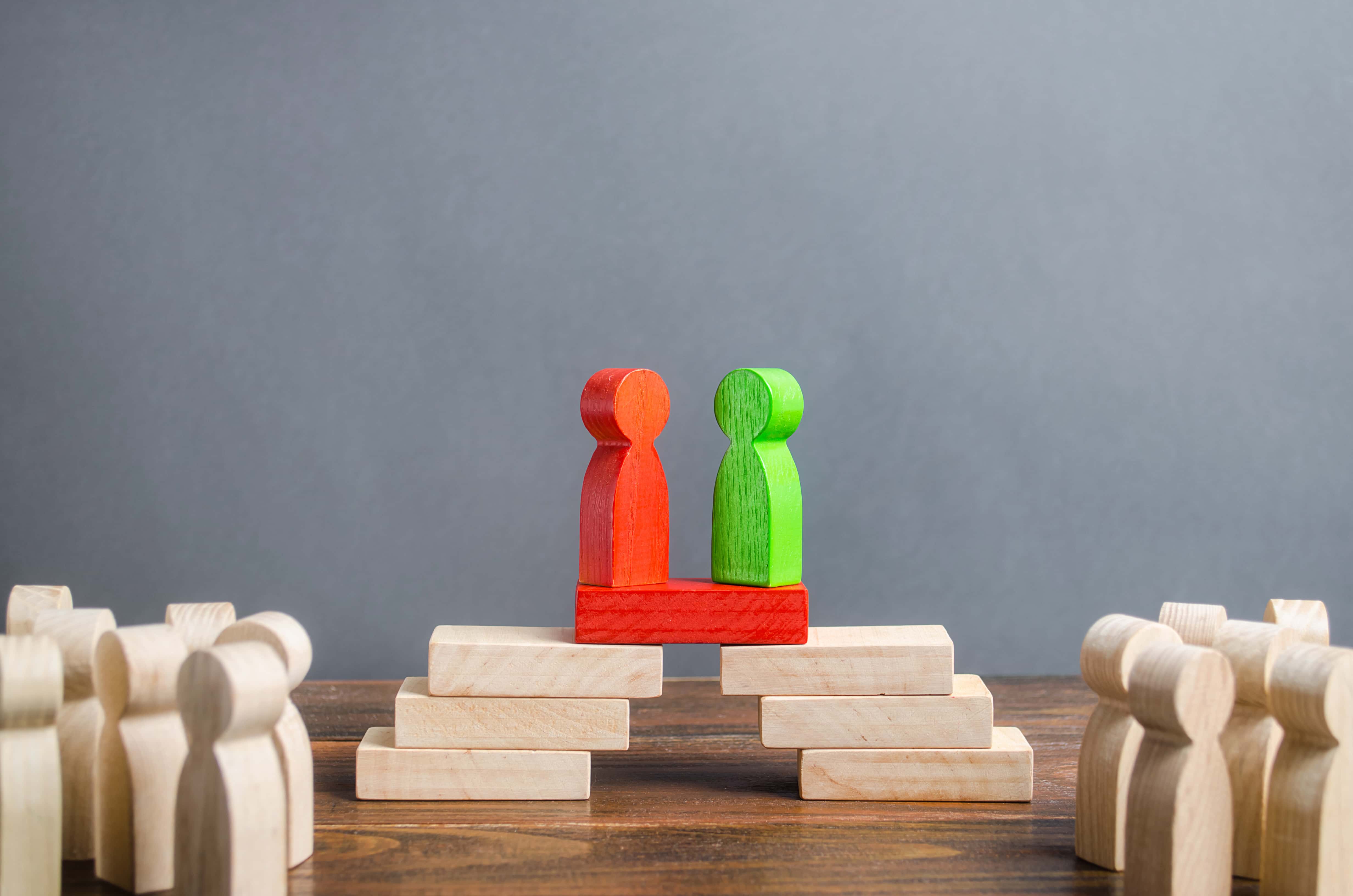 A conflict resolution degree is designed to help you become an effective changemaker who can confidently resolve disputes and find positive outcomes in any scenario. With a master's in conflict resolution, you'll have the knowledge, experience and skills to bring collaboration and peace no matter where conflict arises.
Here are a few examples of the kind of changemaker you can become with a master's degree in conflict management and resolution:
A skilled mediator who facilitates positive conversations between conflicting parties
An experienced negotiator who finds creative solutions to complex disputes
A leader who manages conflict with teams and organizations
An advocate who promotes peace and understanding in communities
By providing students with a deep understanding of conflict dynamics, developing communication and negotiation skills and emphasizing the importance of intercultural competence, a graduate degree in conflict resolution will prepare you to take on new responsibilities that are essential for conflict resolution and peacebuilding.
Careers in Conflict Resolution for Those Seeking a Master's Degree
Earning a degree in conflict management and resolution affords the graduate a broad range of jobs in business, political science, sociology, psychology, criminal justice, healthcare, and others. The following conflict resolution jobs each illustrate a different aspect of working in the field.
Conflict Mediator
These professionals bring the conflict parties together, helping them to jointly analyze and solve their conflicts. Mediators work with individuals, groups, or organizations and can provide support in solving a particular dispute or equipping them with tools necessary for addressing ongoing conflicts as they arise. Conflict mediators, such as those who work for the National Conflict Resolution Center, make an average of $63,930 per year.
Restorative Practitioner
Restorative justice emphasizes repairing the harm caused by violent behavior through cooperative processes that allow all willing stakeholders to meet and agree upon a restoration plan. Restorative justice professionals focus on trauma healing, conflict mediation, facilitating restorative justice dialogues, and much more. Salaries for these positions can vary greatly. For example, a restorative justice coordinator working at a school makes, on average, $41,844, while a mid-career practitioner makes more.
UN Civil Service Officer
According to the UN, "Civil affairs officers are a key civilian component that helps facilitate interactions between peacekeeping missions, partners and local communities to prevent conflict. Civil affairs work depends on a mission's mandate and the evolving situation on the ground. Three constant key activities that civil affairs officers undertake are engaging local stakeholders, participating in local conflict management, and supporting the extension of state authority. In 2020, 565 Civil Affairs officers in eight UN Field Missions played a key role in early warning and situational awareness of conflict dynamics on the ground."1 The salary range for a mid-career field service officer is $44K - $68K before additional compensation based on the position post. Entry-level professionals earn between $21K-$54K and senior-level professionals earn between $56K-$90K.
Careers in Conflict Resolution for Mid-Career Professionals
After having found a position that satisfies and fulfills one's career objectives, returning to school for a master's degree enhances one's career advancement opportunities. The MS-CMR is one of those rare degrees that complements a broad range of positions in a for-profit business environment, a non-profit, a healthcare institution, an NGO, and many others. Following are just a few of the career opportunities in peace and conflict studies.
Diversity, Equity and Inclusion Manager
The diversity, equity, and inclusion manager takes responsibility for creating and implementing plans to promote diversity within their given organization. The average annual salary for Diversity, Equity, and Inclusion Managers in the United States is $92,491.
Customer Success Manager
These professionals, and many others in the field of business, work with clients, internal teams and business partners to reduce friction and to ensure an enjoyable customer experience both pre- and post-sale. Customer success managers can be tasked with identifying and eliminating process inefficiencies, building and strengthening relationships between individuals and teams, addressing client concerns, and helping to achieve business goals. The average annual salary for customer success managers is $64,682.
Policy Advocate
Policy Advocates can work in various settings including government, nonprofit organizations, large for-profit organizations, and more. These professionals engage in a wide variety of activities with the ultimate goal of influencing public policy for the benefit of society, especially for vulnerable or marginalized populations. Policy advocates research, collaborate, educate and lobby to raise awareness and garner support for important causes. Mediation, negotiation, and consensus-building are all essential parts of a policy advocate's work. The average annual salary for policy advocates is $53,634.
Human Resources Specialist
Human resources specialists take responsibility for recruiting, screening, interviewing, placing workers, and employee training and counseling. They may also handle tasks related to employee relations, compensation, and benefits.
The primary objective of human resource professionals is to ensure a smooth working relationship between managers and employees and to help resolve conflict or friction when it arises in the workplace. Individuals who work in the HR field encounter a wide range of issues that require advanced skills in conflict management and resolution, such as settling employee disputes, facilitating trust-building between teams, and implementing fair-work policies. The average salary range for a human resources specialist is between $50,990 and $65,509, while those who advance to Human Resources Manager enjoy a median income of $121,220.
How Will the MS-CMR Degree Help You Enter the Field?
The interdisciplinary Master of Science in Conflict Management and Resolution draws in working professionals from around the globe. Students learn the skills necessary to expertly navigate intra-societal conflicts at the individual, workplace, community, national, and international levels.
The MS-CMR is a 30-unit advanced degree program that can be completed in 15 months (full-time) or nine months (accelerated). Flexible, part-time options are also available. Students learn multiple approaches to effectively manage and resolve conflict, graduating with a readiness to transform conflict into positive change through conflict analysis, intervention design, negotiation, mediation, and facilitation and dialogue.
The curriculum emphasizes experiential learning with a focus on employing tools and practicing techniques through simulations based on real-world conflicts within classes. The MS in Conflict Management and Resolution program can be completed anytime within six consecutive years.
Next Steps
You may want to study the curriculum to learn how this degree will give you the tools you need to become a professional changemaker.
For more in-depth information, be sure to download the ebook titled
There you'll find further discussions highlighting careers in business, criminal law, law enforcement, international relations, and a host of others.