A compelling story has the power to guide one's decisions for a lifetime. Especially when that story focuses on an innovative protagonist facing a dilemma, and invites students to envision themselves at the center of the decision-making action. That's the goal of the USD Teaching Cases on Social Impact, an exciting new endeavor from Spark @ USD and its mission of producing knowledge for changemakers.
Friends of the Kroc School got a special preview of these dynamic teaching cases on the evening of October 20th, 2022. It included longtime supporters Les and Marilyn Williamson, Elizabeth Hansen, Doug and Alice Diamond, and social innovation faculty and students from CETYS University in Tijuana.
Professor of Practice Dr. Juan F. Roche leads a classroom discussion using the USD Teaching Cases on Social Impact
Holding class in the future home of Spark @ USD, Professor of Practice Dr. Juan F. Roche detailed the ways he engages students with his recently published teaching case
Climate Neutral: Scaling up Consumer Power to Tackle Climate Change
. An expert in business and social innovation, Dr. Roche's teaching case profiles Austin Whitman, who joined Climate Neutral as its founding CEO because of his belief in the power of markets to drive behavior change. A non-profit certification label for businesses committed to measuring and reducing their carbon emissions, the teaching case focuses on how best to align a profitable business model while staying committed to its social purpose. Images, graphic design, and videos bring to life Dr. Roche's teaching case, as does his exuberance for students discussing and debating the intricacies of impact-focused organizations.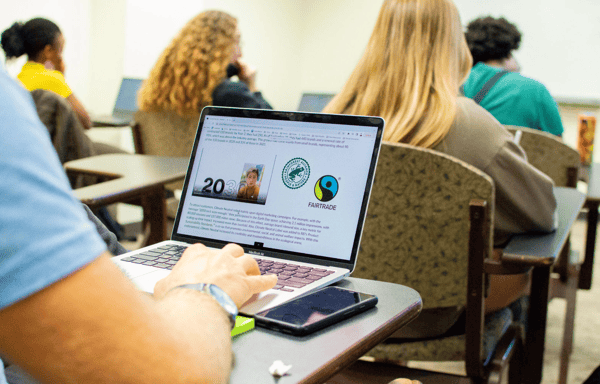 After a compelling conversation about the teaching cases, the group turned its attention to the enterprising new form of
USD Teaching Cases on Social Impact
. Not simply black words on white paper, the purpose of the teaching cases is to bring the form into the digital era and embed a multitude of ways for learners to connect with and understand the context of those profiled in the case. As with any great innovation, feedback and iteration are at the core of the USD Teaching Cases on Social Impact. Guests offered feedback about what they appreciated about the digital facets of the case, and what they hope would be included in future cases. The group was unanimous in their passion for teaching tools that put students in the shoes of current changemakers, in order to prepare them for their own future leading to positive social change.
The
USD Teaching Cases on Social Impact
is a part of the Spark @ USD, the University of San Diego's newest institute for social innovation. Its mission is to accelerate global social innovation, and put students, faculty, and changemakers in positions to discover solutions for our world.