At the intersection of urban planning, community organizing and social justice sits Dr. Lan Nguyễn, the Kroc School's first ever Post-Doctoral Fellow. A daughter of Vietnamese refugees, Nguyễn grew up on a farm in California's San Jacinto Valley east of Los Angeles. Her parents cultivated Southeast Asian vegetables, fruits and spices and sold them to markets in Little Saigon in Orange County. "It was a small family farm, we farmed there for about 15 years," she says. "My parents imparted ancestral farming knowledge onto my siblings and me and I could not be more grateful. "
Although her daily practice of farming subsided when she left home, it's fair to say Nguyễn's background on the farm left a deep impression on her worldview, leading her along a winding route that ultimately brought her to what she does today. "I realized that there were other ways I could contribute to society, and there were more knowledge systems that needed to be uplifted," she says. "And that's why I went back and got my PhD in Urban Design and Planning at the University of Washington in Seattle."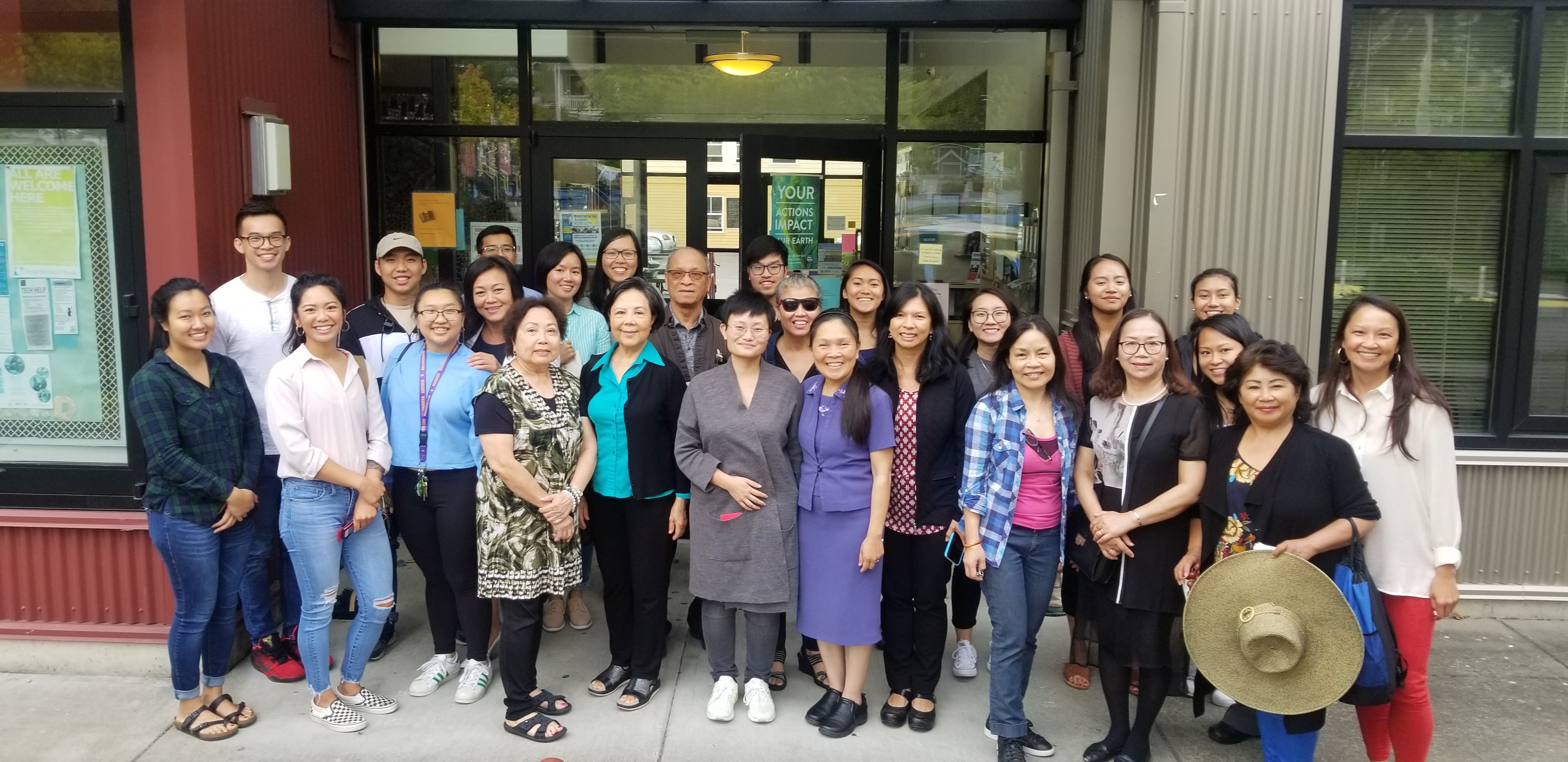 Nguyễn volunteers for the Vietnamese Health Board in Washington State. The health board is focused on understanding and improving mental health and responding to COVID-19 pandemic in the Vietnamese community
It's that commitment to social and spatial equity – to elevating the voices of beloved and sacred communities and respecting their strengths, needs, and unique circumstances – that drives Nguyễn's work and her research. She works in and with the community for social and spatial equitable change in the context of global urbanization, climate change, and disasters. As a professional community development planner in California, she learned that sustainable development is community-driven with support from outside organizations with resources and power.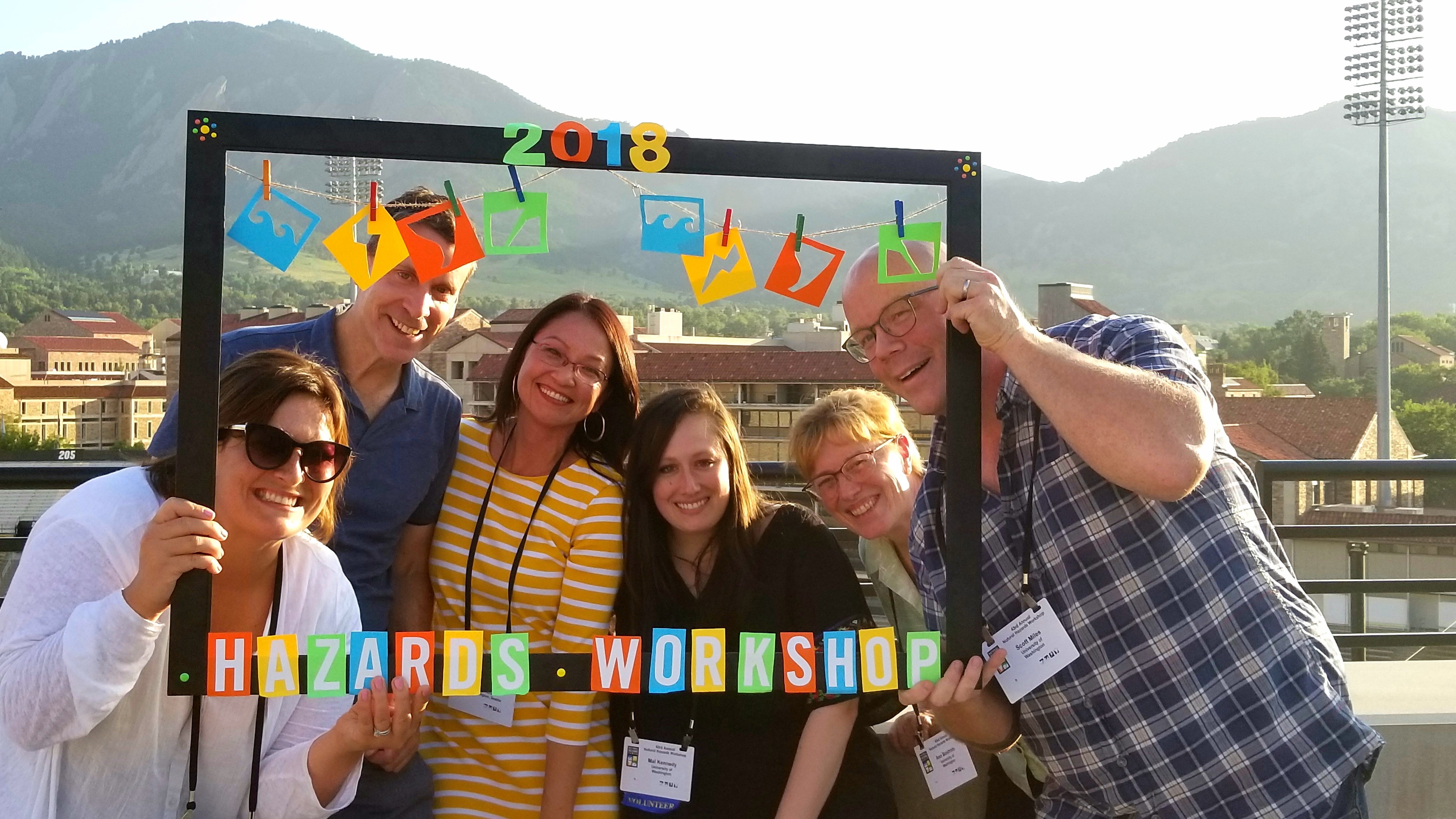 Nguyễn and her colleagues at the University of Washington pose for a fun picture at the 2018 Natural Hazards Research and Applications Workshop in Bloomfield, Colorado.
What does urban planning have to do with peace and justice, the core focus of the Kroc School? Nguyễn says, "Since 2009, the world's urban population has exceeded the rural population. This means more and more people are living in cities and this trend is projected to continue. Cities are sites of vast inequality and conflict hence there is a need to study how we address issues around justice and peace in urban areas."
While inequality persists, one of Nguyễn's aims is to disrupt the status quo. Urban planning and design that incorporates a community's particular values, strengths, and needs and is guided by the principles of social justice and spatial equity could lead to more peaceful neighborhoods, she says, and to healthier and happier residents. "If you create more equitable urban areas where everybody can thrive, if people aren't fighting for basic resources, we're more likely to have peace, right?"
"As the inaugural Post-Doctoral Fellow at the Kroc School, I am excited to teach several courses about race, place, community development, and humanitarian action. I bring my professional experiences as community development planner in California and disaster management consultant in the US and Philippines to the classroom." When she is not teaching, she is working on publishing her dissertation titled, "Community Matters: Local knowledge and social connections for disaster preparedness in Washington State."
Julieto Manggasang shows off the 5-year Municipal Disaster Risk Reduction and Management Plan for Carles in the Philippines. Nguyễn consulted on this project when working as a Peace Corps Response Program Officer.
"I am thrilled to be working at a School that is focused on building peace and educating Changemakers. It's also great to be back in Southern California." Outside the halls of the University, she says she is actively discovering San Diego's running trails, beaches, and restaurant scene. From time to time she also joins her parents in the backyard for a little farming.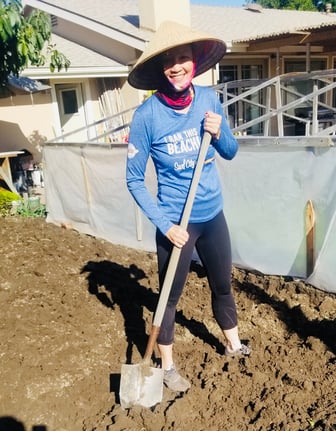 Nguyễn tills the land.
Learn more about Professor Lan Nguyễn here, and explore the numerous academic programs the Kroc School offers here.