Top 5 Reasons I Chose to Intern at a Start-Up Non-Profit Versus a Name-Drop Organization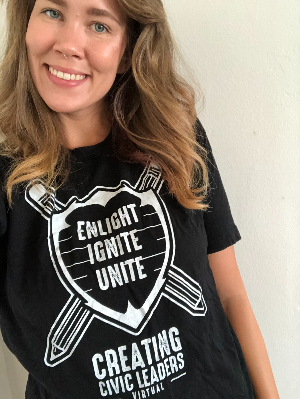 The following post was written by MA in Peace and Justice student Courtney Vaughan.
Before COVID-19, I spent many days scouring the internet and networking at Kroc School events to secure the perfect internship. I was imagining something big and bold with a recognizable name that would be an impressive addition to my resume. Once everything moved online, however, my priorities shifted from well-known orgs to anything I could find that was accepting interns virtually. In retrospect, I am grateful the pandemic forced me to shift my perspective about small non-profits versus big, name-drop organizations and the different types of valuable experiences you can have interning for one. Below, I share a list of some of the benefits I discovered during my internship with United 4 Social Change.
1. Your work can be showcased and stand out much easier to more people (and you can refer future employers to it)
At United 4 Social Change as a Curriculum Development Intern, I've had the opportunity to write blog posts and video scripts as well as create engaging lesson plans and worksheets on crucial civic engagement topics as resources for both students and teachers. These blog posts are published to the U4SC Website, where the videos average 50,000 views per month. Although the Kroc School has our graduation requirement for the MAPJ degree set as a portfolio to be shared with future employers, I now have supplemental work I can point to beyond my academic papers. This is also something I can link to my LinkedIn profile and share on my resume which I think has been one of the most beneficial parts of my internship.
2. You're given a lot of freedom and flexibility brainstorming ideas and problem solving
During my internship with United 4 Social Change as a Curriculum Developer, I noticed the global education issues topic hadn't been fully developed. Since education development and policy is one of my concentrations I've been exploring during my time at the Kroc School, I became excited at the prospect of creating subtopics for blog posts and scripts that would be published under U4SC's Academy 4 Social Change project. I reached out to my supervisor and asked about developing the section. She gave me the go ahead while also connecting me with two other interns who are also interested in global education issues. We were able to collaborate to create interesting and crucial subtopics for the global education issues topic. This was all intern led and initiated, which was the best part! It was amazing to have this much freedom and creative-liberty over developing future blog posts that will eventually be published to the website.
3. You can message your org's CEO and receive a timely response
Aside from writing blog posts, video scripts, and lesson plans and worksheets, I also have been working on researching the role of civic engagement in the history of liberal arts education. After a meeting with the CEO, my supervisor, and the other interns working on this project, I started working on a task that I volunteered to complete. However, some questions came up during the process. Since the CEO assigned it to me, I reached out to him with my questions. He answered them within minutes. He's also been helpful when I've been interested in learning more about the organization and the story behind how it started. I was even able to message him on Slack to get statistics about U4SC to help write this blog post!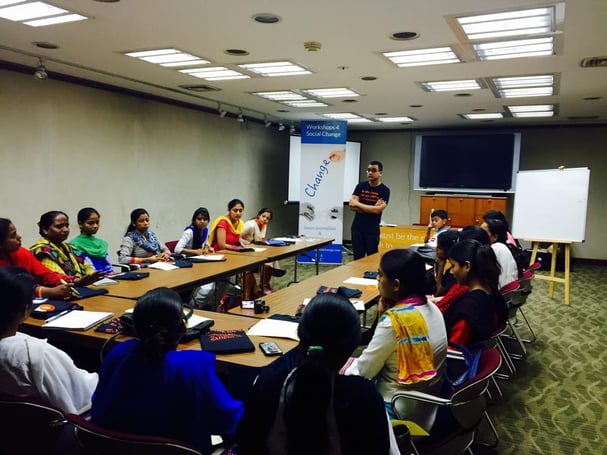 4. You receive the perfect balance between high-accountability and independence
I was never assigned hours. Instead, my supervisor and I discussed how many hours I could work for U4SC and how that corresponded with the MAPJ program's requirements. We agreed that 15-20 would be a good range, and I was told I could work those hours whenever it was convenient for me. This has not only been helpful for developing a schedule during the on-going quarantine, but it has allowed me to hold myself accountable in more than just my internship. I've done this before in the Peace Corps, but it's much different when you're living in another country versus rolling out of your bed and taking a few steps to your computer. My supervisor let me decide what worked best for me. If I needed more guidance, I could reach out to her and she would respond quickly. If I felt I understood what to do and wanted more independence, I could also do that. Or a mixture of both, which is the approach I took. Being at a start-up non-profit allowed for a hybrid cross between a small non-profit and a name-drop org when it came to accountability and independence.
5. It's easier to see the tangible differences you've made
During the month of July, U4SC's virtual summer camp launched. This was the most rewarding part of my internship. Listening to the children discuss civic engagement topics, like AI, gene editing, sustainable development goals, and homelessness (just to name a few), brought U4SC's mission to life. Writing blog posts and video scripts for the Academy 4 Social Change project and assisting with the camp allowed me to view the process from start to finish and see how impactful the videos and lessons are for middle school and high school students. Not only did I witness the impacts with my own eyes, I was also able to see tangible results through summer statistics: 112 students participated in 270 weeks of camps, 150 students wrote op-eds for the Courses 4 Social Change project, 50 students are completing the Associates 4 Social Change course/internship, and 200 videos have been worked on by 50 interns, just like myself, that will eventually be published (if not already) to the U4SC website. Seeing these statistics as well as engaging with some of the students showed me that even a small, start-up non-profit can have a lasting impact more than we often give credit to when comparing them to big, name-drop organizations. Receiving an internship with U4SC has truly been the silver lining for me during the pandemic, and I'm grateful it forced me to be more open-minded and to take an opportunity I otherwise might have overlooked.
Interested in learning about our internship program or about the Kroc School's MA in Peace and Justice? Learn more here.