The following post was written by Kroc School Assistant Professor Philip Gamaghelyan, PhD.
The word "conflict" has a negative connotation. It is commonly thought of as synonymous with violence. True, when conflict becomes violent, it traumatizes communities, polarizes societies, damages relationships, and perpetuates cycles of destruction. Yet violence is not a degree of conflict, but only one of its possible types. Conflict can also be constructive — it can help us collaborate more effectively, elevate neglected voices, promote social justice, and drive cultural and political change. In our increasingly interconnected world, it is crucial to understand the sources and dynamics of conflicts, see their upside, and maximize their constructive potential.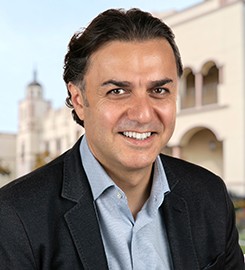 Conflict happens everywhere: in a family, at a workplace, within and between societies or states. Conflict is routine and normalized. Moreover, it is inevitable for any functioning social structure. Although many try to avoid it, we cannot run from it. Thus, my proposal is…to embrace it.
The Master's of Science in Conflict Management and Resolution (MS-CMR) program at the Joan B. Kroc School of Peace Studies (Kroc School) at the University of San Diego is designed to help individuals understand and analyze conflicts from multiple perspectives, enhancing one's potential to create constructive change. Students who come from backgrounds in law enforcement, civil society and NGOs, human resources, media, military, and more, learn the contemporary theories of conflict and put the theory into practice through a myriad of opportunities that enhance their abilities as facilitators, negotiators, and mediators.
Three students share their perspectives on the MS-CMR program at the Kroc School.
At the Kroc School, our teaching is customized to the students with whom we work. Small cohorts of only 10-15 students allow us to engage with each person individually and build upon their specific passions and motivations for joining the program. Inspired by ongoing conversations with students and colleagues in and out of the classroom, we adjust what and how we teach to effectively develop the students' skills and knowledge.
Recognizing that conflicts come in all shapes and sizes, we intentionally curate a very diverse and dynamic cohort, where each student brings with them at least three years of professional experience and an appetite for learning to turn conflict into opportunities for growth. Last year, we had mid-career professionals from 25 to 60 years of age, with backgrounds ranging from NGOs and human resource departments to active duty military and government employees. This year, we have a similar age range with an even wider diversity of professional backgrounds. Geographically, the program attracts students from countries as diverse as Afghanistan, Australia, Belarus, Mexico and Uganda, as well as those right here in San Diego and other parts of the United States.
This broad experience of the cohort becomes particularly valuable in our Negotiations and Mediation courses, in which students act as parties to conflict and as mediators in a variety of scenarios that replicate real-life conflicts in international, organizational, and interpersonal settings. In the most recent Mediation class, the scenarios proposed by students ranged from multi-party negotiations in Yemen to a restorative justice intervention based on a real-life assault case in San Diego. Through these simulations, they sharpen skills in critical thinking, communication, and team-building that will serve their respective careers.
Our program adequately prepares students to apply what they've learned beyond the classroom. The alumni of the MS-CMR program have a clear vision of how their learning translates into the real world. For example, for the final assignment required for the Conflict Analysis & Resolution course, students compose a funding proposal — a skill that many graduates of the Kroc School utilize in their careers regardless of their field or focus. The creativity and practicality of these proposals have been remarkable. Recent projects include the implementation of a conflict resolution mechanism in a San Diego homeless shelter, a volunteer program for prison guards working with schools to prevent juvenile detention, a trauma healing curriculum for peace and conflict professionals, and mediation aimed at improving international collaboration around the conditions of the Tijuana River.
The result is that our graduates are proficient in a variety of approaches to analyzing conflict, seeing its constructive potential, and designing appropriate interventions. Rather than steer clear of conflict, they face it confidently because they know how it can become an asset for productivity, collaboration, and organizational change. And those who can navigate conflict deftly are an invaluable asset to teams and organizations who will inevitably experience it.
If you're ready to advance in your career as someone who knows how to transform conflict into positive change, then consider the Kroc School's MS-CMR program as your next step.
At the Kroc School, we are educating for peace and social innovation. Ready to join us? Learn more about the Kroc School and its graduate programs.