The Practice of Changemaking
Wednesday, September 26, 2018TOPICS: Faculty and Staff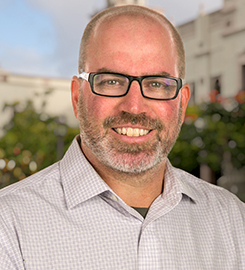 The following post was written by Andrew Blum, PhD. In addition to serving as the executive director of the Kroc Institute for Peace and Justice, Blum recently took on the role of professor of practice at the Kroc School. Comparable to clinical professor roles in other schools, the professor practice position at the Kroc School focuses on helping students understand the hands-on, real-world aspects of peacebuilding — what it's really like to be a practitioner of peacebuilding — and not just the theory of peacebuilding. In this new capacity, he will lead two workshops in the 2018-2019 academic year about program evaluation best practices and design methods. When asked about his new position, Blum shared a story that shaped his approach as a peacebuilder and a key lesson that better prepared him for this opportunity...
I was in graduate school, and had received funding to conduct an assessment of a peace education program at schools in internally-displaced person camps in Azerbaijan. All the students in these schools had been displaced by the conflict with Armenia over the disrupted territory of Nagorno-Karabakh. My job was to visit each of the schools to understand what challenges they were facing, and what problems students were facing in the camps, so the project could be adjusted in its second year to better address those challenges.
At school after school, I went through the questions in my interview protocol, but none of the school directors mentioned any challenges, and none of them described any problems. All of them said the program was great, their school was great, and that things were good in their camp. I knew they weren't telling me the whole truth.
Later, I was eating lunch at an outdoor picnic table at the office of the NGO I was working with and complaining to my Azeri translator about the unwillingness of the school officials to be more honest with me. An older British man eating his lunch at the other end of the table looked up from his sandwich and said gruffly, "If someone from halfway around the world came to your home and started asked you about all the problems you had in your neighborhood, what would you say?"
Of course! I thought. I mumbled something to the man as a wave of embarrassment washed over me. Once he said it, it was the most obvious thing in the world. As I continued to reflect on the man's question, I realized that before I left for Azerbaijan to conduct the assessment, I learned about Azerbaijan and peace education programming. I had reviewed program documents and understood the strengths and weaknesses of the program. I had understood the "what" of the work I would be doing, but not the "how".
Not understanding the "how" was why those interviews failed. In the years after, as I worked on peacebuilding programs around the world and in Washington D.C., there would be many more such failures. As a professor of practice at the Kroc School, it will be my job to bring all these failures and the failures of others into the classroom and let the students see them, wrestle with them, dissect them, and ultimately learn from them.
At the Kroc School, our goal is to prepare students to shape a better world. To do this, they need to learn the best ideas in the world about how positive change is created. What does all the research, all that we've learned, say about how you reconcile after violence, or how you reduce corruption, or how innovation can best be put in the service of peace and justice?

Because of my academic background, I understand the ideas and the research our students will be wrestling with and which will inform their work. But in addition to those ideas, our students also need to learn the practice of taking those ideas out into the world and putting them into action. How do you build trust with residents of a homeless camp on the San Diego river so you can understand their sanitation needs? What do you do if someone in a community meeting in Iraq stands up and starts yelling at you because you're American? What do you do when the director of your enterprise's field office only wants to hire his cousins? These are the everyday challenges our students need to overcome as they work to shape a better world.
It will be my job as professor of practice to find ways to have students wrestle with those challenges while at the Kroc School, whether it's through simulations in class, engaging with experienced changemakers, field visits, or their capstone projects. As with the development of any new skill, they will try and fail and learn and try again. They will practice the practice of changemaking.

Interested in learning more about peacebuilding? Check out the Master's degree programs at the Kroc School.