The Power of Peace & Sustainability Codified Into Law: A Dual-Degree Student's Interpretation of and Dedication to Environmental Justice
As a dual-degree student enrolled in the USD School of Law and the Joan B. Kroc School of Peace Studies, I am presented with and offered the complementary opportunities to learn the more linear aspects of law, while also having the peace studies outlet for transformation of a high degree, and of academic, professional and psychological kinds. Together, the practical power of law and transformative power of peace will unite my career goals to forge a new and more sustainable path toward environmental justice.
Importantly, I'd like to highlight one course in particular within the Master of Arts in Peace and Justice program: Environmental Peace & Justice (EPJ), taught for the first time ever by Associate Professor Topher McDougal. The intentional instruction we received on a necessarily diverse array of economic and environmental theorists will remain with me throughout my entire career. From concepts of urbanism to Indigenous resurgence movements, and hands-on experience during field trips, we tasted what it means to fight for environmental justice, saw it through multi-focused lenses, learned to navigate multidisciplinary terrains in linguistically appropriate and effective ways.
This course fed directly into what I intend to achieve with my dual-degrees: to join the fight, both legal and discursive, against global ecological collapse, and for environmental justice. My lifelong dream is to one day be a Wisconsin Supreme Court Justice. More immediately, my post-graduate goal is to practice environmental law in my home state of Wisconsin, with the specific intention to protect the Great Lakes, namely Lake Superior, prosecuting eco-terrorism masquerading as job-creation.
Global capitalism and the rise of transnational corporations represent a continuation of colonization – especially after corporate personhood dissolved the last strands of financial integrity of American politics. Such threats to the fabric of democracy and planetary survival are too easy to see firsthand in communities around the world: as Australia burns, the ice caps melt, freshwater sources are contaminated, forests clear-cut beyond recognition, and polluted air is rendered unbreathable, corporate elites continue to rake in devastating profits from extractive resource industries. Instead of an unrepresentative American government with intentionally unequal distribution of resources and power, how can a collective "we" restructure and functionalize a dysfunctional, white supremacist patriarchal government? In a legal sense, I pledge to hold corporate actors culpable for their crimes, in the name of environmental justice.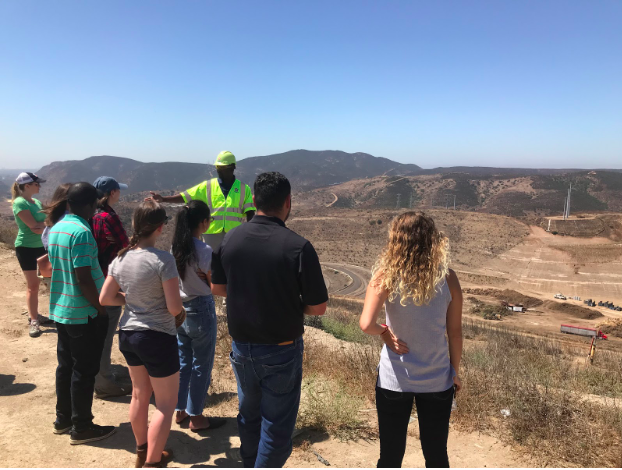 Students of the Kroc School's EPJ course learning in the field at the Sycamore Landfill.
Further reflection, inspired by the EPJ class, points to a need to reexamine options available to humanity for energy sources, to collaborate with dynamic teams of transboundary experts, and to make a collective decision to act for future life on earth. We cannot afford to wait until we have all the answers to act. We'll make mistakes and overcome failures. But the sooner we start trying to sustain human life on earth, the better chance we have of survival. As my long-time mentor and Ojibwe tribal elder, Joe Rose, Sr., once explained to me, we are in the "time of the quickening." In other words, time is of the essence to make collective decisions to act for sustainability and forsake our destructive paths, or face earthly devastation. Elementally speaking, human life on earth is not guaranteed. Let us collectively seek justice for wrongs committed against these sacred lands and protect human life with dignity and respect.
In response to the "right to develop" argument, I ask whether developing nations must repeat the same devastating mistakes the developed world has made for centuries and continues to make? What would it take for developing nations to 'leapfrog' over fossil fuel dependence, straight to renewable investments? Not only is a transition from non-renewable to renewable energy critical for environmental and human species sustainability, but a shift in consciousness is also called for. It would stand to reason that stripping humanity (at least within the dominant, western culture) of its consumerist identity would serve a collective goal of survival. The campaign for planned obsolescence catalyzed the overconsumption of goods to a grossly unsustainable degree. Nowhere within the universal core of existence does consumption of disposable goods fit as a survival need. Instead, there exists a need for reduction of material waste.
Ruth Buffalo (center-left) visited EPJ to discuss fracking, gas flares, and other fossil fuel extraction issues on Mandan-Hidatsa-Arikara lands in North Dakota.
So instead of managing the climate crisis in a strictly technical manner with regulatory solutions, or even attempting to resolve it only with renewable energy options, meaningful transformations of ecological, economic, sociopolitical, and psychological kinds are required. "The key," Peter Calthorpe, author of Urbanism in the Age of Climate Change, identifies, is a "whole systems" and not a "checklist" approach.
I think this points to a need for Third Generation rights, or those rights not yet codified into international human rights law, particularly the Right to a Healthy Environment. (For more information on Third Generation Rights, see USD Professor Dustin Sharp's publications. See, e.g. "Re-Appraising the Significance of 'Third-Generation' Rights in a Globalized World".) We cannot wait until it's too late, but we must act now to implement preventative protection measures for ecosystem health. Part of this action must incorporate alliances between Indigenous and non-Indigenous communities and organizations. Leanne Betasamosake Simpson, author of As We Have Always Done: Indigenous Freedom through Radical Resistance graciously took the time to explain the appropriate role of a non-native ally: it must begin with an invitation into the space of Indigenous community; it will require an active and deliberate divestment of the "false power" non-Indigenous persons are privileged with; and most importantly, it will be the jobs of non-native allies to hold space, ask for permission and guidance, have trust, and defer to Indigenous leadership.
I felt very deeply the emotions of strength and pain transcribed by Simpson's ontological power of words. My tears sprung from deep wells of pain as I read, cried, read, repeated. The historic and lived realities of violations to human rights connected with degradation of the environment are not new phenomena, but an age-old campaign of domination colonized into reality. The fact that Indigenous peoples and lands still exist today is because of the "resistance, persistence, and profound love" that encompass the strategic brilliance of Indigenous resurgence movements. Simpson explains, "our presence is our weapon." And honestly, in what other scenario besides genocide is presence itself a weapon?
The original treaties negotiated between colonizer governments and Indigenous nations set a foundational legal precedent for protection of environmental health founded on human freedom and environmental protection. The fact that treaties were negotiated in bad faith and immediately violated by the US government is merely a reflection of white colonial dominion over land and people, and not a supposition of weakness of Indigenous leaders. Time has shown how white man's promises to recognize and respect Indigenous freedom and sovereignty don't actualize into reality. (In)action betrays intentions of domination: continued oppression of power, occupation of lands, and violations of freedoms.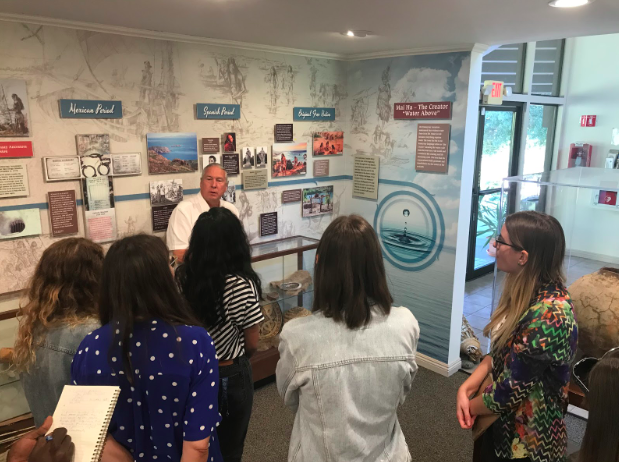 Sycuan Cultural Center director Steve Newcomb (Shawnee/Lenape) explains a timeline of Kumeyaay history to EPJ students.

Simpson introduces her manifesto for humans and non-humans to "radically reimagine their ways out of domination" by forming reciprocal networks of resurgent movements that refocus from short-term gains to long-term sustainability. Noelani Goodyear-Kaʻōpua, another author introduced to me by EPJ, who wrote Protectors of the Future, Not Protestors of the Past: Indigenous Pacific Activism and Mauna a Wākea, adds with her analysis of natural resource extraction that "exploitative notions of progress" sever the "inextricable connections between human and planetary health." Governments and constituents have become so blinded by the prospects of financial freedom that the race to exploit nature has become a suicidal mission of global ecological collapse.
USD Professor Julia Cantzler offers a theory of decolonization that requires the deconstruction of ideological foundations and structural inequalities. She alludes to the power of constructionism by identifying the structural and cultural processes of racial formation within a colonial context. Part of the reason I am pursuing a law degree is for this very purpose of deconstruction. I am first learning the rhetorical power behind the law in order to undo the constructs of domination to liberate a multicultural discourse of freedom. At least that is my plan.
And in some respects, I have already started by becoming the first elected Director of Sustainability to the Kroc School's Peace and Justice Student Association. Together with my colleagues, I have started a Kroc School Sustainability Committee comprised of students, faculty, and staff dedicated to fostering a culture of sustainability within the Kroc School and the USD community. Our mission is to encourage sustainable practices within the Kroc School through four key areas: implementing sustainable policies, addressing waste management, educating the Kroc community, and influencing and collaborating with the campus community. And so it is with passion and dedication that I hereby commit myself fully, now and forever, to the fight for environmental justice.
At the Kroc School, we are educating for peace and social innovation. Ready to join us? Learn more about the Kroc School and its graduate programs.