At the Kroc School, gender issues in peacebuilding are a core area of study and practice. For over 20 years, the Kroc Institute for Peace and Justice's "Women, Peace, and Security" program has built partnerships with global women leaders making a large difference in struggles to eliminate violence and injustice. Women and children are often the most vulnerable groups where there is war, violence and injustice. Yet, women and girls around the world continuously rise to challenge systems of oppression and lead positive change regardless of the circumstances.
Today, the fight to end gender violence and injustice is unfolding in Iran. On September 16, just days before her 23rd birthday, Mahsa Amini died in police custody in Tehran. Iranian authorities had arrested Amini for wearing her hijab improperly, violating Iran's mandatory hijab law for women enacted by the government in 1979. The horrible act of brutality sparked public nationwide outrage and anti-government protests led by women and girls seeking an end to the mandatory hijab law among other socioeconomic reforms. The protestors, which notably include men, are posing the most profound challenge to Iran's theocratic regime in years. A recent example of men's involvement occurred at the 2022 World Cup kick-off in Qatar when the Iranian football team refused to sing their country's national anthem ahead of their match with England, standing solemnly, silent and defiant instead.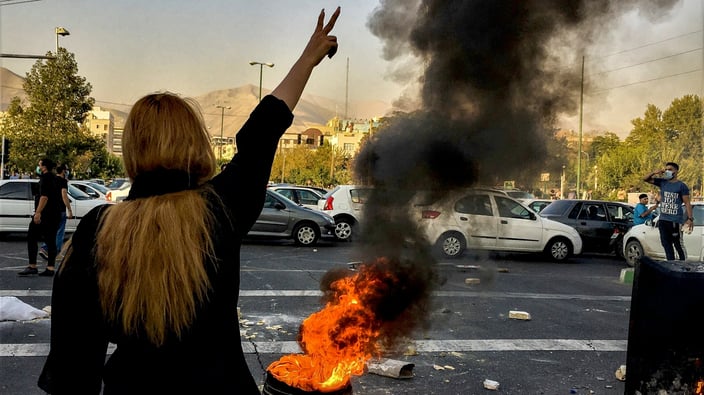 Protestors in Tehran, Iran in October, via Associated Press
The response from the Iranian government throughout the protests has been swift and brutal, with thousands of protesters being charged with "disturbance of public peace and order" and some facing the threat of death sentences for their participation. We stand with the people of Iran as they seek to achieve gender justice and peace in their society, and we call on the government of Iran to meet the demands of the protest movement.
In circumstances such as this, there can be little doubt there is an urgent need for growing numbers of professionals of peace with expertise in gender. In the face of unyielding violence from authoritarian governments, we remain committed to training leaders in peacebuilding, justice, and social change. It is thus a true honor for the Kroc School and its Institute for Peace and Justice to be able to engage with the Women Peacemakers of the world every year. With their annual visit to the University of San Diego the learning of students and the broader San Diego community is deepened through the stories of what these outstanding women leaders have faced in their lives and the many ways in which they go on to build peace with justice.
To meet the 2022 Women Peacemakers we invite you to our upcoming event on December 6th, A Conversation with the Women PeaceMakers. To support the Kroc School's Women, Peace and Security programming, please consider making a donation here.