The Challenge of Balancing Social and Financial Objectives in a Social Enterprise
Monday, February 25, 2019TOPICS: Faculty and StaffSocial Innovation
The following post was written by Karen Henken, Professor of Practice, Social Innovation and Entrepreneurship.
As Professor of Practice, Social Innovation and Entrepreneurship at USD's Kroc School, I work with our Master of Arts in Social Innovation students, and the San Diego and global community, to teach and foster models of social entrepreneurship that drive true sustainable, scalable social change. Through many years of work in this arena, I deeply believe in the power of this growing and evolving field to improve social and economic conditions at a fundamental level. Social entrepreneurship is a powerful vehicle to provide opportunities for marginalized communities in the United States and globally — especially in areas of workforce development, healthcare access and education.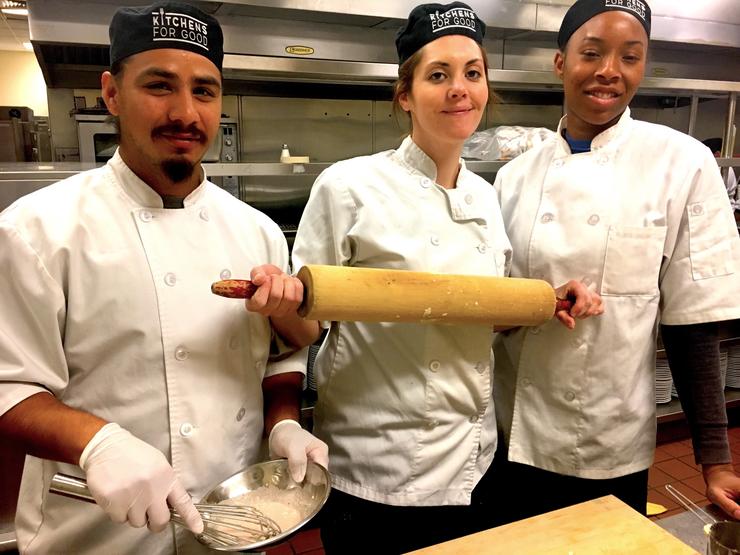 begin quA key question will remain: how we as changemakers can most effectively embrace and build on the potential that social entrepreneurship represents to create sustainable, scalable change.
Within social entrepreneurship, a hybrid model has emerged as the most common form of organizational structure: a hybrid social enterprise primarily pursues a social mission while also incorporating commercial revenue to grow and fund their operations. They are most typically established as a nonprofit entity (as a 501c3) in the United States and include a "for profit" or revenue-generating part of the organization. This model is very different from traditional nonprofits where most, if not all funding is derived from grants and donations.
As hybrid social enterprises have become more mainstream in the nonprofit sector, a new management challenge has emerged — how to strike a balance between the social and financial objectives of a social enterprise. In other words, maximizing impact while also maximizing revenue growth.
All who work in this field — as management, board members and funders — must evaluate this challenge in order to understand how to empower the burgeoning field of social enterprise and the impact it can create for social change.
How the Social Enterprise Kitchens For Good Has Been Addressing This Challenge
One of the social enterprises with which I have had the privilege to work and see enormous social impact occur is Kitchens for Good (KFG) here in San Diego. As one of KFG's earliest board members, we have grown from a concept and initial vision of our co-founders to a $3,000,000+ organization in just over three years. As our organization grew, the board and leadership team worked very closely together to constantly assess how to align our social and financial mission and objectives. It was a challenging and ultimately rewarding process with many twists, turns and shared lessons along the way.
At the recent Nonprofit Governance Symposium at University of San Diego's School of Leadership and Education Sciences, I teamed up with Jen Gilmore, CEO of KFG, to explore this dilemma and how KFG's leadership and board work together for success. Our workshop title was: The radically changing role of leadership and governance models for social enterprises.
In that workshop, we examined KFG's approach to the social and financial balancing act, focusing on four highly integrated components to its approach and solutions:
Reducing food waste by using produce that would otherwise go into landfills
Providing culinary job training for the hardest to employ
Creating healthy meals for hunger relief
Generating revenue through its catering and event business and providing employment for students and graduates.
KFG constantly assesses these four components, regularly shifting its funding and resources to maximize impact. For example, this has included deciding whether to invest in the culinary job training program or, instead, in new equipment for the kitchen and event space to ensure it would be more competitive in its catering services. These are just some of the questions the KFG team faces daily.
Key Insight #1: Providing the Right Blend of Management Skills and Mindset Is Key to Growth and Impact
Essential to balancing social impact and revenue growth has been finding the right blend of experience and skills from management and staff.
One key challenge is that management at KFG must run a successful catering business that is competitive in the commercial market while also running an organization with a mission to create social change. Catering revenue and success depends on KFG running a business that demands constant attention to optimizing cost of goods, menu planning, excellent customer service, and sales and marketing to prospective customers. These are not the typical skills or knowledge that a nonprofit manager or CEO brings to their job.
While simultaneously managing and growing a successful commercial catering business, KFG also must focus on the social impact programs that are its core mission. They have developed a high impact, comprehensive culinary job training program that has now graduated nearly 150 students. The program specifically serves individuals who are experiencing significantly high unemployment rates: formerly incarcerated adults, foster youth transitioning out of the system, victims of domestic violence, individuals with mental health disorders, and individuals with histories of substance abuse. This requires high levels of support and training both in and out of the kitchen to provide "knife skills and life skills."
As the culinary training program grew, KFG recognized the importance of providing case management, mentoring, continuing support after graduation, and more to ensure ongoing success. As a result of these implemented changes, today KFG has greater than 90% employment rate in San Diego's top restaurants, with employees earning well over minimum wage, and with a high percentage of graduates earning wage increases and promotions in the first 6-12 months after graduation.
Finding leadership and management talent that can understand and effectively execute along multiple and very different metrics and "business lines" presents a challenge in any organization or business. KFG experienced this in its first two years, losing significant money in the catering business even while the job training, food rescue and hunger relief part of the program thrived. However, KFG has devoted a lot of thought and purposeful reflection to getting this mixture right with new roles for leadership and additional staff in key areas. The effort is paying off. Recently, both leadership and the board have established a truly powerful equilibrium to make the social and financial objectives work well together. As this transformation has taken place, not only has KFG become a highly successful and nationally recognized social enterprise for their culinary job training and social impact — they also won the 2018 Caterer of the Year award from San Diego Magazine and their catering business is thriving, growing and profitable.
Key Insight #2: Increase the Board's Support of Leadership Team to Experiment and Possibly Fail on the Path to Success
A truly critical aspect of success in this balancing act for social enterprise success is the support of the board of directors. The fiduciary duty and culture of a nonprofit board does not typically allow for experimentation or even failure on the path to success. In social enterprises, the term "entrepreneurship" must be part of the culture of the board's perspective. The board must support and empower management to allow the flexibility for experimentation, even failure at times, and for the ability to iterate in real time. This requires a carefully cultivated mix of board members' skills, backgrounds and mindsets.
How did we as KFG board members manage that shift? We have changed the makeup of the board dramatically over time, and are increasingly thoughtful in how we recruit new members to fill in gaps and strengthen our decision-making and partnership with KFG management. We evolved from a working board, providing resources and skills when KFG was much smaller, to a board focused on strategy and our "why" as an organization. We also developed and implemented more processes and protocols so decision-making is more structured and priorities are reviewed at every step.
As social entrepreneurship becomes more and more prevalent, it will continue to present challenges and opportunities to the leadership and decision-making models and frameworks of the nonprofit industry. It will also create opportunities for greater impact and sustainability than we might have imagined. A key question will remain: how we as changemakers can most effectively embrace and build on the potential that social entrepreneurship represents to create sustainable, scalable change?