At the Kroc School of Peace Studies, we equip our students to address a wide range of challenges, spanning from armed conflict to human rights abuses and environmental injustices. We are proud to have the #3 conflict management and resolution program in the nation. One of the many reasons why we are so highly ranked is because our professors continue to practice and update their teaching to meet the evolving conflict challenges of our world.
The continued involvement means the Kroc School is consistently evolving the curriculum to match what the field and the market requires of conflict professionals, which assures graduates are fully prepared to advance in a competitive job market and apply skills that will add meaningful value.
The MS-CMR program is focused on equipping students with a deep understanding of the historical, institutional and cultural factors that drive conflict, injustice, oppression, and poverty.
Continue reading to learn about current MS in Conflict Management and Resolution student, Twila Albrecht, and her experience with the University of San Diego Kroc School of Peace Studies.
Meet Twila Albrecht, Current MS-CMR Student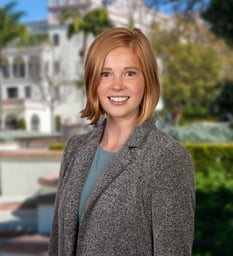 Twila Albrecht is a current student in Kroc School enrolled in the Master's in Conflict Management and Resolution program. Twila was born and raised in Goshen, a small city in Northern India. In fact, every school Twila attended from elementary through college were all on the same mile and a half stretch.
In 2015, Twila graduated from Goshen College with degrees in journalism and sociology. Since then, she's worked with the Community Resilience Guild, Mennonite Education Agency, Mennonite Health Services, and as an independent contractor.
Twila credits her journey into conflict management and peace studies from the jarring year of 2020. She states that, "Being situated in a pandemic brought new urgency to many of the issues that had been collectively shoved under the rug or deliberately ignored."
In 2020, Sonya Renee Taylor wrote "We will not go back to normal. Normal never was." Reading these words, Twila knew she wanted to be intentional about equipping herself with tools for transformation.
Why Study Conflict Management and Resolution at Joan. B Kroc School of Peace?
Twila alludes to her choice to study at Kroc School with many different reasons, one being that she was drawn to the curriculum that emphasizes experiential learning with a focus on preparing to work in the field.
Prior to deciding on a graduate school, Twila talked with practitioners whom she admired, which led her to reading about the Professors at Kroc School. She accredits their questions and alignment with her own interests, and recognized their writing challenged her to think differently.
She also credits the location of campus, but not just because of the nice weather. "The proximity to the ocean and the US/Mexico border contributes to the unique perspectives and experiences that make up the Kroc School," said Twila.
Ultimately, it was the people who made her decision to choose Kroc School. She appreciated the school's emphasis on community and practice, as well as the breadth of focus areas, ranging from interpersonal, to organizational, national and international. Twila also stated that the people at Kroc are what make it such a great resource. She spoke on the easy application process, and that everyone she spoke with was responsive and eager to share about their experience.
Equipping the Skills to Create Lifetime Achievements
Twila expressed that she had high hopes and expectations for graduate school. Her goal before starting school was to leave with something published. She looks back and "laughs" at herself now, not because her goal is unattainable, but because of how much her priorities have shifted.
She is most proud of the relationships that are forming and the possibilities that will continue to evolve from places of trust, respect, and accountability. "​​Moving to a new place and forming new relationships during a pandemic is really hard and it's a privilege I don't want to take for granted," Twila stated.
"I believe a conflict transformation lens will serve me well no matter which sector I find myself working in," said Twila. "Conflict is an inevitable part of our lives, and in its midst, we can decide who we want to be and how we want to be with each other, and that is the work I care about."
Where Can a Master's Degree in Conflict Management and Resolution take you?
Twila praises Kroc School for changing her outlook on her career and dreams. She now says she's not necessarily preparing herself for a specific job or career path, but rather investing in the kind of learning and leadership capabilities that she hopes to carry with her throughout her work and life.
Most recently, her work has supported leadership development and executive searches.
Having a passion for conflict management and resolution can take you far in life and lead to fruitful opportunities in different aspects. Some of those opportunities include a conflict mediator, restorative practitioner, UN civil service officer, diversity and inclusion officer, customer success manager, policy advocate, human resources specialist and more.
Let Your Passions Come Alive - Start Your Career in Conflict Studies
The interdisciplinary Master of Science in Conflict Management and Resolution draws in working professionals from around the globe. Students learn the skills necessary to expertly navigate intra-societal conflicts at the individual, workplace, community, national, and international levels.
If you share similar interests and passions as Twila, then please do what's needed to step into your role as a peacemaker and resolutionist. We need more individuals pursuing and creating peace in our world today.
Here are three steps you can take to get started right now:
Download our eBook

"How Peace and Conflict Studies Make You a Top-Tier Job Candidate: Exploring the Field of Conflict Management and Resolution."

Connect with

our admissions team

to begin your exciting journey toward providing conflict management and resolution in the world

Begin your application

to join the Kroc School and begin working toward your Master of Science in Conflict Management and Resolution.