SFI Season 2 Launch Matches Youth Peace Leaders With Mentors to Tackle Social Justice Issues
Tuesday, June 25, 2019TOPICS: ChangemakerFieldworkYouth and Peacebuilding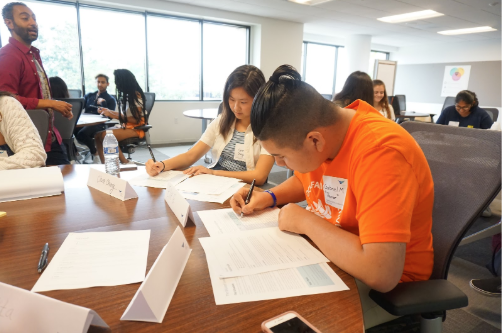 The following post was written by Social Fabric Initiative Intern Ellie Gamble and Program Officer Nicky Riordan
In June, a slate of exciting activities took place to kick off the second year of the Social Fabric Initiative (SFI) at the Kroc School's Institute for Peace and Justice (Kroc IPJ). SFI partners high school-aged youth, who we call Youth Peace Leaders (YPL), with college-level interns and field-based professional mentors to create community change projects that contribute to social justice efforts across San Diego County. It is in this spirit of working together and connecting with others that we established our SFI slogan, #connectionsmatter.
Season 2 of SFI will benefit from some key changes to the program on the heels of a thorough evaluation of the learnings from Season 1. The biggest change is to the way we refer to our high school participants: in Season 1, we called them Volunteers; in Season 2, we're calling them Youth Peace Leaders. It is important to recognize that our youth are not only the leaders of the future, but they are leaders now, and this change in name reflects that belief. Additionally, Season 2 brings an important shift in the kickoff of the program and the momentum it creates. Rather than a single launch event, this year included a Pre-Launch and Launch event.
It all started with our Pre-Launch event on Saturday, June 8, where we welcomed the YPLs from various high schools around San Diego and introduced them to the different nonprofits and mentors they could choose to partner with over the summer. The event was energetic and dynamic, as it consisted of several rounds of "speed interviews" during which the YPLs were able to hear about the work of each mentor and also ask any questions about the particular social justice issue the mentors are seeking to address. This year, SFI is partnering with eight mentors and five local nonprofit organizations that address topics including plastic pollution, food insecurity, LGBTQ+ rights and advocacy in San Diego, and more.
After the Pre-Launch, the YPLs submitted "Exit Tickets," which required them to choose the top three mentors and social justice issues they would most like to work with. This information was used to sort the YPLs into their Threads (small project teams) for the summer. Once the Threads were set, we were ready for the Launch event on Monday, June, 17, where the YPLs learned which topics they would be working on as well as the peers, interns, and mentors they would be working with.
The Launch event included two substantive Thread meetings with two primary goals: building relationships and community, and starting to formulate questions and ideas for the mentors. We sought to get to know each other better and build strong, trusting relationships as we will work closely together all summer. After spending some time getting acquainted, we dove into our personal interests around our particular topics of focus, and connected with the mentors to learn more about the problem set we would face and to begin to identify the positive impact we could make.
Following the Pre-Launch and Launch events, our SFI intern team and YPLs are starting Season 2 strong and motivated. The rest of the summer will include various professional development workshops, team Thread meetings, and the important work of designing and implementing each community change project. Season 2 promises to be an exciting one.
As an intern for Season 2 of SFI, I'm so excited to be working with the YPLs and to see what ideas and avenues they decide to pursue for their projects. As a college student, SFI will provide me with an awesome opportunity to work with and learn from people both older and younger than myself. SFI truly bridges education with action, and I look forward to both learning more about social justice issues this summer, as well as doing something meaningful to promote positive change.
For more information on the Social Fabric Initiative and to follow the work we will be doing this summer, please visit our website and follow us on Instagram and Facebook.
Contact: