To create change and make a positive difference in the world, you need the knowledge and the skills necessary to put your ideas into action. At the Joan B. Kroc School of Peace Studies, we offer a nine-month full-time Master of Arts in Social Innovation (MASI) program, which is the #1 Nationally Ranked Social Innovation Program in the country. The MASI program gives you the skills, understanding and experience to create meaningful change to poverty, inequality, human rights abuses, environmental challenges, humanitarian crises and more.
With a passion for creating positive, social change, and a background in volunteering centering around community building and advocacy, current student Elizabeth (Liz) Hunt knew that the MASI program was the perfect choice for her. Continue reading to learn more about current MASI student, Liz, and her journey throughout the program.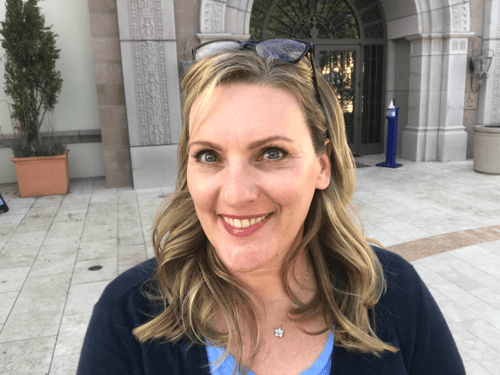 Meet Elizabeth (Liz) Hunt, Current MASI Student
Liz Hunt is a current student in Kroc School enrolled in the Master's of Arts in Social Innovation program. Liz has been living in the Pacific Northwest for the last 15 years, but is originally from San Diego.
After a career in the outdoor industry working for companies such as Marmot and Helly Hansen, Liz took a break to raise her family. She then returned to school as a single mother to complete her undergraduate degree in anthropology, with minors in global studies (transnationalism and cultural diversity) and religion.
Liz credits several of her undergrad professors for urging her to continue her education and to consider graduate school. As her inquiry through her undergrad was focused on various themes that included power, resistance, genocide, and issues realted to globalization, she felt a strong need to build peace through her work.
Why Study Social Innovation at the Joan. B Kroc School of Peace?
Located near the world's busiest international border, the University of San Diego's Master of Arts in Social Innovation draws in purpose-driven social innovators from around the world. And living in San Diego when the Kroc School was being built, Liz couldn't help but think what an amazing experience attending the Kroc School would be. She then began to learn more about the school and its program offerings, such as the MASI program.
As someone who has a lot of agency to create positive social change, and with her impressive volunteer background, Liz knew the MASI program would help give her the tools needed to become a social innovator.
Liz did have some hesitations, such as fitting a master's program into her life, but since the MASI can be done in 9 months, it made it much more accessible for her. She also was not sure if it was the most logical decision, as she was living out of state and was raising two kids alone. After talking with her sons, she knew this was an opportunity and an adventure that should not be passed up.
Liz stated, "Once I read about the Social Innovation program, I knew that this was the pathway for me. I spoke frequently with Hilary Beggs, the Director of Admissions at the Kroc School, who patiently answered all of my questions. Thanks to Hilary, I was also able to virtually meet with some of the professors and fellow students to get a better sense of what it was like to be a student at the Kroc School. I could not wait to apply!"
Equipping the Skills to Create Lifetime Achievements
Beyond the classroom, Liz stated that Kroc School has many visiting scholars and speakers students can engage with, making it that much more of a vibrant experience. The strong support for pursuing her career pathway was another aspect that was very important to her. She also knew becoming a Kroc School student as well as a USD Torero meant that she would have outstanding networking opportunities among alumni.
Liz believes that one of the great things about the Kroc School is that the professors truly want to support her in where she wants to go with her studies. Liz has taken on the task of writing a case study as part of an independent study, which will allow her to share her community-based activism experience to facilitate change. Her goal is to have the case study published for use at the Kroc School for teaching future students.
Besides the support that she has received, Liz credits the Kroc School for their dedication to supporting students in career development. Outside of the classroom, Kroc School offers many different opportunities for support in developing job search strategy, cover letters, resumes, and interviewing skills. Many of these opportunities are tailored to the specific needs of Kroc School students.
"One extremely valuable aspect of career development at the Kroc School for me has been the ability to work with an alumni mentor. My alumni mentor is helping me rethink the employment possibilities with the unique skill set that I have. She has been so helpful in my process of trying to figure out what my dream job is," said Liz.
When discussing the strong bond among all the students and how it expands beyond to all Kroc alumni, Liz said ​​"There is truly no other school like the Kroc School, especially when it comes to being part of the Kroc School community. The energy and support within the Kroc community is tremendous. Our Kroc community is representative of many different countries, cultures and beliefs. Inside and outside the classroom, we share and discuss what we have learned, and learn from each other's lived experiences."
Let Your Passions Come Alive - Start Your Career in Social Innovation
Whether you have a clear vision of how you want to solve society's problems—or if you're not sure just yet—the Master of Arts in Social Innovation (MASI) can be your passport to changing the world. Our program will provide you with tangible, practical experience designing, implementing and managing innovations for social change. If you share similar interests and passions as Liz, then please do what's needed to step into your role as a social innovator. We need more individuals pursuing and creating positive, social change in our world today.
Here are three steps you can take to get started right now:
Read our blog titled

"What is Social Entrepreneurship and Social Innovation: Definition, Ideas and Examples"

Connect with

our admissions team

to begin your exciting journey toward providing peace and justice in the world
Begin your application to join the Kroc School and begin working toward your Master of Arts in Social Innovation.