Negotiating Change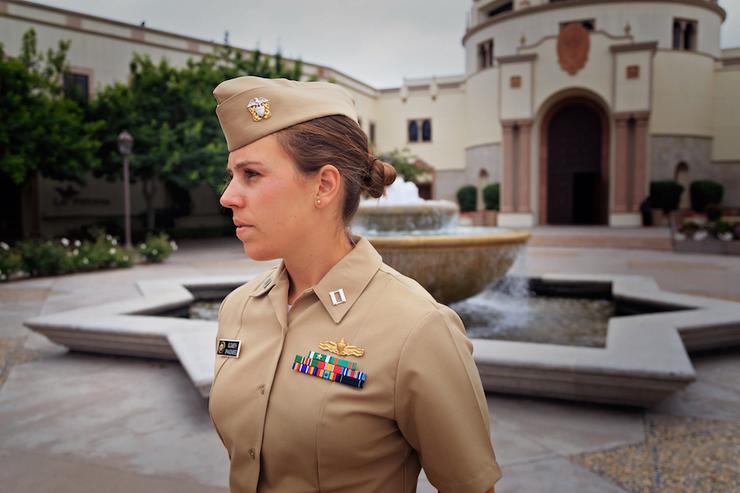 The concept of peace through strength is a chasm traced back to the first century Romans– a civilization not particularly known for their peaceful tactics. Fast forward 2000 years and the method is still embraced by some while baffling others. US Navy officer and Kroc School graduate student Lieutenant Elizabeth Spangenberg joined the masters program to enhance her skills in peaceful conflict resolution in lieu of strong-arm tactics. Commissioned to the U.S. Navy in May 2009, and through her deployments in the Persian Gulf and South Pacific, Elizabeth has witnessed firsthand the need for negotiation and conflict resolution training at every level in the military – from troops who need to connect with the local people on the ground, to officers who need to manage interpersonal conflicts.
As a Navigator onboard the USS DECATUR, a Ballistic Missile Defense ship, Elizabeth found herself in a unique leadership position – managing on-deck sailors and having the ear of high-ranking officers. In between both groups, Elizabeth's pragmatism told her that there was a place among her military peers for advancing justice through peaceful means. "I think I can do this by influencing the people who I lead in the military. Coming to the Kroc School has helped me gain a deeper knowledge and practical skills for conflict analysis in conjunction with international negotiations. Now, when I see injustice, or confront conflict during a tense situation like a deployment, I feel compelled to speak up because I have the background and the context to deal with it."
A force for peace
Challenged by impassioned classmates and faculty, one of Elizabeth's first lessons at the Kroc School was learning the distinction between peace as a lofty concept versus peacebuilding as an actionable undertaking. "The students here are extremely motivated, and ready to do the work. Getting to know them, it's real, I understand where they are coming from. I like their worldly views, and they bring up points I hadn't thought about that inspire me in different ways." Learning is rounded out and enriched by faculty who have global experiences and speakers who have witnessed injustice firsthand.
Melding her regimented navy training with challenging conversations about peacebuilding, she's striking a balance between her military and civilian worlds. "In class we were talking about how the military works with NGOs, and the biggest problem I am seeing are the perceptions one has of another. You might think peacebuilding is all pie and sky and it's not. There are practical solutions to solving conflict. This starts with simply learning to communicate better and understanding why people become defensive and angry. When you open yourself up in this way, you are able to have more empathy, which could change interpersonal interactions. While in the program, I've also had the chance to take a mediation workshop offered by the Kroc School, which is more of a way to enhance and apply what we learn."
Returning to her military post armed with knowledge and peacebuilding skills, Elizabeth looks forward to putting her education into practice. "Through my job in the military I will have the opportunity to travel all over the world and influence people. To work toward resolving conflict before it even happens, that's the big dream."