My Summer Internship With the United Nations in Vienna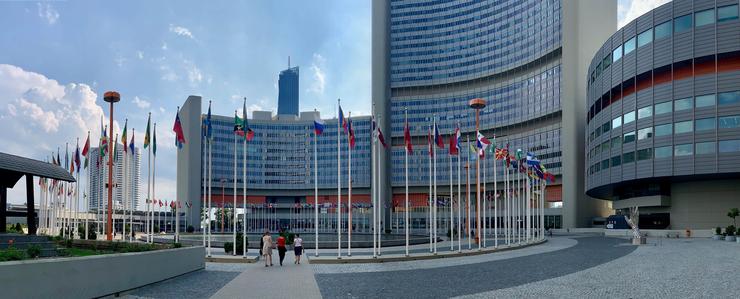 This summer, Kroc School students who are part of the MA in Peace and Justice (MAPJ) program have internships working with peacebuilding organizations in the United States and around the world. Before departing for their internships, students were asked to share updates from their internship experience, and this is one such contribution from MAPJ student Veronica Musa. This summer, Veronica is working with the United Nations Office at Vienna. Stay tuned for more updates from these students this summer.
I live in Vienna's 15 District, a vibrant and culturally diverse outer neighborhood in the western part of the city. From Monday to Friday, I take two metro lines, U3 and U1, to get to the UNO City, as locals call the giant campus housing one of the four official headquarters of the United Nations. The daily journey takes me about forty minutes. In the sweltering Austrian summer—the hottest on record, people complain constantly—I probably am the only person riding the crowded subway with a smile wide open: but hey, how not to, this summer I am working for the United Nations!
Between 4,000 and 6,000 people from all over the world work every day at the Vienna International Centre (VIC). My supervisor, Riikka, is from Finland. The chief of the section is from China. The director is from Russia. I have met dozens of colleagues, and the same nationality has yet to repeat. All official languages of the UN are spoken continuously everywhere, often by the same person! Inside the campus, there are several buildings and hundreds of office spaces, but also conference and training rooms, a restaurant, a library, a museum, cafeterias, banks, and even a hairdresser, a supermarket, laundry services, and a travel agency. Because it is an extraterritorial jurisdiction exempt from Austrian laws, United Nations security personnel protects the entire place.
Launching of UNODC 2019 Global Study on Homicide
My office is on the 12th floor of building E, named after beloved UN Secretary-General Kofi Annan. I work for the Division for Treaty Affairs/ Organized Crime and Illicit Trafficking Branch/ Conference Support Section of the United Nations Office for Drugs and Crime (UNODC). Assigned to the Education for Justice (E4J) program, my task is identifying relevant case law and creating pedagogical exercises to accompany the teaching modules on organized crime for all the countries and territories of the Pacific Islands. As the Pacific Islands are increasingly affected by organized crime, specifically in the areas of wildlife and environmental crimes, my assignment is relevant and exciting.
View from my office
UNODC understands that education is an essential factor in preventing crime and promoting a culture of lawfulness and peace. The E4J program has developed modules on several topics which are taught in all levels of education worldwide. By adapting content to specific regions, we seek to address the particularities of each society as well as developing more relatable tools for teachers and students.
On top of very much enjoying what I do, with all its wealth of museums, churches, cafes, and endless charming streets, Vienna is one of the most beautiful cities I have ever been. I feel so inspired and grateful for this experience. Loving summer at the VIC!
Learn more about the Kroc School's graduate programs that combine theory and practice to help you advance in your career as a peacebuilder and social innovator.