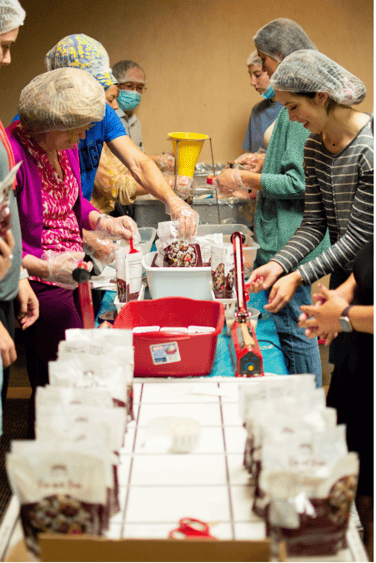 On Friday April 29th, students across USD's campus got together to pack meals for Ukrainian refugees abroad. This event prefaced the Fowler Global Social Innovation Challenge USD showcase, where 15 student changemakers pitched their social enterprises in pursuit of the chance to represent USD at the Global Finals. There, student social entrepreneurs from across the world will compete for $75,000 in seed funding for their ideas that will tackle the world's most pressing challenges. Each project aims to address one or more of the 17 United Nations Sustainable Development Goals (SDGs). As the war in Ukraine continues to displace millions of people, the need for innovative approaches toward sustainable development grows more evident. As individuals and organizations all over the globe embark on ways to impact change, the USD community got together to pack essential meals for those impacted by the war and showcase our student's vision for sustainable development.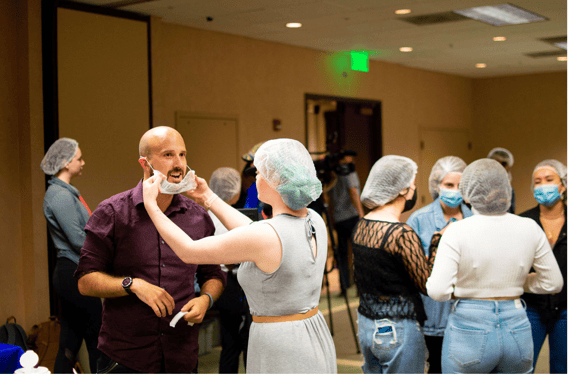 Austin Hirsh, the co-founder of The 2050 Company, was a student in 2019 when he pitched his idea at the Fowler Global Social Innovation Challenge. Austin's goal: To achieve zero waste, by repurposing rescued and upcycled ingredients for freeze-dried smoothie packets (2050co.com). Three years later, the kickstarter company is eagerly aiming toward another equally ambitious goal: zero hunger by the year 2050. Thanks to a collaboration between the Kroc School, the USD Alumni Association, and the changemaker hub, the event was able to bring our USD community together and transform passion into action.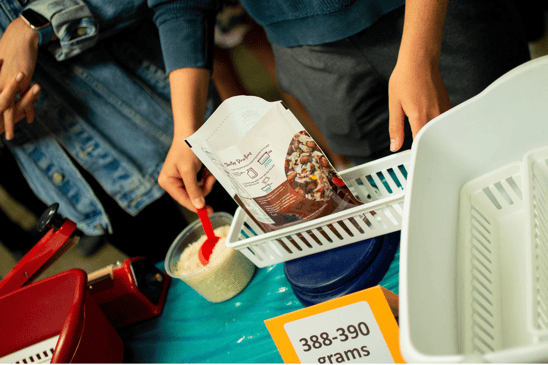 Over 75 USD community members, gathered in hairnets and beard-nets, assembled themselves on the meal packing production line to pack 10,000 freeze-dried rice, bean, and vegetable meals for Ukrainian refugees impacted by the war. For an hour and a half, the room was filled with music, chatter, and the every so often ringing of the bell that celebrated precise scoops of meal. An air of collaboration and friendly competition was definitely present.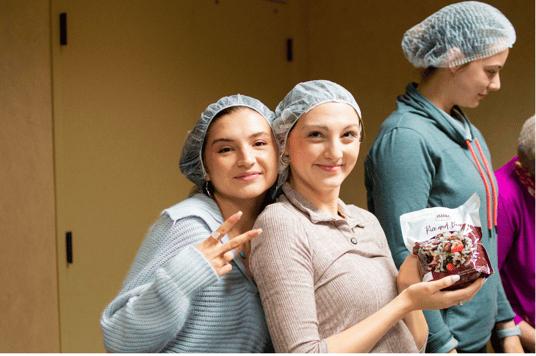 University of San Diego undergrad Mariana, was moved by her faith to attend and pack the meals for Ukrainians living in uncertainty, "I've been so blessed here and want to be a blessing for others". To Mariana, USD's identity as a Changemaker campus not only means social innovation but giving back to others when you can.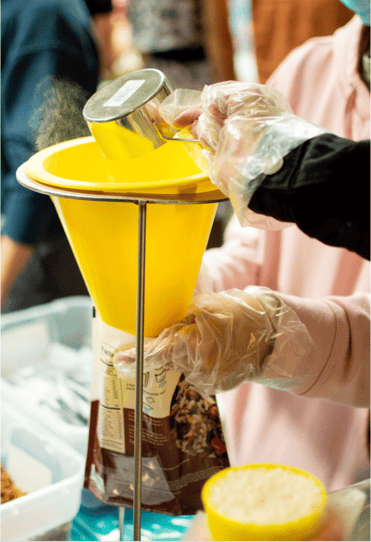 The event was also made possible by The Outreach Program, which specializes in the organization of food packing initiatives like this one. At the Kroc School, students learn that impact has many forms. It includes shepherding resources, but it is also about community-building. Whether it be hunger, food insecurity, or climate change - endeavors like this one offer space to uniquely engage with a global problem, encourage participants who would otherwise stand outside of the issue to incorporate it into their lives, and perhaps breathe it into the lives of others.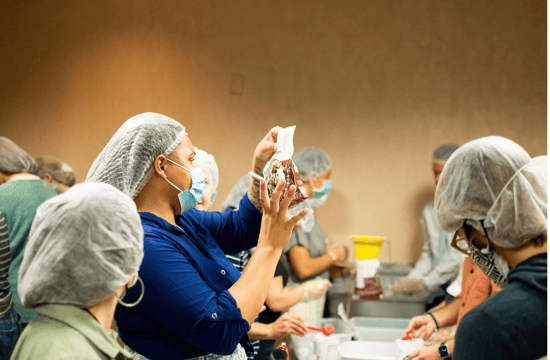 After each meal had been packed and each hair and beard net disposed of, folks proceeded to eagerly await the winners of the campus-wide showcase for the Fowler Global Social Innovation Challenge. Kroc Master's in Social Innovation student, Tabitha Nakholi, and first-year undergraduate student, Steffek Rainey, won first and second place awards and the opportunity to represent USD in June in the Global Finals of the Fowler Global Social Innovation Challenge. There, they will compete for $75,000 in venture seed funding, amongst student social entrepreneurs from 34 universities and 17 countries.