Master's in Peace and Justice Student's Capstone Brings Artists, Community Together to Experience Peace
The following post was written by Crystal Abrahim '19 (MA).
"People will forget what you said, people will forget what you did, but people will never forget how you made them feel." — Maya Angelou
Marcela Campo and I began our Master's in Peace and Justice in Fall 2017. Often having the same classes or attending the same events over the course of two years, we became inseparable. Both coming from immigrant families, we found many commonalities in our upbringings and cultures. Marcela came to the United States at the age of 13 from Colombia, and I am first-generation Chaldean Iraqi-American.
During our studies, she and I focused mostly on immigration and asylum, and given our backgrounds, we felt really drawn to these issues. We both have worked with different refugee organizations and felt compelled to end our Master's program with something near and dear to our hearts. After having multiple conversations about these issues throughout our master's program, we decided to come together for our final capstone project and create something we felt defined the best of humanity: resiliency.
While some mistake the Master's in Peace and Justice as some sort of "free-spirit degree," Marcela and I were constantly exposed to very harsh realities about the world. Learning about civil wars, genocides, mass shootings, terrorism, structural violence and the like, we started to feel deflated by these global issues. However, we were both fascinated by humanity and what gave people hope, even during the most horrendous times in history.
While having this conversation with Marcela last summer, I was reminded of my sweet friend Anas from Syria. I met Anas during my time in Maastricht, Netherlands, as a volunteer at a refugee resettlement house. We became great friends and would get coffee frequently, where we would discuss life in Syria, the war, and the transition into Western Society. When I asked him what kept him going through the hardest of times, he told me that he would play the piano or write poetry, which was his primary outlet for relief. (Anas is an amazing artist and poet to say the least!)
Crystal and Anas in Maastricht, Netherlands (2015).
This sparked my and Marcela's interest in highlighting the value of expressive arts as a form of peacebuilding. We began discussing personal experiences of how instrumental music, poetry, painting, dance, and storytelling had been in our own lives, as well as our clients'. Taking all we had learned from our master's program and all we knew about the value of expressive arts, we decided to come together for a capstone applied project called Experience Peace. Our hope was to create a space where artists, community members, and organizations would come together and organically experience the power of human connection through art. In retrospect, we walked away with so much more!
Our Master's in Peace and Justice Capstone: Experience Peace!
We split up the project into two parts: written research and the applied event, Experience Peace. We spent one semester dedicated to researching expressive arts and their impact on trauma healing; then, we spent our final semester working with community members and figuring out the logistics for Experience Peace. Before carrying out the event, we asked artists and different community members if they had an interest in partaking in Experience Peace, and we were astounded by how many positive responses we received! We reserved the Kroc School's main theatre and began meeting with performers from various refugee communities to learn about their stories, their talents, and what they wanted to share with the audience we planned to bring together.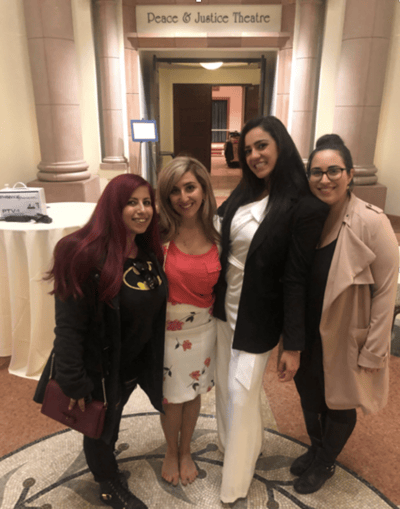 Crystal and Marcela (Center) at Experience Peace!
A night that was a year in the making came out to be one of the most special and rewarding events of our graduate program. Not only because we had planned for it for so long, but because there was such a holistic flow and genuine exchange within the space that we could never have planned for.
The purpose of this project was truly to honor what we think to be the best thing about our studies: resiliency and building relationships. To be able to have brought these things together in a creative and meaningful way will forever be one of our most humbling moments at the Kroc school.
Marcela and I are so appreciative of all the support and inspiration we received from our capstone advisors, faculty, staff and students. A huge thank you to Professor McDougal, Professor Fryer, and Dr. Tschirgi for the endless meetings and thoughtful contributions that enriched our research and event. And the sincerest gratitude to the artists, community partners, community members, students, and everyone who joined us May 23, 2019 at Experience Peace!
While we can objectively explain 'peace,' our hope was to create an event that would foster the opportunity to experience culture, diversity, resiliency, community building, love, gratitude, arts, inspiration and all the subjective elements that truly create peace. We hope that this event will be carried on for years to come!


Artists of Experience Peace!
We are so humbled to have shared the stage with these remarkable artists. We thank each and every one of them from the bottom of our hearts for donating their time and talents for this event.
The Karen Organization (Dance Group):

Karen Organization of San Diego is committed to the educational and social enhancement of various ethnic minority groups from Burma, who reside in San Diego, California. KOSD serves refugees from Burma resettled in San Diego. KOSD's Karen Youth Dance Group is a community, which tries to preserve the Karen traditional culture, including: weaving, dancing, and music.


The Peace Team (Musicians):

The Peace Team have participated in many artistic festivals where they play old Iraqi and Arabic music. The Peace Team from Iraq is managed Fouad Sawa, who arrived in the United States as a refugee in 2009. He settled in El Cajon, where he started to work and teach music at home. Later, Fouad took a small office to teach oud, guitar, and piano and quickly became a distinguished Middle Eastern music teacher within the Arab community in San Diego. To date, Fouad has released over 120 records, and currently teaches over 35 students in El Cajon area.


Dlan Dary (Musician):

Dlan was born in the city of Al-Hasakah, Syria on Jan 1st, 2001. At two months of age, he was diagnosed with retinal dystrophy and considered blind. Two years after the onset of the war in Syria, Dlan fled with his family to Iraqi Kurdistan, in 2013. Once in Iraq, Dlan and his family settled in a refugee camp for three years. During that time, Dlan spent his free time composing music about the hardships and suffering of living in a refugee camp. Dlan arrived in the United States as a refugee, in November of 2016.


Emmanuel Adamson (Spoken Word Poet, Storyteller, Comedian and Actor):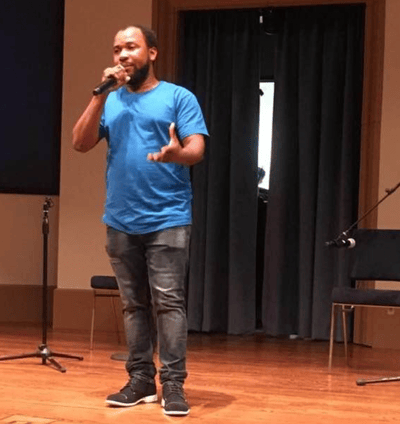 Emmanuel Adamson Ngelelo was born in the Democratic Republic of Congo and was raised in Tanzania, after losing his whole family due to the ethnic war in Congo. He moved to the United States in 2010, where he faced a lot of challenges and breakthroughs. Throughout his experiences, Emmanuel maintains a humor and a talent for storytelling, primarily based on social issues that people face on a daily basis.


Clement Joel (Singer):

Clement Joel, also known as Joe P Man was born in the Democratic Republic of Congo, but was raised in Uganda. He was forced to leave the DRC due to a political war. He started singing at the age of 15, after discovering his talent with a music crew known as Afro Star. His wish is to help marginalized youth succeed in the music industry, who lack financial opportunities. He is looking forward to becoming a great contributor in his community.


Jafferi Kyanza (Singer):

Jafferi Kyanza Jafferi Ntambwe Kyanza Walusheba was born in the Democratic Republic of Congo, in the slope hills of Bukavu. Jafferi together with four others started a refugee youth group called SAYA, which stands for San Diego African Youth Association. They hope to restore respect, reduce crime, and create economic opportunities for young refugees. He is very passionate about singing because he believes in the transformative power of music addressing today's societal problems.


Qusay Tariq (Artist):

Qusay is an artist from Baghdad, Iraq, where he received his Master's from the Academy of Arts. He came to the United States as a refugee and continues to paint, draw and teach in San Diego.


Mohamed Elnakib (Photographer):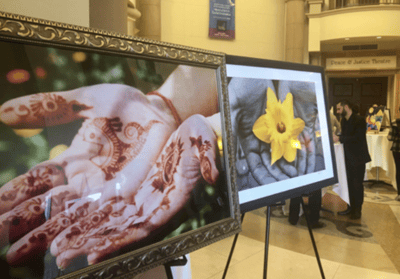 Mohamed is a 24 year old Muslim American, unapologetic, civil rights activist and community organizer. Born in Port Said, Egypt, Mohamed immigrated to the United States at the age of 6 years old. Mohamed has traveled all over the world capturing timeless photos and sharing the stories of different ethnic groups as a way to raise awareness and empower others to see the value and power that comes with storytelling and photography.


Viet Mai (Social Innovation educator, Artist, Consultant):

Upon finding his voice through spoken word poetry, Mr. Viet connects with community leaders throughout San Diego and other cities to inspire young people, promote civic engagement, celebrate art and culture, and elevate social consciousness. Mr. Viet currently serves as a Program Facilitator with the Village of Promise Collective Mentoring Program, and an Independent Consultant. After completing his MA in Social Innovation, Viet Mai is exploring the startup community and impact sector to find ways of designing and implementing sustainable change.


Partners of Experience Peace!
We also had amazing community partners who set up booths and literature at the event to further enhance the evening:
Ready to advance as a peacebuilder, social innovator, or changemaker? Learn more about the Kroc School's graduate programs.