Letter to a Young Peacebuilder
Wednesday, October 3, 2018TOPICS: Youth and Peacebuilding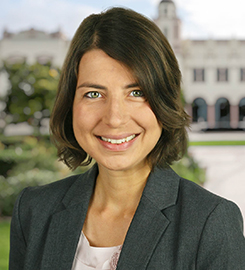 Dear Young Peacebuilder,
I am delighted to take the opportunity to share some pieces of advice with you, Young Peacebuilder.
First of all, thank you so much for your dedication and passion for making the world a more peaceful place. I do not know your background but I hope with this letter I will be able to contribute to your learning experience. I am also a Young Peacebuilder in a sense that I just started my graduate studies in Peace and Justice a year ago. However, I have been on the path of personal development for two decades, which led me to pursue Peace Studies.
It was not an easy path, though, and sometimes
I find I am still struggling with my own boundaries and limitations. I do not give up because I feel that every difficult situation I have faced in my career or personal life has contributed to a better understanding of myself and to conflict itself. I have also learned a lot from my mistakes. Therefore, my first piece of advice is 'never give up'. Giving up is not an option, as Kamarulzaman Askandar, peace activist said.
I have spent a lot of time learning about myself and my strengths and weaknesses. This learning process led me to accept the person who I am and to embrace my limitations. The more you understand yourself, the more you understand others. This will help you to become a peacemaker, a mediator between conflicting parties. It is also important to know your values and standards and ask yourself: "Am I the right person to do this?" So, my second piece of advice is to know yourself, to know your motivation, strengths and skills.
Your life is what you create, which is why it is extremely important to have a vision. Especially if you are to be a peacebuilder, you must have a vision. A vision is not a rigid fantasy. Do not consider it a failure if you are not able to make it happen. You can change your goals, adapting to the actual situation, because peacebuilding is a learning process. To have a long-term impact, we need to adapt to change. My third piece of advice is therefore: be a visionary and stay flexible.
My next piece of advice may sound very simple, but is still a hard one. Be kind! Be kind to everyone. Be interested in people. Connect with others and give compliments, affirm even minor things. You never know, it might mean a world to somebody who rarely receives compliments or who is struggling with something. Similarly, be an active listener. Learn to listen effectively, ask people about their story, let them speak, and listen without judgement. This makes you more empathetic, which is so needed in the field of peacebuilding. There are so many untold stories that need to be told. Creating a safe space, a supporting environment where people can share their stories is important. Active listening builds trust and opens people. It has healing power, not only for the storyteller, but for the audience or for the interviewer as well. The stories I heard about injustices made me more grateful for my own life and also made me work harder for others.
Please, keep in mind that feeling sad, feeling tired, or questioning things is absolutely right. We need time to charge our batteries. After an exhausting day, I often feel hopeless, however, I am full of energy and ready to work with enthusiasm. We might go through a difficult period when we have to remember: going down is sometimes the way to go up. Do not hesitate to ask help if you need it. We are not alone in finding solutions to the problems of the world. Team up with people who share the same values, and who you trust. Peacebuilding means teamwork and I am grateful for every moment where I am able to learn from other peacebuilders or work on peacebuilding strategies with others. What's more, it is critical to know the topic you are dealing with. Prepare yourself as much as you can; become an expert of the field. A mentor plays an important role in this regard. Knowing the subject, the conflict, the community you are working with and the interested parties and stakeholders is crucial. If you are facilitating a dialogue or preparing for a negotiation, think first about who needs to be at the table, what needs to be on the table, and what tables need to be turned. What is the change you want to bring about?
Peacebuilding is more a lifestyle than traditional work. If you want to bring about change in a field that you are passionate about, if you work hard toward a topic that makes you feel fire in your belly, you might forget to care for yourself and your own needs. Self-care is important for everyone, but for peacebuilders it is still more necessary. Make sure you have your own spiritual or emotional well-being practice and hold on to it. This can be physical exercise, meditation, praying, keeping a journal, or listening to uplifting teachings and podcasts. Practice mindfulness. This gives you confidence and a feeling of connection to something superior than we are. I cannot tell you how much power I was able gain from that feeling of connection.
Finally, my most important piece of advice is in connection with the previous one: be present. This gives you the ability to see what is invisible, to notice what you otherwise would not notice, to hear that silent voice inside you. If you are able to be in the present, you are not lost in your own anger, fear or worries. Being in the present moment and to fear at the same time is impossible. The two exclude each other. Peace starts within, so be the peace you want to create. Let me conclude with the words of Martin Luther King Jr., "Be the peace you wish to see in the world!"
I wish you all the best and good luck in your future.
Sincerely,
Aliz Nagyvaradi '19