Latest Kroc Insight Uncovers Four Key Capacities Youth Need in Order to be Peace Leaders
Tuesday, March 12, 2019TOPICS: Youth and Peacebuilding
begin quote

I will always bring my seat to the table, and if there is not enough room at the table, I now know that I am capable of building my own table. And I will make room for those with innovative ideas and passion for changing the world. – Kaseba Chibweth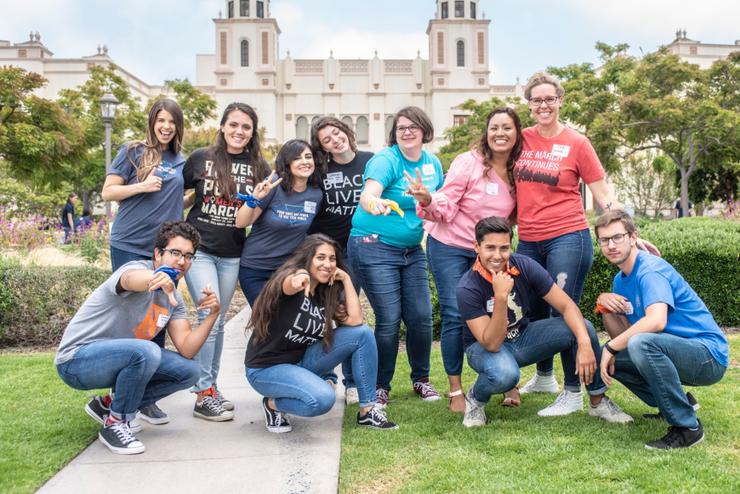 Although youth all over the world are pioneering movements to impact social justice and environmental issues, the truth is many youth are still expecting the adults around them to tell them what to do. Why? Because they've been trained that way. And it became very clear to us when the Kroc Institute for Peace and Justice launched the first season of the Social Fabric Initiative (SFI).
SFI brings together high school students, with university-level interns, and mentors from various peace and justice fields. The high school students (we call them Youth Peace Leaders) and interns form small and diverse teams called Threads, and together they spend the summer designing and implementing a small scale community change project focused on an issue they are passionate about. The mentors join the Thread to offer context and feedback based on their professional experiences tackling pressing issues in our community; they are everyday Changemakers, engineering creative solutions to issues like human sex trafficking, plastic pollution, international peacebuilding.
When the Season 1 Youth Peace Leaders first joined SFI, they struggled with the freedom and leadership we offered them. It just wasn't what they were used to. Through observation, monitoring, thoughtful reflection and evaluation, we realized that in order for the youth to really step into that leadership position, we needed to provide a few critical enablers: trust, access, mentorship, and safety. These enablers allowed the youth to build the capacities needed in order to not only successfully complete the program, but also to be impactful Changemakers and Peace Leaders in their communities. These key capacities — empathy, knowledge-building, autonomous decision-making, and innovative and entrepreneurial thinking — translate into other important areas of their lives, like college and career readiness.
With the third installment in the Kroc Insight series, What It Means to Put Youth in the Driver's Seat, we dive deeper into both the key capacities youth need in order to be impactful Peace Leaders as well as the key enablers we need to provide in order for that learning and leading to happen. Read the full Kroc Insight here.
About Kroc Insight: The Kroc Insight is a powerful new publication series from the Kroc School's Institute for Peace and Justice that focuses on a key idea or a key lesson learned that we believe is important to ending cycles of violence and building more peaceful societies. In case you missed the first two, you can read them here. While you're at it, don't forget to subscribe to receive future Kroc Insights as they are released.
This post was written by Tina Medina, program officer of the Kroc School's Institute for Peace and Justice, and author of the March 2019 Kroc Insight.