The following blog post was written by Dr. Andrew Biros, the Kroc School's Associate Director of Social Innovation & Entrepreneurship. It includes audio contributions from Professor Lan Thị Nguyễn and students in her Community Advocacy, Organization, and Development class.
At the Kroc School of Peace Studies, students learn how to foster a world where more people can live in greater prosperity. That happens when future changemakers connect with the people, practices, and contexts that will fuel social innovations and cultivate entrepreneurial mindsets. It's exciting and impactful work, and it's why I was eager to join Dr. Lan Thị Nguyễn and her students on an ethnographic field study focused on the ways in which the social construction of race, residential segregation, transportation, and municipal planning has shaped the communities of San Diego.
—
Our morning began at Glorietta Bay Park in Coronado. Having recently moved to San Diego, this was my first time on the island, and Dr. Nguyễn's encouragement to her students to take note of the topography while crossing the bridge was fresh in my brain. Cresting over the bridge, Coronado was green and beautiful, the still water offering tranquility to the landscape.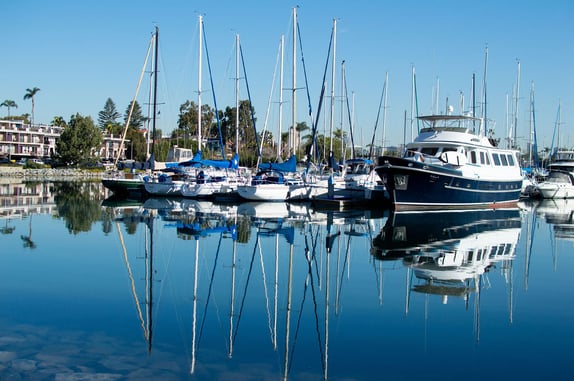 Coronado, CA ; (📸 attribution: Michelle Kamau)
Dr. Nguyễn's Community Advocacy, Organization, and Development class exchanged morning chit-chat on the bay's edge until our small talk was interrupted by a familiar tune. Over fuzzy speakers, the Star-Spangled Banner began to play, a daily tradition for the Navy base on the island. We stopped, some of us turned towards the sound, while others bowed their heads. An older woman rode her bike on the path through our group, casually whistling softly to the tune. Afterward, Dr. Nguyễn explained that the learning had already begun.
Gathered on the bayside shore, Dr. Nguyễn explained the history of the Coronado Bridge, including that in 1926 voters rejected the notion. The Navy also rejected the idea, citing fears of earthquakes and attacks. The Navy also turned down the idea at the time, noting that such scenarios would leave the fleet susceptible to enemies. Not until the 1950s and the Interstate Highway Act's mission to connect the nation's military bases, did the Navy champion the construction of a bridge large enough for military vessels to pass underneath. The bridge connects Coronado to Interstate Highway 5 and cuts through Barrio Logan, a neighborhood northeast of the island.
Next, we made our way along the park's path, up towards the Coronado Community Center. Along the way, Dr. Nguyễn pointed out the wide streets and bike lanes, as well as the only multi-family zoned apartment buildings on the island. Built in the 1970s, the apartments now sell for many millions of dollars.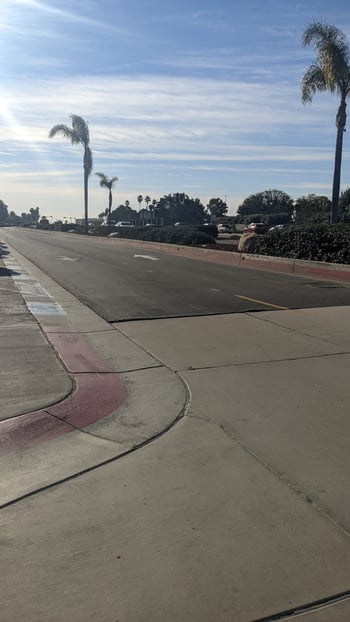 The protected bike lanes of Coronado, CA
Walking along the water, it was not difficult to appreciate the space's beauty and why it has such high demand. While taking in an art installation along the water's path that depicted images from Cornado's history, Master's of Peace & Justice (MAPJ) 2nd-year student Meg, offered some history of the island. She explained that as jobs moved away from agriculture, people had more time for recreation and leisure. While sharing the space's history, the black and white images of happy faces enjoying sun and sand smiling back at us, Meg astutely noted what we had both been thinking:
—
We strode up Orange Ave, many of us in awe at the unique Victorian architecture of the homes, and small boutiques opening for business in the bright morning light. Christian, a 2nd-year MAPJ student who grew up in San Diego, ran across the street to snap a picture of a sign that had caught his astute eye.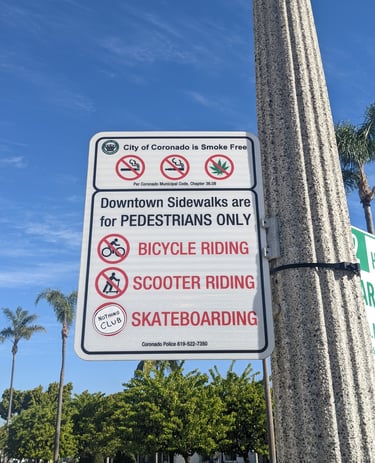 Dr. Nguyễn led us to Star Park, a public park adorned with plaques and a commemorative cannon. This small park was a symbol of the strategic role the military played in shaping Coronado, including the island's beauty and tranquility. Alluding to the next stop on our journey, Dr. Nguyễn also pointed out a small feature of the park that was different from the one where we began the day.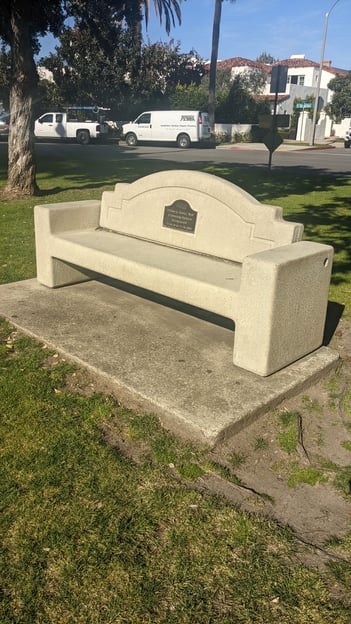 The "peaceful benches" of Coronado, CA
—
Crossing back over the bridge from Coronado, I glanced to my left for a quick admiration of my new home's cityscape. Perhaps slightly longer than a glance, because before I knew it, I had missed my exit. It was my first time, give me a break. Saved by my phone, I pulled up to the designated address in Barrio Logan, but kept rolling due to lack of parking. After a few blocks of circling, I squeezed into a spot between an errant industrial-sized garbage can and strode back to meet the class.
While only miles apart, Coronado and Barrio Logan could not be more different. This is when students begin to visualize the historical legacies of national policies around race, housing, and transportation across multiple spaces. Barrio Logan is a neighborhood in the City of San Diego where residents have long resisted policies that further pushed them to the periphery. Residents, both old and new, are working towards preserving and revitalizing a place they consider home.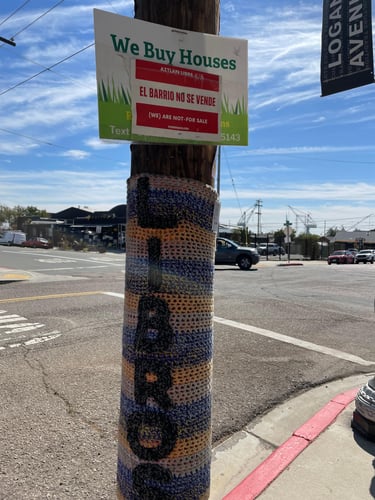 Dr. Nguyễn and MAPJ student Angelica Sanabria had arranged a talk at Libelula Books & Co, which had joined the neighborhood just eight months prior. Occupying the lower level of a triangular row home on the corner of 26th street and National Ave, Co-Founder Jesi Gutierrez met us outside and cheerfully invited us into the store. With books stacked to the ceiling, a piano adorning the front desk, and a monthly calendar painted on the window marking upcoming special events, the small space exuded vibrance.
From behind the register, Libelula's additional co-founder Celi Hernandez gave us the history of the space. First, it was Jack Island Bar in the 1920s, then a ticketing booth, and many businesses in between. In the early stages of ideation, the two focused on the principles that guided them towards creating a needed social innovation for the community.
A for-profit enterprise with the aim of establishing a foundation, the pair of social entrepreneurs explained that they were clear-eyed about thin margins to begin, and found unique ways to get up and running.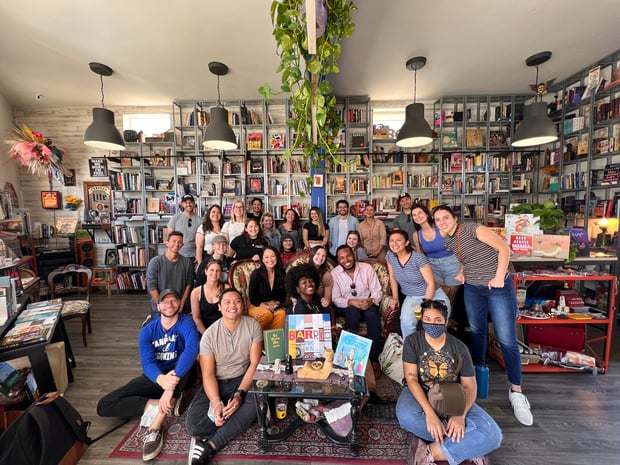 Prof. Nguyễn's Community Advocacy, Organization, and Development class
Picking up on unique ways in which Celi and Jesi used their entrepreneurial mindsets, MAPJ student Jazmin made the observation that social entrepreneurship often requires collaboration amongst and between stakeholders.
A sea of peace inside the store, Barrio Logan's history of industry was present just steps outside, large trucks squealing and stamping along the road. Aware that we had spent the morning on the other side of the bridge, Jesi inquired about the transition we felt driving across from Coronado. Raynie, a Law and Peace and Justice student earning his JD and MA in Peace and Justice offered a unique perspective.
Jesi and Celi explained that because of General Dynamics' NASSCO operating in the community, parking for small businesses is normally non-existent. "They are also 24 hours a day, 365," Jesi shared. "There's always a sense of being on. There's always an immense amount of noise."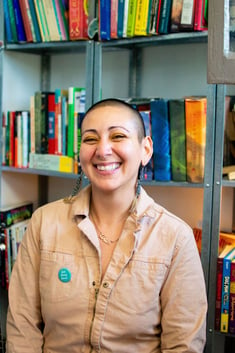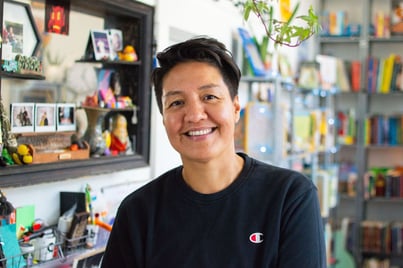 Jesi Gutierrez (Left) & Celi Hernandez, Co-Founders of Libelula Books & Co ; (📸 attribution: Michelle Kamau)
Having spent an hour sharing their journey, thoughts, and aspirations for the future of the bookstore, Jesi offered two pearls of social entrepreneurship wisdom that has made Libelula possible:
Always keep your mission and principles present.
And keep a calendar.
—
Our group took a right on National Ave and split up into two groups. One group went to the Barrio Logan College Institute to learn about youth education. The Institute's goal is to support students and parents through the educational process from elementary school to college. One parent expressed appreciation for the Institute as they provide supplemental education for their children and for parents. She learned how to use the computer, write and send emails which help her better support her family. BLCI believes that education is a family and community endeavor.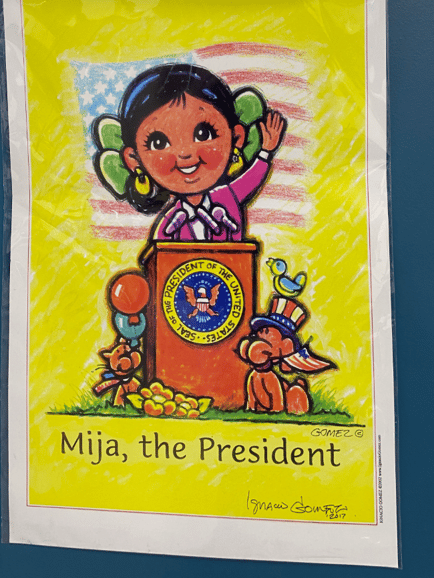 Classroom poster at BLCI ; (📸 attribution: Angelica Sanabria)
The other group walked towards Chicano Park. Designated a National Historic Landmark in 2017, the park is home to the largest concentration of Chicano murals in the world. Even though we were underneath the freeway, the noise faded in and out of our attention, overtaken by the park's murals depicting the neighborhood's vast cultural wealth and history. Students pointed out specific art to each other, noting the figures depicted within them. This space - much different than Star Park from earlier that morning - was similar in that it was also shaped by its history.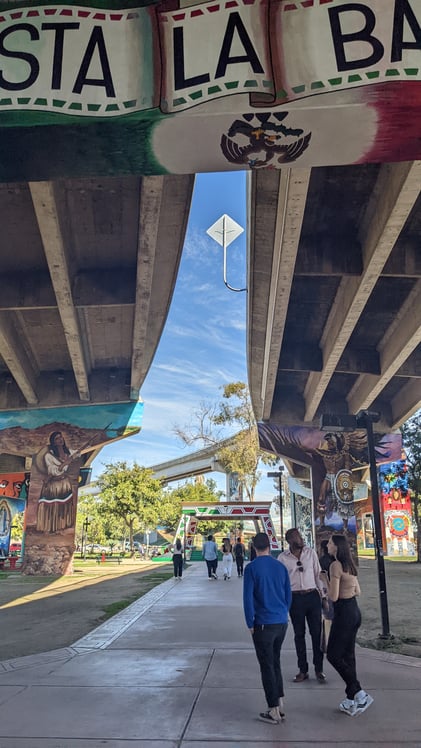 Kroc School students exploring Chicano Park in the neighborhood of Barrio Logan, San Diego, CA
The day concluded and students dispersed — some stayed to explore more of Barrio Logan, others ventured back to campus. I walked back to my car, grateful for the work of social entrepreneurs like Celi and Jesi, and with a greater appreciation of the cultural diversity and history of my new city. MAPJ student Michelle later shared that the day's experience "...inspired me to think critically about our role as innovators and how we can rise up to the occasion using our immediate community as support." This is the sentiment that Dr. Nguyễn wanted the students to take away from this experience.
Communities that are pushed to the peripheries have agency and the ability to transform their beloved and sacred places. In the Community Advocacy, Organization, and Development course students not only learn about national policies that have shaped American cities, but they are also learning how peripheral communities claim space and create a sense of belonging.
In the days following, many more students stopped by my office to share similar takeaways. Social innovation is exciting and impactful work. There's no doubt Kroc School students are ready for it.
Are you interested in learning more about the academic program offerings at the Kroc School? Check out our MA in Social Innovation and our all-new online certificate in Social Entrepreneurship.