We have all been eagerly awaiting in anticipation for this day to come, the return to campus and in-person teaching. It's a joy to feel the energy and excitement on campus and to experience the connection of one another in our rich, diverse and inclusive community. That community grew larger this week as we welcomed the newest cohort of Kroc School students to campus this week, one of its largest in the school's history. This robust cohort includes 31 MA in Peace and Justice (MAPJ) students, 3 JD/MAPJ Dual Degree students, 14 MS in Conflict Management & Resolution (MS-CMR) students, and 25 students joining our MA in Social Innovation (MASI) program.
"We are thrilled to welcome our newest cohort of Changemakers to the University of San Diego and the Kroc School. This new cohort is ready to plug into the Kroc School community and make positive change on issues including the climate crisis, prison and justice reform, gender inequity, and more," said Assistant Director of Recruitment and Admissions Hilary Beggs.
"Among this cohort of 70 new students, we are also excited to welcome 4 Fulbright Scholars from countries around the world including: Egypt, Germany, Mauritius, and Mexico," Beggs added.
Kicking off the first week of classes with orientation, the cohort took part in a resiliency workshop facilitated virtually by MS-CMR graduate Lu Hanessian '19. This special interactive workshop focused on the generative power of cultivating personal and collective resilience through strengths-based inquiry, the interdependence of self-care, and the science of belonging.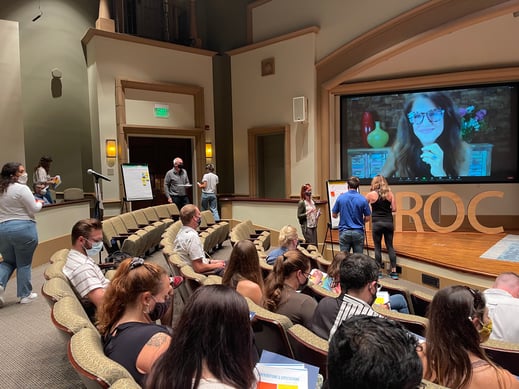 Kroc School students taking part in Hanessian's Resiliency Workshop at orientation; photo Louise Leu.
We encourage you to follow the Innovating Peace Blog throughout this school year as we share the incredible work and research being done by our community of peacebuilders and innovators.
Interested in joining our Kroc School community? Applications for spring enrollment are open now!