Kroc School Student Takes a Peacebuilder's Approach to Addressing the Climate Crisis
Thursday, August 1, 2019TOPICS: ChangemakerFieldworkGlobal ImpactResearchSocial InnovationStudent Success
This summer, Kroc School students who are part of the MA in Peace and Justice (MAPJ) program have internships working with peacebuilding organizations in the United States and around the world. Before departing for their internships, students were asked to share updates from their internship experience, and this is one such contribution from MAPJ student Nicole Muñoz-Proulx. This summer, Nicole is working with SanDiego350, an organization dedicated to preventing climate change. Stay tuned for more updates from MAPJ students this summer.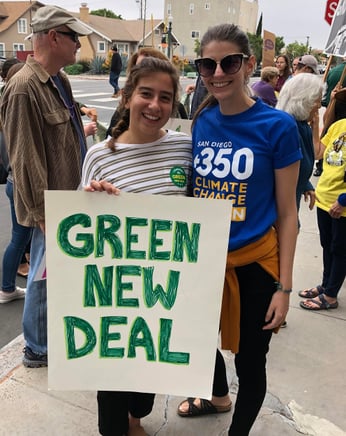 My internship with SanDiego350 has been a whirlwind of experiences. SanDiego350 is a grassroots environmental organization with over 10,000 members throughout San Diego County and it has been instrumental in building a climate action movement in order to prevent the worst impacts of climate change and climate injustice. I feel honored to participate in this worthy mission as a Policy Intern for the Public Policy Team. So far, I am constantly exposed to evolving circumstances and the complex nature of local politics.
I decided to begin my internship in mid-May to allot for a full three months of hands-on environmental organizing experience. I have been pleasantly surprised by the amount of agency I have within this organization. As a Policy Intern, I have engaged with standard legislation research, leading to my realization that legislation is often frustratingly and unnecessarily complicated. Taking my newfound knowledge of legislation, I helped to coordinate a Legislation Training on climate-related bills for the community. In doing this, I was reminded that education is important but the action is vital.
I used the momentum from the Legislation Training to help set up meetings with elected officials in San Diego. Dedicated volunteers and I will work together to train and educate people in anticipation of these meetings. Additionally, I am developing the handouts and informational packets required for them. Staying busy is easy when there is so much work to get done. I am happy to report that the agency I have as an intern has opened so many possibilities for me.
As mentioned above, I have coordinated and developed materials for SanDiego350, but most importantly, I have been active in the San Diego community. I have supported the ongoing protests of Elected Officials to promote the importance of sponsoring the Green New Deal. I have attended San Diego Association of Governments meetings and witnessed a county of diverse perspectives struggle to agree on an innovative Regional Transportation Plan. I have participated in equity working groups dedicated to challenging the status quo and supporting underrepresented regions. I have spoken at City Council meetings in support of mass-transit expansion. I have met with several key stakeholders in San Diego and developed relationships with other environmental organizations. I have supported SanDiego350's coalition partners by attending events in various regions throughout the county furthering my awareness of environmental injustices. All of these experiences have changed my heart and have transformed my activist spirit.

Protest in favor of the Green New Deal outside of Rep. Susan Davis' office
My day-to-day at SanDiego350 changes constantly — simply put, this is both refreshingly wonderful and frustrating. From the beginning, I knew that this internship would jolt me outside of my comfort zone. As a person who appreciates structure and routine, my routine has definitely been challenged: for example, changing schedules and failed endeavors, speaking to strangers, public speaking with little to no preparation, and working with people who have various communication styles. These are all essential components of organizing. Needless to say, this internship has increased my self-starter attitude as I engage in ever-changing situations and learn how to be successful, especially when few resources are available.
At the beginning of my internship, I realized just how disconnected I was to the San Diego community. I had volunteered sporadically throughout the year and subscribed to important newsletters in order to stay informed. But graduate school has a way of becoming everything and everyone all at once. This internship has physically and emotionally removed me from the academic space that I was so incredibly immersed in. I feel strongly that the internship requirement is a chance to reflect on what is important. My journey is ongoing, and I know now that field experience is not just a career necessity but an emotional energizer. Being active in environmental organizing, meeting incredible volunteers, and building community have profoundly fueled my interest in community development and given me ideas for the future.
None of this would have been possible without my education from the Kroc School and its resources, connections and opportunities for hands-on learning experiences. My coursework and education within the Master of Arts in Peace and Justice program have been instrumental in my successes at SanDiego350. The comprehensive introduction I received to the peace field has given me the language I need to engage with professionals in the environmental field. The Kroc School faculty members I have met, and their guidance, have helped further develop my analytical nature, which is essential as I work to bridge the gap between the climate crisis and the peace field. Coursework, workshops, class activities, and countless conversations with colleagues in my cohort have inspired me to lead with compassion and be active in this movement.
Originally, I sought out this internship to learn tactical skills — to learn about grassroots organizing and policy. I am happy to report that I have been doing these things, but I have also met so many passionate people who selflessly volunteer their time to support SanDiego350 and its mission. Interning with SanDiego350 has been incredibly enriching and has provided the opportunity and space for me to develop as an activist.
Learn more about the Kroc School's graduate programs that combine theory and practice to help you advance in your career as a peacebuilder and social innovator.