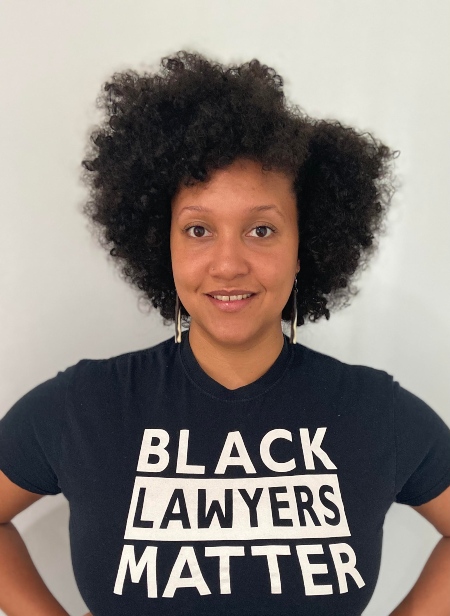 jasmine Sankofa, JD
Joan B. Kroc was a committed advocate of education and justice, and her words, "Don't just talk about peace, build peace," reverberated in our ears as we selected jasmine Sankofa as the first Activist-in-Residence we will be hosting at the Kroc School. The Activist-in-Residence program was created to pursue a dual goal of promoting the careers of activists at the vanguard of addressing systemic injustices and entrenched inequalities in the United States and to enable the USD community to learn more about the practice of changemaking. A nationwide search for the inaugural candidate was not only inspiring, but it exposed us to the fascinating and transformative work of activists in a wide range of communities and settings.
Dean Patricia Márquez said of Sankofa:
"As an energetic human-rights activist focused on ending mass incarceration and building safer communities, jasmine will lead important conversations on what needs to change and how it can be done. She will inspire fresh thinking on issues of mass incarceration in the United States. It will be unique to be able to learn from her experiences on what works in creating lasting change. It's exciting."
Sankofa is currently a Policy and Research Manager focused on criminal justice reform with FWD.us as well as the Co-Founder of just futures, an organization which seeks to transform systems through consultancy, research, writing and digital projects. These positions are only the latest in an impactful career which has included the Aryeh Neier Fellowship with the American Civil Liberties Union and Human Rights Watch, a judicial clerkship with the U.S. District Court for the Southern District of New York and an advocacy and policy fellowship with HIPS. Through these opportunities and others prior, she has produced research and publications that have called for reparations, decriminalization, and abolition, while centering the lived experiences of Black women and girls.
As the inaugural Activist-in-Residence at the Kroc School, jasmine Sankofa will engage with USD students in a variety of ways including teaching workshops and one-on-one mentoring. At the same time, the program will offer jasmine the space to engage in her own reflections and to advance her writing about decarceration and community investment. She is excited to join the Kroc School as its first Activist-in-Residence:
"When I saw the Kroc School's international, national, and local work at the border, and learned more on the website about opportunities to positively impact social justice from a human rights lens, I knew I wanted to be a part of this community," Sankofa said. "I'm super excited to have been chosen as the Kroc School's first Activist-in-Residence."
To Sankofa, an activist is "someone who is committed to radically transforming systems, someone who is committed to investing in communities, someone who doesn't just take the world as it's given." The seeds for becoming an activist were planted early in life. As a child, she distinctly remembers bus rides to visit her grandfather in jails and prisons, as well as the challenges that his separation presented to her family. She's seen first-hand how punitive systems can tear families apart and the intergenerational impact of oppression, structural violence, white supremacy, and poverty. These memories have motivated her throughout her career and shaped her vision of a world without prisons. "My ultimate goal is always related to, 'How do we get folks out? How do we keep folks from going in? And how do we reunite families through policy, messaging, and research?' " Sankofa said.
As a first-generation college student, Sankofa attended UCSD where she majored in Critical Gender Studies and Sociology and minored in African-American Studies before going on to earn her JD from UCLA. There, she specialized in Critical Race Studies and Public Interest Law and Policy, working at three legal clinics and interning at several organizations, including the NAACP Legal Defense and Educational Fund and the Judicial Inspectorate for Correctional Services in Cape Town, South Africa. Now, she's delighted to spend more time in San Diego as part of her residency with the Kroc School.
"I'm looking forward to supporting Kroc School students because they're already in pursuit of justice and peace. Shaping a better world is something I'm already aligned with and wholeheartedly support," said Sankofa. "I'm particularly interested in the opportunity to speak to graduate students, undergraduate students and the broader community about issues that I care deeply about."
Andrew Blum, Executive Director of the Kroc School's Institute for Peace and Justice, is also looking forward to her contributions this year, "Most of all I know jasmine will push us. Push us to look at ourselves and see what we as the Kroc IPJ can do better. Push us to do what's hard, but necessary to build peace with Justice. We are as excited as our students are to learn from and with jasmine."
Emily Kawahara, a JD/MA in Law and Peace and Justice student at USD, shared her enthusiasm about the selection of jasmine for the role, "I'm very excited for the challenging conversations jasmine will bring to the Kroc School community and for this great opportunity to learn from her experiences applying concepts of international human rights to criminal justice reform in the United States. Personally, I am thrilled at the opportunity to learn from a changemaker with a legal background who did not choose a traditional legal path and advocates for human rights through policy reform. jasmine's personal and professional experiences will undoubtedly contribute to a rich learning environment!"
Sankofa's Activist-in-Residence position officially begins September 2021. The community can learn more about engaging with Sankofa by subscribing to the Kroc School's newsletter.
___
Editor's note: jasmine is purposefully spelled with a lowercase "j". For reproduction, please use this correct spelling.