Kroc School Recap of Exchange 2018: Ashoka U's Annual Changemaker Conference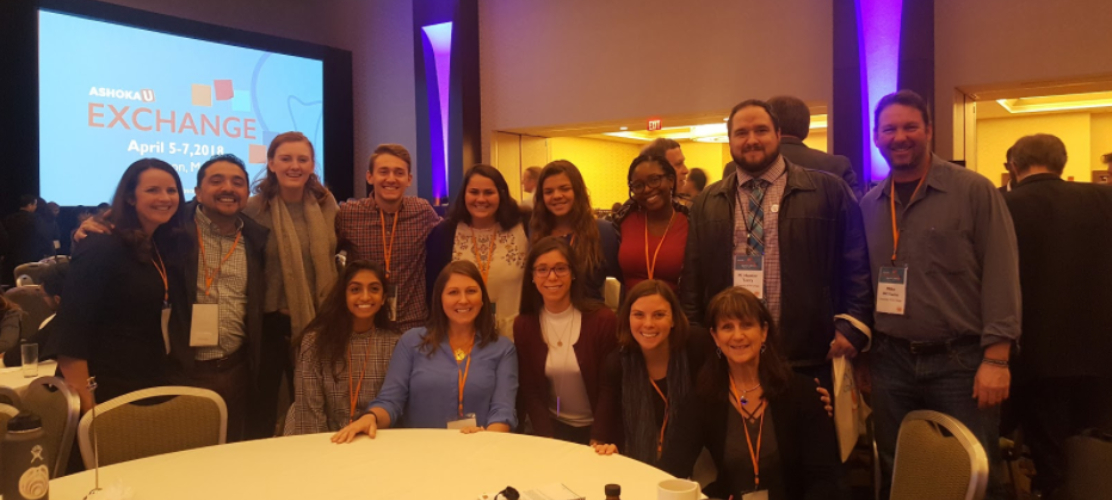 begin quote

When the conference concluded, her mind and hands were full of tools, tactics and networks to better support Kroc School students with their respective career paths.
The organizers of the 2018 Exchange, Ashoka U's Changemaker conference held in Boston April 5-7, had an ambitious goal this year. They sought to expand the definition of social innovation beyond that of the social entrepreneur. They even sought to expand the definition of an entrepreneur from its familiar business-focused meaning to "someone who creates lasting change."
Five members of the Kroc School's team attended the conference with an ear towards hearing from, and connecting with, thought leaders and social innovators who explored thought-provoking topics including racial and ethnic differences as a site for innovation, empathy within education practices, and many more.
The University of San Diego delegation of Changemakers gathered to show some Torero Changemaker pride.
Food-related Enterprises Reinforce the Challenge— and Value — of Measurement
For Miranda Williamson, Assistant Director for Academic Programs at the Kroc School, the highlights of the conference were the site visits to Boston's Haley House Café, a nonprofit seeking to provide healthy meals and jobs to vulnerable members of their community, and to Daily Table, an enterprise seeking to make healthy food available at junk food prices. As a health food enthusiast, and one who consistently keeps an ear to the ground for organizations and programs that are pushing the social innovation envelope, Williamson found the immersive experience of seeing these enterprises in their element particularly insightful.
In hearing from their teams, she learned more about the ways in which social enterprises can improve the lives of vulnerable community members by improving access to healthy foods. She also learned about the key challenge inherent to pursuing that goal: both organizations admitted that measuring their impact is extremely difficult given how many variables can contribute to the overall health and wellness of a dynamic community. For other social enterprises looking to follow in their footsteps, clarifying how to measure an enterprise's impact should be an early discussion topic.
From Student to Star: Following the Progress of a GSIC Participant
Charlotte Vitak, Founder of My Story.
For Rachel Christensen, Assistant Director for the Center for Peace and Commerce at the University of San Diego (USD), the highlight of the Exchange was seeing Charlotte Vitak, a recent USD graduate and former participant in USD's Global Social Innovation Challenge, become a showcase vendor and organizer of the 2018 Exchange.
Vitak is the founder of My Story, a social enterprise that builds empathy at college campuses through the power of story, first went to the Exchange years ago as a student participant. She returned the following year as a student presenter. This year, on each day of the conference, Christensen observed Vitak speaking with partner universities who were interested in her social innovation journey and My Story's mission. Christensen takes enormous gratification from her role in helping students on their journeys to shape a better world, and Vitak is just one example of a graduate now flourishing in a peace-related profession.
Finding a Tribe of Social Innovation Student Supporters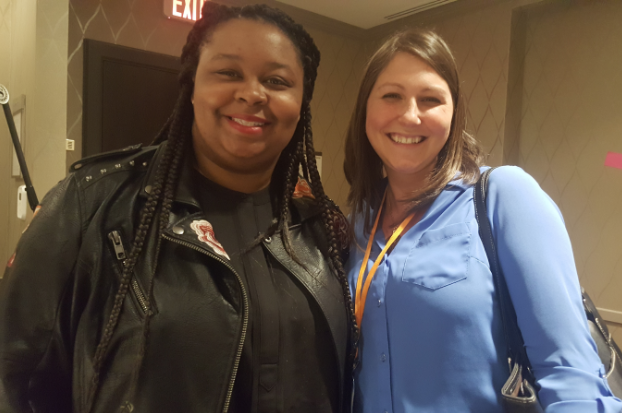 Kajsa Hendrickson with Antionette Carroll, founder and CEO of Creative Reaction Lab.
As the Coordinator of Career Development, Partnerships and Alumni Relations at the Kroc School, Kajsa Hendrickson's primary goal for attending the conference was to learn from others who, like her, help to prepare social innovation students for careers in a new and rapidly changing landscape. While heaps of resources are available for traditional business-focused entrepreneurs, the social innovation students Hendrickson supports often bring unique questions and challenges related to the nonprofit and government sectors, for which readily available answers and case studies are harder to come by.
In her role and at a school that defies traditional academic silos, Hendrickson was overjoyed by the guidance and connections the conference offered. Sessions touched on each part of her work, including co-curricular mapping, building cross-disciplinary partnerships, finding social impact job resources, and integrating learning outcomes into career advising.
The presenters challenged her to consider how the Kroc School looks at learning, equity, access to education, and the impact higher education can have on fueling the growth of the social innovation space. When the conference concluded, her mind and hands were full of tools, tactics and networks to better support Kroc School students with their respective career paths. "I'm excited to be part of a global community of changemakers in action, redefining education so that our students can lead the way. As I plan for the 2018-2019 academic year, I feel more energized than ever," Hendrickson said.
Are you interested in social innovation and becoming a Changemaker? Learn more about pursuing your Master Social Innovation at the Kroc School.