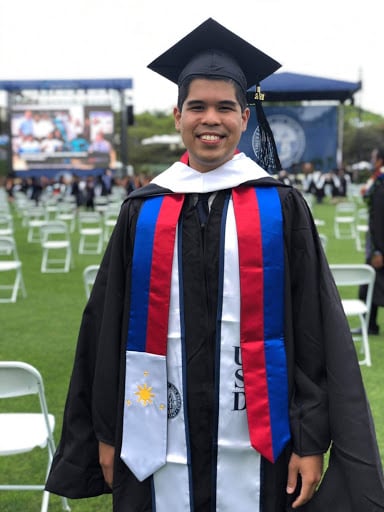 Marjon Saulon, MASI '21 graduate
As we celebrate the 2021 graduating class at the Kroc School, we would like to thank the many donors who support our students with their generous support of our scholarship fund.
We asked one scholarship recipient, Marjon Saulon, to share a letter of gratitude that he sent to the donors of the Father Headley Endowed Scholarship:
Dear Headley Peace Scholarship Donors,
As I prepare for the next chapter of my life, I wanted to give a heartfelt thank you to each of you who have made it possible for me to receive my graduate degree at the Kroc School.
I have learned a tremendous amount throughout the past year. I wrote literature reviews on climate change and migration policy as a Practice Fellow at the Kroc Institute for Peace and Justice. I authored pieces on local politics and social issues for outlets such as the San Diego Union-Tribune and American Communities Project. And I also developed partnerships with diverse leaders and organizations across the San Diego region during my independent study with the Burnham Center for Community Advancement. Each of these experiences have made me a stronger and more effective advocate and peacebuilder.
Moving forward, I'll be moving to the San Francisco Bay Area to work as a Partnerships Coordinator with a nonprofit organization that connects and empowers Filipino Americans across the United States. During this challenging time of anti-Asian violence, I'm glad that I can be in the frontlines of creating more peaceful and inclusive communities. This is the type of work I've dreamt of doing when I first came to the United States in 2015. And I know I can use the skills I've learned at the Kroc School to not only make a positive difference within communities, but through policy and communications as well.
I am beyond grateful for your contributions.
Regards,
Marjon
A Scholarship's Impact
Scholarships help lighten a student's financial load and can alleviate some of the stress of financing a Master's program (on top of looming undergraduate loans). At the Kroc School, we are working to bring in scholarship funds to offset our students' financial concerns. We want our students to be able to focus on their studies and graduate prepared to shape a better world.
A scholarship can be established as an annual fund or an endowed fund. For both types of scholarships, the qualifications of the student recipient are agreed upon by the University and the donor and may include such requirements as academic merit, financial need, major field of study, geographic restrictions, etc.
An annual scholarship typically receives one or more donations during the course of each year and the money received is awarded during the year to a student recipient. The minimum amount to establish a named annual scholarship is $5,000 per year.
Are you interested in making a one-time donation to the Kroc School's scholarship fund? You may do so here. Your donation helps develop more leaders who will make a difference in communities experiencing conflict, inequity, oppression, and injustice. Interested in learning more about or creating a named scholarship? Please contact Laura Stein (lbstein@sandiego.edu).