Kroc School Donors Les and Marilyn Williamson Support Women, Youth via Kroc IPJ Programs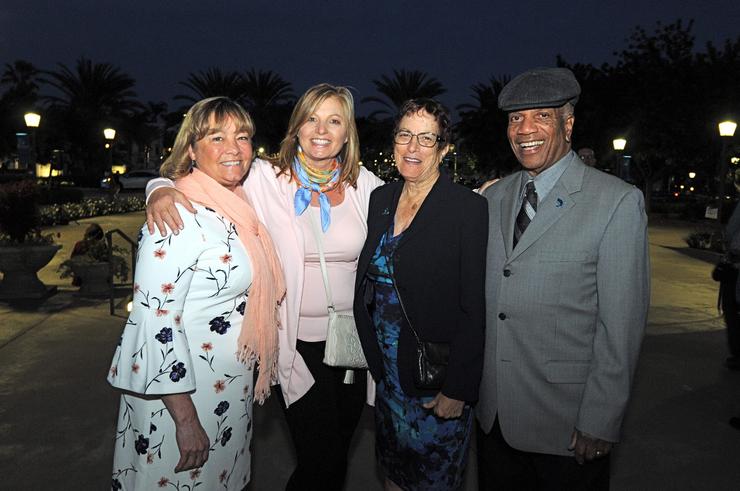 begin quote

We hope that our contribution can have a significant impact on IPJ's ability to reach out to women worldwide and to invite them to participate in the IPJ programs.
The start of the Fall Semester, when we welcome the Women PeaceMakers to campus, is an exciting time at the Kroc School. This year we are excited to host four outstanding women who will be tackling a critical issue: ensuring women have a seat of power at the peace negotiation table.
The Women PeaceMakers program is made possible by an alliance of supporters. Members of Women Waging Peace Impact Circle make it possible for the Women PeaceMakers to take an urgently needed respite from threats and danger, share their peacebuilding strategies, and make valuable connections to strengthen their impact. Les and Marilyn Williamson are longtime supporters of the Women PeaceMakers program and the Social Fabric Initiative at the Kroc Institute for Peace and Justice (Kroc IPJ).
When asked why donors like the Williamsons are so important to the Kroc School's initiatives, Jennifer Bradshaw, Program Officer for the Women PeaceMakers Program, responded, "Marilyn and Les are vital in making the Kroc Institute for Peace and Justice a strong and vibrant institution. Their deep commitment to building a safer and more secure future for all is exemplified in their investment in the next generation. Also, the heart, soul, and welcoming spirit they share with each and every one of our peacemakers strengthens our Kroc IPJ local and global community."
We posed a few questions to Marilyn Williamson about her and Les's experience as donors to the Kroc School:
How did you find out about the Kroc School?
As a Commissioner on the San Diego Human Relations Commission, Les's focus was on youth related issues and concerns. Among the various programs that cater to youth, the IPJ Worldlink (now Social Fabric Initiative) was a standout. Both of us loved the program and became sponsors and active participants. By being involved with one Kroc IPJ program, we learned more and more about others, which led us to the Women Peacemakers program. We are proud sponsors of both the Social Fabric Initiative and Women PeaceMakers.
Why did you decide to give to the Women PeaceMakers program?
I loved meeting the women and hearing their brave and inspirational stories. My admiration grew with every encounter. It motivated me to help sponsor more women to benefit from the Women Peacemakers experience.
How has your relationship with the Kroc School shaped your perspectives on peace, justice and social innovation?
We have felt the warm embrace of both faculty and staff at Kroc IPJ. Our belief in the mission of the program is strong. The Kroc IPJ tackles issues that need addressing and seeks pathways to solutions both national and worldwide.
What impact are you hoping to make with your donations?
We hope that our contribution can have a significant impact on Kroc IPJ's ability to reach out to women worldwide and to invite them to participate in the Kroc IPJ programs. Together, with the collective efforts of other contributors, we can make it happen.
What is your favorite thing about the Women PeaceMakers program?
Meeting face-to-face with participants and gaining firsthand insight relative to their culture and/or religion, and, most importantly, their personal life experiences.
Interested in learning more about the Women PeaceMakers? Download the flyer, and join us for one of three insightful and powerful presentations. You can also consider joining other men and women in the Women Waging Peace Impact Circle — a gift of any size makes a difference.
ABOUT LES AND MARILYN WILLIAMSON:
Les Williamson is a native of New York City and a retired U.S. Marine Corps officer. He also retired from the San Diego Union-Tribune, after 28 years in retail sales and marketing. Les is a past president of the Serra Mesa Community Council and a former commissioner on the City Human Relations Commission. His community council role involved maintaining a close dialogue with both city and county governments for community related issues. The focus on the Human Relations Commission was on matters pertaining to youth. He is currently a board member on the Qualcomm Stadium Advisory Board, the San Diego Military Outreach Ministry, and is an active member of Heifer International.
Marilyn (Gibbs) Williamson is a San Diego native and a graduate of San Diego State, with a Master's of Library Science from Florida State. She was a librarian for the City of San Diego for 36 years, and retired in 2008 as a branch manager. Marilyn specialized in multi-cultural and multi-lingual book collections. She chaired the San Diego Chapter of REFORMA, serving the needs of Spanish speaking patrons. During her term as Chair, REFORMA hosted a bi-national conference in San Diego. Her interests include hiking and international travel, and she is particularly focused on women's issues. She was a past member (Treasurer) of the Serra Mesa Community Council and is an active member of Heifer International.