When the strongest tropical cyclone to ever make landfall devastated significant portions of the Philippines in 2013, USAID called on John Patterson (MAPJ '13) to support the US Government's relief efforts. Less than a year after finishing his MAPJ studies, John found himself directing the US relief efforts in Eastern Samar; coordinating with local officials, international organizations, and tasking US military helicopters to deliver over 1,000 metric tons of life-saving assistance to some of the hardest hit and most difficult to reach communities. Now based in Budapest, Hungary, John has been called on to respond to or prepare for disasters in 25 different countries, leading response efforts in places like Haiti, Armenia, Liberia, and the Gaza strip.
John is one of several Kroc School alums to have charted a career in disaster prevention and response. After graduation, Hayley Umayam (MAPJ '13) worked for over six years on various aspects of monitoring and evaluation in the humanitarian sector in South Sudan, Mozambique, Kenya, Uganda, Laos, and Vietnam. She's now a Ph.D. candidate at the Graduate Institute of International and Development Studies in Geneva, examining knowledge production in the humanitarian space. Afarin Dadkhah (MAPJ '13) has been working with the United Nations High Commissioner for Refugees (UNHCR) for the past four years. Most recently, she accepted a post in Sudan monitoring the Ethiopian refugee situation spilling over from the Tigray conflict.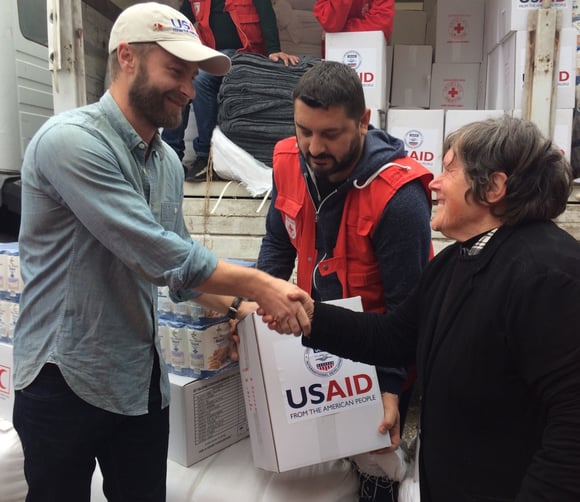 MA in Peace & Justice graduate, John Patterson (MA) '13, providing aid and supplies for USAID.
Kroc School graduates may be uniquely qualified to enter the humanitarian field at this time when we face a wide range of complex humanitarian emergencies. The crises we are facing globally require expanding our traditional focus on disaster response and risk reduction — whether they take the forms of displacement camp planning, emergency public health interventions, food aid, or others — to include more holistic approaches considering a broader context of historical, social, economic, and political factors. Observers of the field have recently pushed for humanitarian work to embrace the so-called "Triple Nexus" of peacebuilding, development, and humanitarianism, working to build community resilience and sustainable societies, promote psychological healing and perpetrator redemption after violence, and enable community-driven initiatives – all of which is the work of faculty and program officers at the Kroc School.
Humanitarian crises are becoming protracted. The incidence of violent conflict has risen sharply since its historical nadir around 2006, exacerbating that trend. Climate change is predicted to increase the incidence and severity of droughts, heatwaves, coastal flooding due to sea-level rise, and hurricanes — all factors linked to population displacement and the onset of humanitarian crises. In the United States alone, a combination of phenomena linked to climate change is projected to provoke the migration of 13 million people by 2100 — over five times the magnitude of the mass migration caused by the Dust Bowl in the 1930s. The World Meteorological Organization estimates that by 2030, the growing need for humanitarian aid will come at a cost of $20 billion a year, but that may be a drastic underestimation when domestic humanitarian spending is accounted for. The migration crises witnessed in recent years on the US-Mexico border, across Eastern and Southern Europe, Central America, Syria, Venezuela, Haiti, and Afghanistan may be a taste of unfortunate things to come. There is little doubt the world requires more professionals with the knowledge and skills to prevent and address challenges ranging from fire-prone communities in California to millions of migrants walking thousands of miles towards a safer destination.
Our mission of preparing professionals of peace and justice drives us at the Kroc School to enter – and add value to – humanitarian education. Under Associate Professor Topher McDougal's leadership, the School will now offer a new online Master of Science in Humanitarian Action (MS-HA, pronounced "masha") program launching in Fall of 2022. The name of the degree program foregrounds two important distinguishing features. The first is the Kroc School's strength in program research: Monitoring and Evaluation is a branch of social science focused on determining the outcomes of interventions and allowing us to design and implement better programs. The second is the choice of focusing on humanitarian action, rather than humanitarian "policy" or "affairs," harmonizing with the Kroc School's commitment to building (not just studying) peace, and with the school's commitment to the scholar-practitioner model.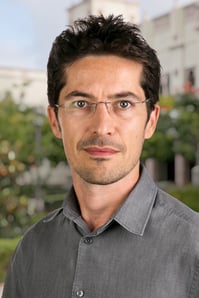 Associate Professor Topher McDougal
Working in partnership with USD's Professional and Continuing Education (PCE) and Learning Design Center (LDC), the MS-HA program will offer experiential learning in the form of current case studies and engaging simulations for people around the world to learn effective ways of preventing and managing humanitarian crises. In contrast to a number of competitors, the MS-HA program will not approach the humanitarian field from a particular discipline (e.g. architecture, urban planning, nutrition, social work, and civil engineering), but from a multidisciplinary perspective. Based in an "all-hazards" approach to humanitarian intervention, it will leverage the Kroc School's expertise in conflict analysis and management, social innovation and resilience, and program monitoring and evaluation. It will include elements of the relief-to-development continuum such as: Prevention, Preparedness, Response, Recovery, and Restoration.
For his part, Prof. McDougal is bullish on the program's prospects.
"So many people have worked so hard to think this through, game it out, bring all the pieces together," he recalls. "We're excited to see it take form at last – and to grow our Kroc family! The new online students and new remote faculty members will enrich us all, challenge us to build community in new ways, and cross-pollinate our current programs."
In this new online program, Dean Patricia Márquez sees: "a great opportunity to include and engage a much larger community of students." The courage to act and the leadership of Kroc School graduates have made a difference in the lives of many people. The Dean looks forward to supporting the impact more graduates will continue to have in communities everywhere and in the field of humanitarian affairs. With this in mind, the Dean invites anybody who is interested in learning more or applying to the MS-HA program to connect with us.
Interested in learning more about the Kroc School's MS in Humanitarian Action? Check it out on our website here.