Kroc IPJ Selects Third Cohort of the Nepali Emerging Leaders Program 2020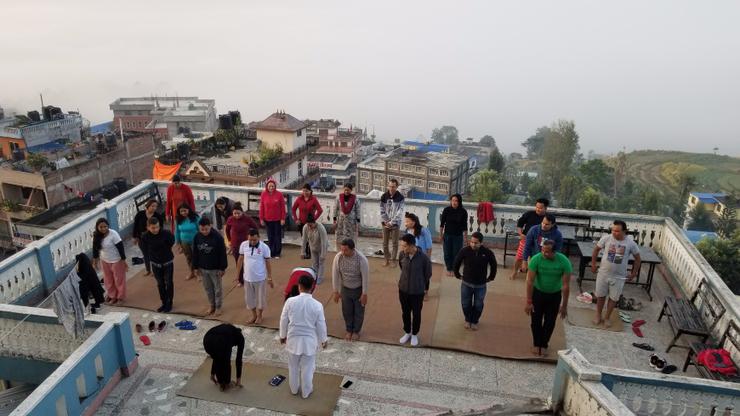 begin quote

The Kroc Institute for Peace and Justice, in partnership with its partner in Nepal, the Leadership Academy, is proud to announce the Nepali Emerging Leaders Program 2020 Cohort.
After receiving more than 130 applications, the Kroc Institute for Peace and Justice, in partnership with its partner in Nepal, the Leadership Academy, is proud to announce the Nepali Emerging Leaders Program (NELP) 2020 Cohort. The 31 participants selected represent 29 of Nepal's 77 geographic districts from across the country's seven provinces.
The cohort brings vast political experience with multiple mayors, deputy mayors, ward chairpersons, state assembly members, central committee members, and student wing leaders representing Nepal's most prominent political parties. Other members bring leadership in activism and advocacy, entrepreneurship, law enforcement, and higher education. Multiple participants work to empower traditionally marginalized groups including dalits, the disabled, and women.
With 15 male and 16 female participants, the 2020 cohort supports UN Sustainable Development Goal #5 – "Achieve gender equality and empower all women and girls" – and UN Women's "Planet 50-50".
This is the third year of the NELP and the 2020 participants will be joining 52 emerging leader alumni from the 2018 and 2019 cohorts.
The NELP 2020 Cohort (home district noted in parentheses):
Aja Bahadur Shahi (Mugu), President, Centre for Karnali Rural PS Development
Bidhya Baral (Kaski), Vice President, All Nepal National Free Students Union, Pokhara University
Chandra Kala Saud (Baitadi), Central Committee Member, Rastriya Prajatantra Party (RPP)
Chhabita Sharma (Surkhet), Lecturer at Mid-Western University
Gyanu Acharya (Chitwan), Organizer, FhediKhola VDC Agriculture Production Collection and Distribution Center
Hasana Lawaju (Bhaktapur), Second class non-gazette officer, National Art Museum
Jivan Bikram Uchai (Parbat), District Committee Member, Nepal Communist Party
Juju Kaji Maharjan (Kathmandu), Founder, Heartbeat
Kalpana Bastola (Sunsari), Program Officer, Save the Earth Foundation
Karuna Gurung (Tanahun), Deputy Mayor, Bandipur
Karuna Khadka (Salyan), Vice-Chairperson, Triveni Rural Municipality
Kumaari Thapa (Kavrepalanchok), Care Taker Officer, Raksha Nepal
Madan Khati (Gulmi), Media activist/Journalist, Janata TV
Mamta Kumari Chaudhary (Dhanusha), Central member, RJP Youth Organization
Manoj K. Limbu (Terathum), Secretary of NabJivan Dugdh Dairy
Mithilesh Adhikari (Rautahat), District Employment Coordinator, Prime Minister's Employment Program
Mithilesh Yadav (Sarlahi), Central Vice President, RJP Student Wing
Namoona Acharya (Dang) Assistant Professor, Prithu Technical College
Neelam Dhungel (Morang), General Secretary, JTCGCWUN Central Committee
Nigmar Tamang (Ramechhap), Ward Chairman, Likhu Tamakoshi Rural Municipality
Omprakash Sarraf (Bara), National Coordinator, Visit Madhesh Nepal
Pankaj Yadav (Bardia), Central Committee Member, Samajwadi Party Student Union
Purna Singh Bohara (Darchula), District Member, Nepali Congress Student Wing
Ramesh Hamal (Surkhet), Department Coordinator for Social Work at Samriddhi College
Salma Khatun (Parsa), Deputy Mayor, Pokhariya
Santosh Giri (Rupandehi), Agricultural Entrepreneur
Saroj Deo (Saptari) Trainee, UNDP Nepal
Sona Khatik (Kapilvastu), Dalit Activist and Community Radio Kapilvastu
Satish K. Singh (Saptari), Mayor,Tilathi Koiladi
Tirtha Kumari B.C. (Surkhet), Board member, Samudayik Sudhar Sanstha
Uma Kumari Lama (Makwanpur), Vice-Chairperson, Indrasarowar Rural Municipality
Interested in learning more about the Nepali Emerging Leaders Program or other global programs at the Kroc IPJ? Check them out here.