In the Season of Thanksgiving - Special Thanks to Our Volunteers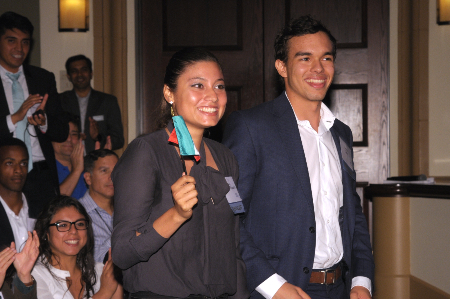 In this time of Thanksgiving, we are humbled and especially grateful for the strong community behind the Center for Peace and Commerce. This season, because of the nature of a pandemic, requires more from each of us and in different ways - more flexibility, more grace.
Each year, since 2011, USD students and social innovators are buoyed by a community of mentors, coaches, and judges who have given their time, talent, and expertise - giving hours, afternoons, and full days to Toreros. Last year was the first time we pivoted to a full remote experience for the Fowler Global Social Innovation Challenge and asked this network to meet us online. And despite the zoom fatigue and technical difficulties, our community rose to the challenge to get out Toreros to the next level in their innovations.
What was the result?
Both USD teams were shortlisted for seed funding in the 2020 Challenge. And within our Global Network, we increased the evolution of our virtual pivot necessitated we grow our pool of judges to accommodate the 11 timezones and 43 teams in the 2020 Fowler Global Social Innovation Challenge from 22 to 84. Growth in participation by 381% year on year in any year is impressive, in a pandemic, it's remarkable. This is in all thanks to the community of social innovators, impact investors and business professionals. Thank you!
One of the best recruitment tools we have to encourage students to participate is the help offered through our network of professional volunteers. What does it take to be a professional volunteer with the Center for Peace and Commerce, and how can you join the ranks? First, If you are interested in working with our students, please reach out to us! If you want to know more about what we ask of these individuals, read on!
Coaches work directly with students at Idea Labs. Idea Labs are a workshop series designed to catalyze student-driven innovation. Within the Idea Labs, coaches help guide aspiring student entrepreneurs by providing advice, knowledge, and direct feedback to the students.
We have judges in each round, of which we have three, and they receive student proposals or pitches. We entrust judges to provide feedback to students so that they can better grow in their ventures and overall learning, as well as to help us rank and advance the best projects to the next phase of the competition.
All semi-finalists who request a mentor and all finalists and winners will be matched with a mentor who is familiar with topics related to their project. One in-person meeting with the team is required during the semi-finals and final rounds (March-April), and some students reach out for more guidance if needed.
On this campus, we take business for good seriously; the Center for Peace and Commerce's network of mentors, coaches and judges helps our students make their business-for-good venture stronger. We know we could not fulfill our mission alone. Thank you to those of you who give so freely of yourselves to our students already. If you are considering joining us to support the movers and shakers of tomorrow, thank you and we look forward to hearing from you.