Honoring Scholarship Recipients and Their Benefactors at the 32nd Annual Scholarship Appreciation Luncheon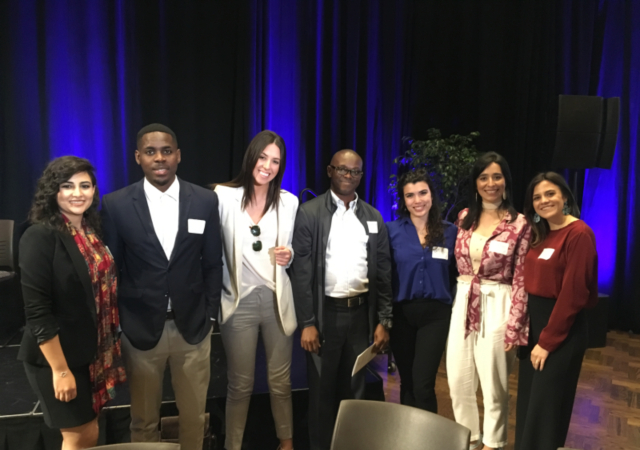 Anticipation built as the Hahn University Center Forum rooms filled up with students, staff, administrators, and donors. The tables were set with large bouquets of spring flowers and farm fresh spinach salads. This was the scene as the 32nd annual University of San Diego Scholarship Appreciation Luncheon began. As guests found their seats, connections were made and the hum of conversations and laughter filled the room.
This annual spring event, held in 2019 on March 28, brought together more than 300 guests in celebration of philanthropy and the commitment of goodwill to fellow members of the human race. This year's spotlight focused on the Hahn School of Nursing and Health Science, but the message of the event was universal. Philanthropy is a word from Late Latin (c 1600) and rooted in two words: from phil- "loving" + anthrōpos "mankind". Our scholarship supporters embody this and understand that investing in peacebuilders at the Kroc School is an investment in peace for the world.
The luncheon brought together eighteen of our scholarship donors and 10 of our current MAPJ and MASI students. "It's my pleasure to get to say thanks to those who are contributing to my education. I hope my presence was sufficient to send that message even to the dozens of other donors I couldn't get to meet one-on-one," Samuel Offurum, current MAPJ student and recipient of the William Headley Endowed Scholarship, shared.
A Scholarship's Impact
A scholarship may be established at the University of San Diego as either an annual fund or an endowed fund. For both types of scholarships, the qualifications of the student recipient are agreed upon by the University and the donor, and may include such requirements as academic merit, financial need, major field of study, geographic restrictions, etc.
An annual scholarship typically receives one or more donations during the course of each year and the money received is awarded during the year to a student recipient. The minimum amount to establish a named annual scholarship is $5,000 per year.
Scholarships help lighten a student's financial load and can alleviate some of the stress of financing a Master's program (on top of looming undergraduate loans). At the Kroc School, we are working to bring in scholarship funds to offset our students' financial concerns. We want our students to be able to focus on their studies and graduate prepared to shape a better world.
You can help us develop more leaders who will make a difference in communities experiencing conflict, inequity, oppression and injustice. Please contact Laura Stein (lbstein@sandiego.edu) if you have questions about creating or supporting a named scholarship.
Paloma Weithorn Kochan, Valentina Rivera Munoz, Jeniffer Rivera Rodriguez, Maria Marxuach-Grillo (donors), Antonio Grillo-Lopez (donors), Associate Dean Necla Tschirgi, Veronica Musa