During Hispanic Heritage month, the University of San Diego celebrates the rich history and culture of our Latino/Latinx and Hispanic communities. Hispanic Heritage Month is observed nationwide from September 15 through October 15.
Here at the Kroc School, we recognize the importance of celebrating Hispanic Heritage Month and acknowledge the historically impactful roles that Hispanic-identified individuals have played in building peace throughout our society. We honor the contributions of Hispanic peacebuilders by shining a light on our very own Hispanic-identifying students leading change and building more peaceful and just societies. Join us in celebrating these incredibly talented people.
Our first Hispanic Student we will be highlighting is Peruvian native, Sheyla Schrader.
Sheyla joins our MA in Social Innovation (MASI) program in the hopes of applying the values she has learned within her Peruvian culture and from her Peruvian family to her peacemaking efforts. Sheyla states that her Peruvian upbringing has allowed her to develop a strong admiration and respect for "Nuestra Pachamama", our Mother Earth. She is proud to be part of a culture that values the natural resources the Earth provides us and describes Peruvians as a people not so focused on consuming goods and luxuries, but more on the conservation of nature, love, and community among its citizens.
As a social innovator, Sheyla draws inspiration from her ancestor's teachings and cultural values to understand that building change and peace is derived from being appreciative and proud of where one is from. By doing so, Sheyla feels empowered to drive change within her community by being so closely connected not only to the people but also to the issues that they face on a daily basis. To be close in mind to the natives of your home country allows one to understand where change needs to be made and the best ways to do it, and that is exactly what Sheyla Schrader hopes to learn to do while participating in the Kroc School MA in Social Innovation.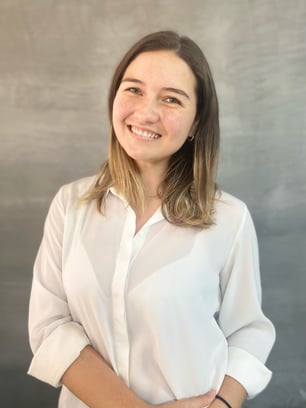 Sheyla Schrader, MA in Social Innovation candidate
Sheyla places a big emphasis on the importance of her family and culture being the driving force behind her current aspirations to become a social innovator and take the teachings she learns through the MA in Social Innovation while applying them to her communities in Peru. Whether it is her cousin who is working to reforest the town of Oxapampa, or her brother in law who owns a local theater that addresses social issues and terrorism in Peru, these influential Hispanic leaders inspire Sheyla and other Peruvians to seek peace and continue to have hope that change will prosper. Sheyla believes that the Hispanic values that facilitate change stem from the familial communities that are so central to all Hispanic groups, especially Peruvians. With this in mind, Sheyla keeps the words "La union hace la Fuerza!; Union gives us strength!" from her grandfather close to her heart as she looks to be an impactful changemaker in her home country of Peru.
Interested in learning more about the Kroc School's academic program offerings? Learn more here. Explore the University of San Diego's Hispanic Heritage Month events here.