Give Peace a Chance by Supporting Kroc School Students This Torero Tuesday
Give Peace a Chance on November 27, 2018.
begin quote

If we want peace and justice, we must invest in education for creating change.
November is a busy month with holiday planning and taking time with friends and family to give thanks. Before the hustle and bustle, please mark your calendar to give peace a chance.
The University of San Diego's take on the internationial philanthropic movement, #GivingTuesday, which at USD is known as Torero Tuesday, is November 27, 2018.
What exactly is #GivingTuesday? It's a global movement during the holidays dedicated to charitable giving, that follows Black Friday and Cyber Monday. The goal of #GivingTuesday is to encourage people everywhere to come together with one common purpose — to help others through generosity.
This Torero Tuesday, the Kroc School is focusing our fundraising efforts on raising funds to directly support our students.
Every year, the Kroc School brings together people from all over the world who seek to create transformative social change. This year's students include people with ages ranging from 24 to 60 years, coming from all over the globe (Argentina, England, Belarus, Uganda, Venezuela, Peru and Liberia to name a few) and all over the United States on both sides of the border region.
When asked how scholarship support influenced current Master of Arts in Peace and Justice student Vida Chechman's decision to attend the Kroc School, she replied, "receiving scholarship assistance played a big role in my enrollment in the program. It highly contributed in providing me the opportunity to pursue my degree here in the United States at one of the leading schools of peace and justice, the Kroc School, and at the nation's most beautiful campus, the University of San Diego. Therefore, I would like to pass my appreciation to donors for providing this opportunity for me."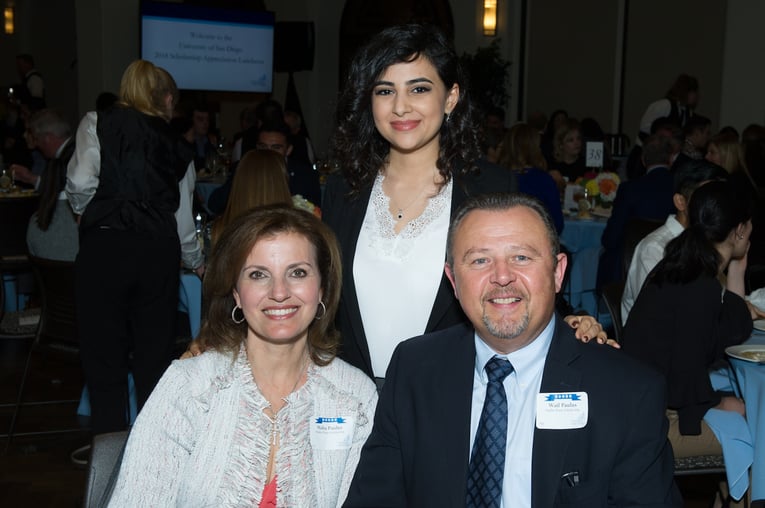 From left to right, Maha Paulus, Vida Chechman and Al Paulus.
If we want peace and justice, we must invest in education for creating change. At the Kroc School, students from all over the world acquire the knowledge and toolkits to shape a better world. Join us in growing a community of individuals leading change.
Scholarships are essential for enabling students to become professionals of peace. By donating to the Torero Tuesday Scholarship on or before Torero Tuesday on November 27, you are giving future peacemakers and social innovators access to the tool kit they need to learn, grow, and create positive change.
Help us this November in our path to fund two scholarships (for a total of $10,000). Your donation will directly support students of peace, justice, and social innovation. Peace can't wait, neither should you — make your gift today.
If you have any questions about making a gift for Torero Tuesday, please contact Laura Stein at (619) 260-4146 or lbstein@sandiego.edu.