Give for Peace this Giving Tuesday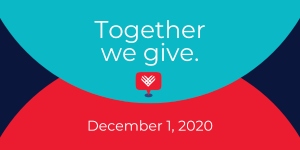 Today is Giving Tuesday, a global generosity movement, to encourage people everywhere to come together with one common purpose - to help others through generosity.
In this season of hope and celebration, help us develop more leaders who will make a difference in communities experiencing conflict, inequity, oppression and injustice.

At the Kroc School students from all over the world acquire the knowledge and toolkits to shape a better world. Scholarships are essential for enabling students to become professionals of peace and they are deeply grateful to those who support their dreams.
Learn about our alumni who are shaping a better world, all over the world. Many of whom wouldn't be where they are today without contributions from supporters like you.
Kroc School's Class of 2018
The world needs more courageous doers, please consider the Kroc School today on Giving Tuesday, or as part of your holiday giving this year. Every gift—small or large—counts towards peace and social justice. Make your online gift by December 31st for the 2020 tax year.
If you have any questions about making a year-end gift, please contact Laura Stein at (619) 260-4146 or lbstein@sandiego.edu.