The 2022 Global Finals of the Fowler Global Social Innovation Challenge took place at the Kroc School's Peace and Justice Theater on Saturday, June 18th. The competition awarded $75,000 in seed funding to students from around the world for their sustainable ventures. After months of hard work, the student social entrepreneurs representing 34 global universities and 17 countries, gave their final pitches for a shot at winning the grand prize of $25,000 in seed venture funding for their enterprise.
"This year's global competition has brought together social entrepreneurs from across the globe, tackling challenges that include climate action, gender equality, and economic prosperity," explained Andrew Biros Ed.D Associate Director of Social Innovation & Entrepreneurship at the Kroc School. "Our global network of changemakers come to us ready with the ideas and solutions we need now, and our future deserves. It's our mission — both here at the Kroc School and as a lead organizer for the Fowler GSIC — to support these innovators in their changemaking journey. That means connecting them with the people, resources, and ideas that will help turn ideas into reality."
Andrew Biros, Ed.D host of the 2022 Global Finals
The evening's programming opened with a performance from Perry O'Neal who sang Eric Clapton's "Change The World" and welcoming remarks from Patricia Márquez, Ph.D. Dean of the Kroc School.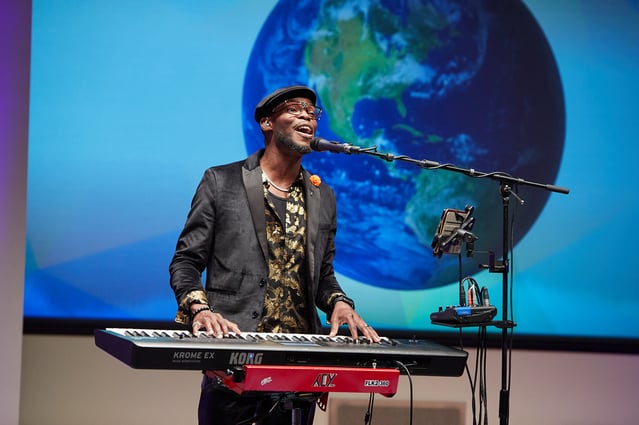 Perry O'Neal singing Eric Clapton's "Change The World"
Dean Márquez pointed out that you don't need to look far back into history to see the impact of young innovators like those at the Fowler Global Social Innovation Challenge, "Malala [Yousafzai] was in her early teens when she became an important voice for girls' education in Pakistan and all over the world. Greta Thunberg mobilized millions of students to pressure those in power to enact climate change policies that really make a difference. It's students like you in the audience that give us hope. You are the changemakers that this world needs."
Photos from the Fowler Global Social Innovation Challenge 2022 Finals
Of the 34 participating universities who were a part of the 2022 Global Finals, eight teams went on to give their pitches during the final round of competition, each of whom took home prize money of at least $2,000 for their enterprise.
The Fowler GSIC 2022 Winning Teams
Gazelle
Gazelle of The University of Texas at Austin took home the Grand Prize of $25,000. Gazelle is an offline application built for ranchers and farmers that calculates the sustainable carrying capacity of a pasture, provides comprehensive land and livestock management, and includes a verified carbon offset trading platform to empower farmers to make confident, data-driven decisions while being rewarded for their carbon sequestration.
Wezesha Binti Foundation
Wezesha Binti Foundation which was founded by Tabitha Nakohi, a recent MA in Social Innovation graduate of the University of San Diego's Kroc School, took home second place and $15,000 in seed funding for her venture. The Wezesha Binti Foundation is committed to ending period poverty for women in Kenya through education, aid, and empowerment. Nakohi's venture also won The Capdevilla Gillespie Foundation Audience Award for $2,500.
Désherbex
Désherbex of University de Sherbrooké in Quebec, Canada won the third-place prize and $10,000 in seed funding. Their autonomous weeding robot attaches to any existing farming equipment, uses AI to determine whether the crop is a plant or a weed, and plucks the weeds.
Fowler Global Social Innovation Challenge 2022 Global Finals top-prize winners
Ron Fowler, the lead sponsor, and judge of the competition took the stage to praise the student innovators for their hard work that got them to Global Finals.
"To be able to take a day like this with these young professionals, and see the ideas that they're coming up with, seeing how they're making this a better planet for us to live on, it is really extra special. I want to salute them for the time and effort that they put in. It was really a pleasure to be a judge. I loved it, and I think all of the judges feel that way."
Since 2011, the Fowler Global Social Innovation Challenge has connected more than 2,500 students from more than 25 countries worldwide, recognizing their outstanding social ventures based on positive impact and financial sustainability. Next year's Global Finals event will be held by St. Thomas University in St. Paul, Minnesota.
Subscribe to our newsletter to stay up-to-date with the latest happenings and programming in social innovation and entrepreneurship at the Kroc School.