The University of San Diego's Kroc School of Peace Studies is excited to announce open enrollment for the 2024 Global Executive Seminar. This intensive executive education program takes participants around the world to engage with global "business for good" leaders in the for-profit and nonprofit sectors.
As the fabric of society and business disintegrates, our rapidly changing world faces wicked problems such as climate change, poverty, and injustice. Too often, traditional business practices don't help, leading instead to employee disengagement, environmental degradation, and wealth and gender inequity. Quite simply, the way we're doing business is not sustainable. In this Global Executive Seminar, you'll learn why it's important to change the way we're doing things—and gain skills and knowledge to make those changes.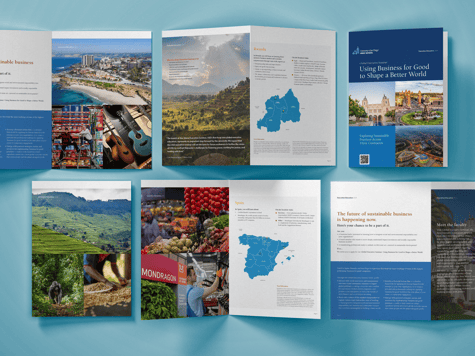 The seminar was founded by Dr. Paula Cordeiro alongside her colleagues Dr. Juan Roche & Karen Henken, each of whom has a long history of teaching the curriculum of this seminar, managing international businesses, and forging global relationships with the experts and organizations that seminar participants will visit.
"Business for good, a direct response to addressing our finite planetary resources, is a rapidly growing movement. We created this Global Executive Seminar to equip motivated professionals with the knowledge and tools to merge leading-edge social practices with enlightened commercial practices," Dr. Cordeiro shared. "Business for good is good for business," she added.
Participants will travel to key global business for good hubs including San Diego, Rwanda and Spain. At each stop, participants will go behind the scenes at innovative companies, take part in candid discussions with c-suite executives, and gain practical skills to lead, compete, and succeed in international business within our evolving world.
The 2024 Global Executive Seminar will begin in January 2024. Enrollment is limited, so those interested are encouraged to apply early. Additional program details and application information can be found at our website here.
Take your career to the next level and gain global expertise with the University of San Diego. Apply for the 2024 Global Executive Seminar today!