Event Recap: Badass Women Making Change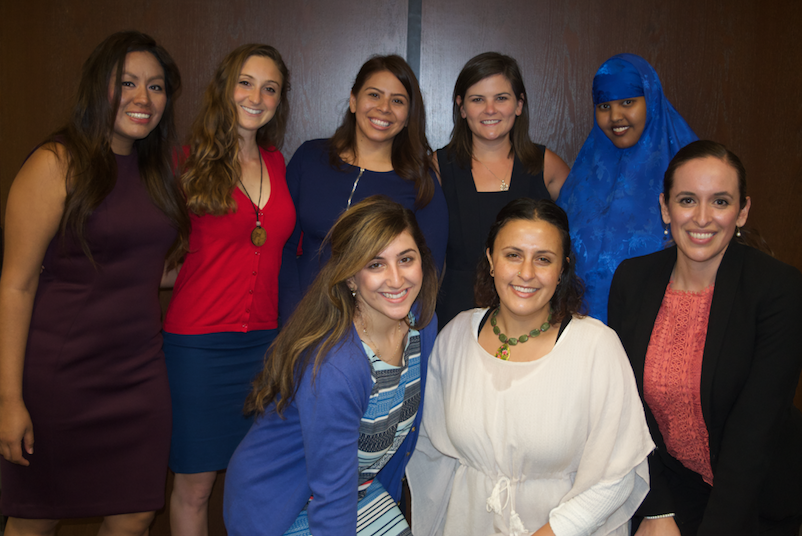 With the support from the USD Center for Peace & Commerce (CPC), the Changemaker Hub, and the Kroc School, I had the opportunity to co-organize a student-led event created by women, for women, called Badass Women Making Change. My part as a project manager of this event is one example of how the Kroc School has created a way to empower students to express themselves professionally.
As a Graduate Assistant of both the CPC and Professor of Practice Karen Henken, I was given full responsibility to create my own vision of how this event would come about. I was given an awesome opportunity that motivated me to use my background in event planning and apply it to the unique space that the Kroc School creates.
The event was structured in two parts. The first half of the event started with a panel discussion with a general Q&A moderated by MA in Peace and Justice student Crystal Abrahim. The second half of the event allowed for more collaboration between attendees and panelists—each panelist led a mentoring session where our attendees were invited to ask their own personal questions in a more comfortable setting.
Our five powerhouse panelists were Adriana Eguia, CEO for the Tijuana Economic Development Corporation; April Wensel, Founder of Compassionate Coding; Renda Nazzal, Founder of The Argon Project; Danielle Blum, Founder of World Nativ; and Ismahan Abdullahi, Director of Community Partnerships and Civic Engagement at the Partnership for the Advancement of New Americans (PANA). Each of their individual experiences provided the audience with insight. Plus, their conversation was moderated by Abrahim, whom we chose for her personality, activism with human rights, and her warm and inviting character. Her authentic approach helped the conversations flow flawlessly.
While all five panelists helped to energize and inspire the audience, two panelists stood out. Abdullahi shared with the audience her experience as a migrant from Somalia and how that had influenced her to support the civic, social and economic inclusion of refugees in San Diego. She also spoke about her experiences with racism as a black Muslim and highlighted the importance of looking beyond race. She concluded with remarks about raising a culture among women of strength and empowerment.
Wensel shared her views on the lack of empathy and compassion in the tech industry from her experiences in Silicon Valley. She holds this view so strongly that it led her to create her business, Compassionate Coding.
Despite their different professional backgrounds, all five panelists shared a similar theme around finding purpose and working for justice among women. They reinforced the idea that we were all badass women making change. To emphasize the point, Abdullahi gracefully quoted Arundhati Roy, "Another world is not only possible, she is on her way. On a quiet day, I can hear her breathing."
It was amazing to see our seats filled for this event. Not only did we have many student attendees, but it was exciting for me to see so many individuals from local organizations and the broader San Diego community take an interest in this topic. Specifically, we had one group of eight women join us from a local San Diego nonprofit. Another woman heard about our event through a Chula Vista magazine called Gente Bonita. These women, and many others, participated in the breakout sessions, asked thoughtful questions throughout the event, and then stayed beyond the event's scheduled end time in order to continue learning from the panelists about how to make positive change happen. Both during and after the event, our panelists mentioned that the room had this powerful feeling of support, community and solidarity.
We left Badass Women Making Change feeling more motivated and empowered to create the future we wish to see. It was a refreshing way to rediscover our own purposes and continue pursuing our goals to shape a better world.
The previous post was submitted by a student in the Kroc School's MA in Social Innovation program, Jessica Aparicio, who co-led the coordination of the Badass Women Making Change event on April 12, 2018.