Evaluating an Approach to Perform Peace!
The following post was contributed by Zoya Sardashti, a Master's in Conflict Management and Resolution student at the Kroc School.
At the end of September 2019, I walked into a room full of students at Crawford High School in San Diego. I was there because earlier in the year I had been offered the opportunity to intern at the Kroc Institute for Peace and Justice (Kroc IPJ) to assist with Perform Peace!, a theatre project with Somali Family Services and students at Crawford High School that seeks to build curiosity, confidence and connection among high school students.
Theatre had always been an important aspect of my life, whether making it or advocating for it as an educational tool to build community. Learning how to perform was also personally and academically transformative, yet never lucrative. The drama of politics creates an industry in which the theatre world cannot compete, however, because theatre helped me find a voice at a young age. I believe investing in the ephemeral creates reverberations that are impossible to trace. What does this mean to legislators and public policy makers? Probably nothing now, but this experience pushed me to find another way to evaluate and document progress.
For Perform Peace!, Daniel Orth, a program officer at the Kroc IPJ, and I co-designed an evaluation form based on what was written in the grant proposal for the Doris Duke Charitable Fund for Islamic Art. The three core components of the evaluation are confidence, curiosity and connection. Our key question for the evaluation was, What formations do performers enact when they learn more about each other? Instead of using a linear logframe, I suggested a graphic for data visualization that reflects the ways in which students demonstrate the three core components through their body language, vocalization, and group formations.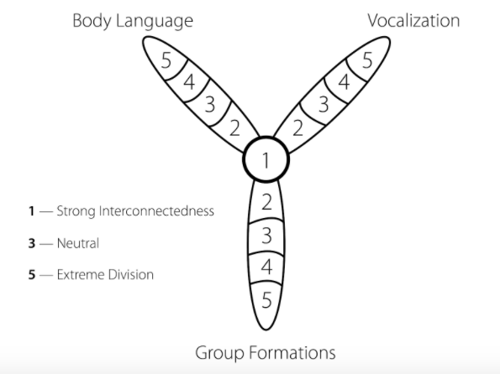 Observing the rehearsal process taught me a lot about the children of immigrants and refugees. As a daughter of a father who still cannot define a line between immigrant and refugee, or Iranian and American, I am reminded that just as many questions remain unanswered by second generation Americans. There is no direct line forward for us. The value of this experience – of using theatre to educate about identity, history, and culture – is as personal for me as it is professional.
As part of our evaluation, I attended rehearsals once a week for five months. During that time, through my observations, I identified several ways in which the school was missing opportunities to educate and make positive change through the program. For example, I learned that most educators, administrators and students at this particular high school are naive about Muslim culture and differently abled students. Additionally, ethical standards of diversity and inclusion are not implemented. Furthermore, during a series of focus groups, students expressed an urgent need for access to resources, such as information about how to apply for college, scholarships and jobs. Most students are enthusiastic about the Perform Peace! project, but have admitted they are broke and tired when asked to "check in" before physical warm-ups.
One of the most impressive aspects of the Perform Peace! program is that students are paid. Will this help teach them to value their abilities and not provide free labor? The cost of education (in this case arts education) or experience is not waived because they are talented, lucky or come from an underserved population. This is particularly relevant to students who have African, Southeast Asian and Latin American heritages.
I met with Daniel on a regular basis to discuss the project. It was refreshing to work with someone who enjoys developing abstract concepts and molding them into a concrete framework. Learning to connect theory to practice extends in my Mixed Methods Research Design course led by Dr. Robert Donmoyer and Dr. Fred Galloway. The most exciting approach to research, in my opinion, is emancipatory research, which is a way to address issues, language, and approaches that empower the participants, recognize their silenced voices, honor their individual differences. Elevating the perspectives of disadvantaged people to create action for social change improves my perspective and helps me look for other links between what might be considered transformative during an educational and artistic process.
Although the outbreak of COVID-19 has halted the production in the theatre, the performance will be filmed and distributed online to libraries, schools and universities. The extent to which students gained confidence, curiosity and connection as well as how the audience may be impacted by the performance will be shared online. Hopefully the data generated during rehearsals, after performances and during post-show discussions will be useful in advocating with local decision-makers including elected leaders and education officials for students in public schools, especially students who face discrimination. Since public dialogues are not always a participatory event, and decisions are always being made in categories of social action by political elites, creating change for students from minority communities is contingent on funding. Performance and dialogue can be catalysts to understand the perspective of others and lay the foundation for peacebuilding. However, as we have seen from the Black Lives Matter Movement and various formations of multi-ethnic coalitions, immense financial support is crucial if the struggle for justice and equality is to be sustained.
We invite you to follow the project, Perform Peace!, by following Kroc IPJ on Facebook and Twitter as well as our community partners on Facebook: Somali Family Service and Intrepid Theatre Company (Intrepid Theatre website). Please join the discussion to advance voices that are heard by our legislators, our public policy makers, and one another.
__

At the Kroc School, we are equipping innovative changemakers to shape more peaceful and just societies. Learn more about the Kroc School and its graduate programs.