Earning the Skills to Pursue a Peacebuilding Career With Purpose and Passion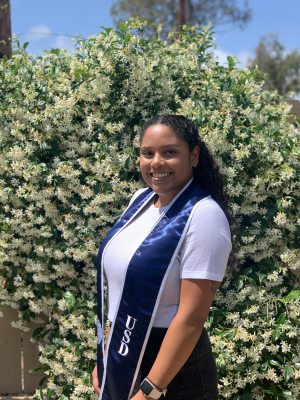 During a job interview I was asked, "What is your kryptonite?" And to that question, I answered: "A never-ending sense of imposter syndrome." While giving that answer, I thought back to my Kroc School orientation when I had the opportunity to meet and learn about the amazing people I was beginning my graduate school journey with. Some had served in the Peace Corps, some had their own businesses, and others traveled across countries to be in the same room as I was; meanwhile, all I could think was: there's no way I deserve to be here, right?
What I would come to learn over the two years that I was in the Master's in Peace and Justice program is that it is the exact place that I was meant to be. I joined the program because I wanted to create lasting, positive social change in the world, and the Kroc school gave me the tools, but more importantly the confidence, to go out and do just that.
I was able to learn from some of the most distinguished professors, and collaborate with incredibly smart and talented students, all while navigating the relatively new academic field of peacebuilding. I knew that I would never be satisfied with a career that did not involve me doing what I was most passionate about, but I also knew that my desire was not to fit within the status quo. I did not want another job that was fueled by the never-ending wheel of capitalism, but I wanted to do work that made a difference and that I could invest my heart into.
While the people I met and the classes I took undoubtedly had a positive impact on my life and my career path, one of the defining moments of my graduate school journey was the summer internship that I completed in between my first and second year. I interned with a nonprofit organization called Women's Empowerment International, where I worked alongside an amazing and accomplished Executive Director, Paige Bradley.
My internship not only offered me insight into the ins and outs of running a nonprofit organization, but it also offered me an actual seat at the table in meetings with partners, marketing professionals and even with the Board of Directors; I was seated in the room where powerful decisions were being made. I was also able to hone in on the skills that I already possessed, such as event planning, writing, and creative thinking, while also learning more about fundraising and digital marketing.
Peyton and fellow Kroc School students participating in the USD Climate Walkout
Additionally, I had some of my very first conversations about race and representation in a space where my voice could actually make a difference. I encouraged the Director, and the Board, to think more critically about their messaging and practices while working with and representing communities of color. Thankfully, I worked with an organization that was open to having these difficult conversations, but it was still a great opportunity to build upon this skill during my time as an intern.
I also had the opportunity to participate in a field-based practicum in New York City, where I was able to dive deeply into issues—and potential solutions—to the homelessness crisis both in New York City and in San Diego county. This experience allowed me to conduct and present research to my fellow peers and professors, participate in site visits to organizations working to combat homelessness in New York, and collaborate with students from other universities in order to form creative and feasible solutions to these real problems. This opportunity opened my eyes to the fact that injustice runs deep, and the issues that contribute to homelessness do not exist in a silo—even though we often study them that way. One of the biggest takeaways from my time in the program is a better understanding of the intersections between many of the justice issues that we see domestically and abroad. It showed me that I do not necessarily need to tackle every issue at once, but that following my passions for racial and environmental justice can, and should, connect.
All of these experiences, coupled with the relationships I built over the course of the program, ultimately led me to my most recent position at the Center on Policy Initiatives. CPI is a nonprofit research and action institute dedicated to advancing economic prosperity, sustainable communities, and a healthy environment for all. We see ourselves as the people's think tank and center racial justice in the fight for economic justice; we also work within a variety of partnerships, programs and coalitions to advance social and economic justice for working people and diverse communities.
My Peace and Justice background gave me a strong foundation to help me establish how we should be thinking about, discussing, and actually doing advocacy work in the real world. I have plenty of room to grow, but I truly feel like I am on the path that I only dreamed about when I started the program. I have the courage to speak out against injustice, the confidence to propose and discuss actions and solutions, and the desire to continue learning in every aspect of my life and my work.
Interested in learning more about the Kroc School's MA in Peace and Justice? Check it out here.
About the Author
Peyton Cordero graduated with her Master's in Peace and Justice from the Joan B. Kroc School of Peace Studies in May of 2020. She received her B.A. in Political Science from San Diego State University in 2018, and has worked with several nonprofit organizations in San Diego county in intern and volunteer capacities. Peyton started with the Center on Policy Initiatives in September of 2020 as an Executive Assistant, and she is also an active volunteer with SanDiego350 on their legislative committee. In her free time, Peyton enjoys doing yoga and pilates, writing, playing with her dog, and taking long walks around her neighborhood.