Donor Support Provides Opportunities for Local Youth to Make Impact Through The Social Fabric Initiative
Tuesday, August 27, 2019TOPICS: ChangemakerFieldworkStudent SuccessYouth and Peacebuilding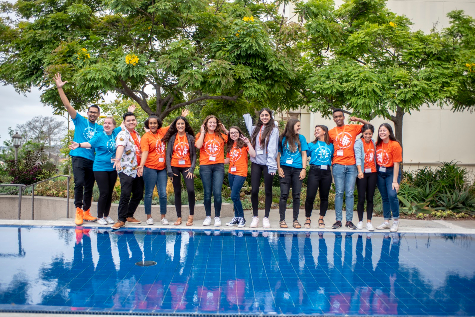 The Social Fabric Initiative (SFI), a program at the Kroc Institute for Peace and Justice (Kroc IPJ), builds more connected communities by mobilizing youth to engineer creative solutions to real-world issues. SFI takes a multi-dimensional approach to peacebuilding and changemaking in San Diego and Tijuana through the creation of Threads: small and diverse teams of local high school students (Youth Peace Leaders), a university Intern, and a field-based Mentor who utilize the summer to design, monitor, and implement a community change project in the San Diego region. All the Threads meet back together to exhibit their projects, discuss successes and challenges, celebrate accomplishments, and network with community members and family.
The Summit event which took place on August 21 is a part exhibition — where event attendees are able to walk around and engage with Youth Peace Leaders to learn about their projects — and part formal program, where program participants and Kroc IPJ staff share the highlights from the season through discussions, performances, and speeches.
Donor support of the Social Fabric Initiative helps strengthen diverse teams of youth as they work collaboratively to design and implement small scale community change projects. We believe that if youth are given the opportunity to work collaboratively in diverse teams, and to make positive contributions to their community, then they will gain the skills and relationships necessary for success. Read the most recent Kroc Insight, What It Means to Put Youth in the Driver Seat, to learn more about how we build strong youth peace leaders. With your support, the Kroc Institute for Peace and Justice will work tirelessly to meet this goal by providing opportunities to build and apply skills, to make connections and develop strong networks across the county, and to commission youth as agents for change.
"Having volunteered at the Kroc IPJ for twenty years, I especially liked the youth forum previously held each January. The fairly recent transition to the Social Fabric Initiative went well and provided a more progressive approach to student learning and community engagement. My wife, Lee Ann, and I favor youth education programs that involve a hands-on approach. We support the Social Fabric Initiative program through our annual donation. Keep up the good work."
— Wayne Cusick, long-time supporter of the Kroc IPJ and SFI
Providing progressive, hands-on learning experiences for San Diego youth through SFI is only possible through the generous donations of its donors and their commitment to youth in peacebuilding.
"There are many reasons why donors decide to support SFI. Whether it is because they would like to see our programming accessible to youth in Tijuana, because they recognize how important transportation is to a young person's ability to access the program, or because they want to see young people develop skills critical for success in the 21st century. Donor support allows us to find creative and innovative ways to support local youth in discovering their abilities to make an impact, as well as the communities' ability to carry on the movements and legacies initiated by our SFI program participants."
— Tina Medina, Program Officer Social Fabric Initiative
Be like our SFI Youth Peace Leaders and get in the driver's seat — take action to make an impact! Join donors, like Wayne and Lee Ann Cusick, and make a gift today that elevates more youth into peace leadership. Best of all, it's easy to do by making your gift with a credit card. Not only is your gift is 100 percent tax-deductible, but you are empowering youth all over San Diego and Tijuana to think critically about the kind of communities they want to be in and how they can be the ones to make it happen.