Create a Legacy With a Named Scholarship at the Kroc School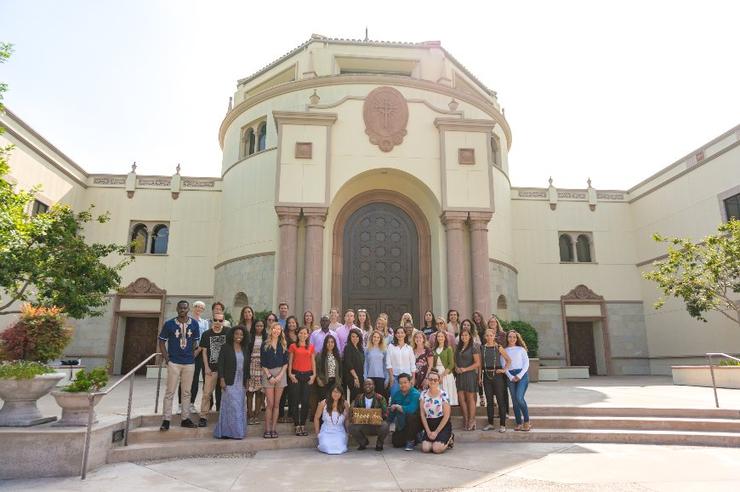 We celebrate and appreciate our generous alumni, parents, donors, and other friends of the Kroc School who have established or support need-based scholarships to the tremendous benefit of our students' aspirations.
From time to time we are asked, "How can I establish a named scholarship at the Kroc School?" Please explore the information below to learn about the enormous impact of scholarships and to see how you can help build peace through scholarship support in your name.
A scholarship may be established at the University of San Diego as either an annual fund or an endowed fund. For both types of scholarships, the qualifications of the student recipient are agreed upon by the University and the donor and may include such requirements as academic merit, financial need, major field of study, geographic restrictions, etc.
An annual scholarship typically receives one or more donations during the course of each year and the money received is awarded during the year to a student recipient. The minimum amount to establish a named annual scholarship is $5,000 per year.
One of our longest standing named scholarships is the William Headley Endowed Scholarship, which was established in honor of the Kroc School's founding dean Father William Headley, CSSp, PhD. Todd Johnson, former Kroc School advisory board member and long-time supporter of the school, helped spearhead the creation of this named scholarship. "Our wish is that the scholarship will help the school to attract and retain talented young people to the cause of peace and justice in the world, and their legacy would honor Bill Headley now and in the future."
An endowed fund is established with a minimum gift of $50,000 to the university. Each year a portion of the earned interest is awarded as a scholarship to a student or students. The remainder of the earned interest is credited to the fund so that it can grow annually, at least as much as the rate of inflation, to provide a constant value over an extended period of time. Additional gifts may be made any time to the fund in the future and the amount awarded will increase proportionately.
Scholarships help lighten a student's financial load and can alleviate some of the stress of financing a Master's program (on top of looming undergraduate loans). At the Kroc School, we are working to bring in scholarship funds to offset our students' financial concerns. We want our students to be able to focus on their studies and graduate prepared to shape a better world.
In this season of hope and celebration, help us develop more leaders who will make a difference in communities experiencing conflict, inequity, oppression and injustice.
Please contact Laura Stein at (619) 260-4146 or lbstein@sandiego.edu if you have questions about creating or supporting a named scholarship.