It was a joyous morning on Saturday, May 28, 2022 in Torero Stadium at the graduate commencement ceremony for the University of San Diego Class of 2022. Families and friends filled the stadium and gave rousing applause as the graduates had their graduate degrees conferred. The celebration marks a momentous achievement for these graduates after countless hours of reading, studying, writing and practice, all while navigating the stressors and uncertainties of a global pandemic.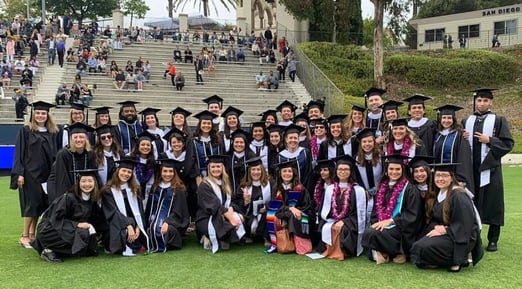 The Kroc School graduating class of 2022
Patricia Márquez, Dean of the Kroc School, conferred the master's degrees upon the Kroc School graduates. "It was a joy and an honor. I have tremendous confidence that this group of changemakers will go on to create important transformations in society. Changing the world is hard work—to say the least, yet, I am inspired by the energy, courage and passion these graduates have for tackling complicated social and environmental issues, locally and globally. I congratulate them wholeheartedly on this significant achievement, and I look forward to seeing what they accomplish next," said Márquez.
The Kroc School welcomed 43 new alumni to our growing network of conflict managers, peacebuilders and social innovators.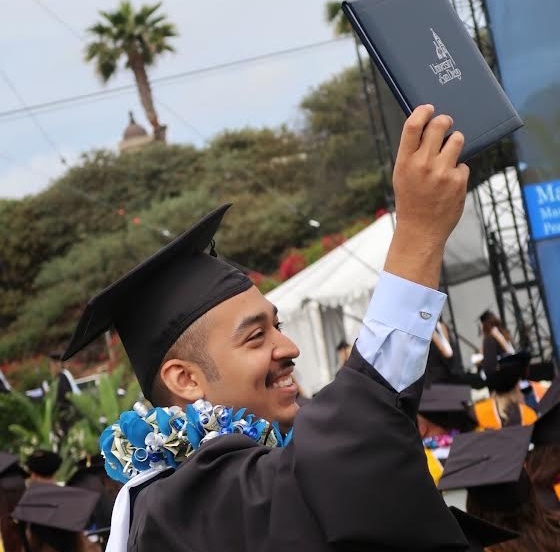 Alejandro Marquez, MA in Peace and Justice '22 graduate
Of the 43 Kroc School's graduates, 19 graduated with a MA in Peace and Justice, 20 with an MA in Social Innovation, 3 from our MS in Conflict Management & Resolution program, and 1 JD/MA In Law & Peace & Justice Dual Degree, the Kroc School's collaboration with USD School of Law. In addition to the Kroc School graduates, the ceremony included graduates of College of Arts and Sciences, Hahn School of Nursing and Health Science, Knauss School of Business, and Shiley-Marcos School of Engineering.
Enjoy the ceremony in its entirety here:
Frances Laviscount, Assistant Dean of Academic Affairs, said of the 2022 graduating class, "This class of graduates will make considerable contributions to their fields of study, and I couldn't be more proud of each and every one of them. We look forward to continuing to work with them as Kroc School alumni in our pursuit of creating more peaceful, sustainable and equitable societies and organizations for all."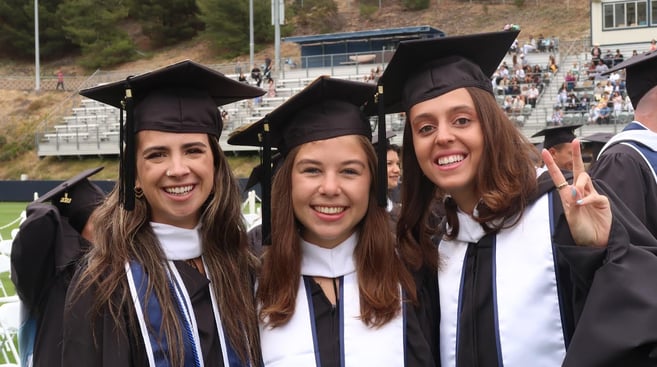 Zoe Luiz, Alicia Schwarz and Brittany Mazal, MA in Social Innovation '22 graduates