Combining a JD and MA in Peace and Justice Opened the Door to "the Most Rewarding Work of My Career"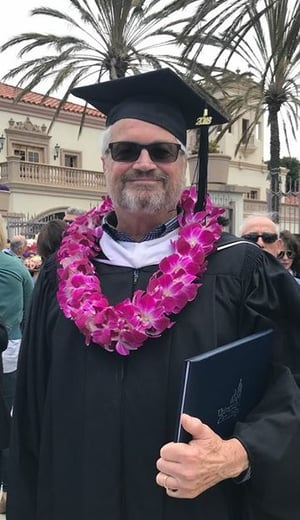 The following post was written by Kroc School alumnus Blake Harper, JD, '18 (MA).

In 2016, I began my studies as an M.A. candidate at the Joan B. Kroc School of Peace Studies (Kroc School) at the University of San Diego, as I retired from practicing law for 35 years. I had secretly wanted to do this since 2004, when I heard a Distinguished Lecture at the school by General Anthony Zinni. I thought to myself, this is really how to make a difference. But alas, I had two sons and two step-sons to support, and had just lost a daughter to a pulmonary infection.
I nevertheless kept in touch with the Kroc School, and in 2009, my lawyer spouse Janice Deaton, decided to take some time off from a grueling federal criminal defense practice to enroll. I became an unofficial member of her Kroc School cohort, which included students from Nepal, Bangladesh, Indonesia, Kenya and Cote D'Ivoire. She used her M.A. in Peace and Justice, her fluency in Spanish, and her legal skills to begin teaching oral trial and mediation skills to judges, law professors and lawyers in Mexico, while continuing her criminal defense practice. She now works with OASIS at USD's Justice in Mexico Project, teaching at Mexican national universities for a State Department grant now in its sixth year. She loves that work, traveling to various parts of Mexico several times a year with lawyers from all over Mexico and South America, in support of Mexico's judicial reform, which is converting from a Napoleonic system to an adversarial trial system for criminal matters.

Kroc School alumna Janice Deaton '10 (MA), Blake Harper's spouse.
Since Mexico has had no history with conducting trials in this manner, similar to the adversarial system used in the United States, Janice's expertise as a criminal defense expert, her training from the Kroc School in Human Rights and Rule of Law, and electives such as U.S.-Latin American Relations from the International Relations Department, gave her the perfect resume for this vital training work. She has also participated in symposia in Mexico City and spoken at conferences in Panama City, Guadalajara and most recently at NYU Law School on rule of law in Mexico and Latin America.
In 2016, with our kids all through college, it was my turn to enroll. I retired from my 35-year legal career specializing in securities and antitrust class action litigation, and took Kroc School courses in conflict analysis, human rights, transitional justice, and U.S.-Latin American Relations. I also took field courses in Rwanda, Mexico and Colombia, and interned in San Salvador for Interpeace, an NGO based in Geneva. My cohort included students from Bolivia, Argentina, Kenya, Thailand and Lithuania, as well as fellow lawyers from Serbia, Ethiopia and Mexico. It was the best experience of my life. We were so close, studying and socializing together, learning from each other and sharing cultural differences.
Since graduating in 2018, I have worked with migrants and deported veterans at the border, as well as trained myself in asylum law and represented pro bono asylum seekers from Mexico, Honduras, the Congo, and El Salvador. Since I had taken a field course in Rwanda, I understood perfectly the history and conflict between the Congolese and the Hutus and Tutsis, and was able to lay out the historical case for my Congolese Tutsi client's persecution claim, which resulted in a grant of asylum. Similarly, since I had experienced firsthand the violence and poverty in San Salvador, I was able to communicate to the court the physical and economic trauma inflicted on my Salvadoran clients by MS-13.

The hand-crafted heart given to Blake Harper by his Mexican client.
This has been the most rewarding work of my career. These people literally have nothing but the clothes on their backs and their identification papers. Their stories are sometimes gruesome. They are fleeing death and torture, only to arrive in the United States and be cast into prison. If they have a lawyer, their chance of obtaining refuge is dramatically increased. My Mexican client (who also won asylum) crafted for me a heart he somehow assembled from a silver packaging lining from the detention center kitchen he worked in. A Honduran client (released from custody, case still pending in another state) wrote me a heartfelt thank-you letter. I love these people. They make life so worthwhile, especially in these times, when asylum seekers are so castigated.
This is the best reason why one becomes a lawyer — to serve others. But alongside legal training, the Kroc School can offer you experience to put you on a less traditional but personally rewarding professional track.
Is it for everyone? No. If you want to go work drafting real estate documents and securities prospectuses for 60 hours a week for the rest of your life, you will be well compensated, but a Kroc School degree may not be helpful to your career. Neither will you choke up when your client who has nothing gives you the only present he can make with what is available to him; nor will you travel the world helping to bring about structural change to a country's rule of law, like Janice does. Neither will you have the unique profile for a job with, say, an embassy, the State Department, or a UN agency such as the Office for the High Commissioner for Human Rights, or for Refugees. My lawyer classmate from Ethiopia is a human rights officer for the United Nations in South Sudan, for example. Other Kroc School graduates similarly work as program officers for such agencies.
If these types of service interest you, explore combining your law degree with a Kroc School master's degree in Peace and Justice. This is a path less trodden, and likely less financially rewarding, but a law degree and a Kroc School degree can create very different opportunities, and make a lot of future dreams a reality.
At the Kroc School, we are educating for peace and social innovation. Ready to join us? Learn more about the Kroc School and its graduate programs.