Center for Peace and Commerce Receives Support from Advisory Board Ahead of Global Social Innovation Challenge 2019
Friday, March 1, 2019TOPICS: ChangemakerFaculty and StaffGlobal ImpactSocial Innovation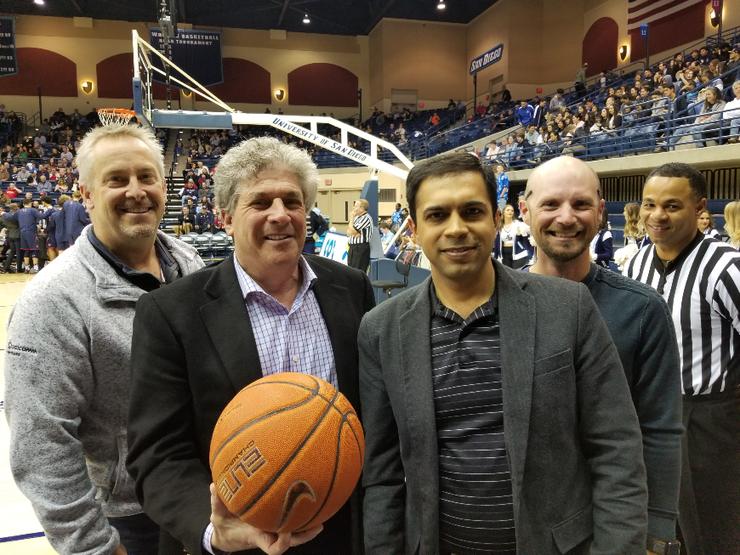 This month we celebrate and appreciate the incredible advisory board members for the Center for Peace and Commerce (CPC) who have supported CPC by offering time, guidance, connections and financial contributions to advance its mission and programming efforts.
The CPC is a partnership between the School of Business and the Joan B. Kroc School of Peace Studies (Kroc School) and home to the Global Social Innovation Challenge (GSIC). The CPC encourages students to develop and exercise innovative approaches for making a positive impact on the 5 Ps — people, planet, prosperity, peace, and partnership. The CPC contributes to a new paradigm for business and peacebuilding through teaching, mentoring and social enterprise development.
As we gear up for the GSIC 2019, CPC Director, Amitkumar Kakkad, Ph.D., was able to spend some time with some board members at a USD basketball game versus St. Mary's on Feb. 23.
When asked why advisory board members are so important to the CPC's initiatives, Amitkumar Kakkad, responded, "Our advisory board members are our most dedicated collaborators, advisors, supporters, and advocates! They truly believe in our mission to help students at USD and beyond combine personal success with positive social impact, and are always there for us in their professional and personal capacities."
We posed the following questions to three advisory board members about their experiences with CPC:
Why did you decide to join the CPC advisory board?
Keith Muhart: The CPC advisory board attracts an amazing number of highly talented and accomplished professionals that are committed to helping students become changemakers, solving pressing global problems using the power of social innovation. I was honored to be invited to join this distinguished group of advisory board members and extremely proud to see the impact the CPC is having on communities around the world.
Liz Nutting: A deep commitment to social justice work. The CPC helps to bridge my current work in business with my previous life working toward social justice through teaching and studying.
Mark Lefkowitz: To help make a difference in any way that I could. Sometimes donations are much deeper than just monetary. I could easily share my time with students and develop ways to collaborate. This was very exciting and would have a compounding effect.
What is your favorite thing about the Global Social Innovation Challenge (GSIC)?
Keith Muhart: Coming from the Venture Capital world where success is fairly straightforward and always tied to a financial ROI, it is remarkably refreshing to attend the GSIC and see how students use social innovation with unbridled passion and ingenuity to solve some very complex problems. My favorite thing about the GSIC is hearing the student teams pitch solutions to some very fundamental problems.
Liz Nutting: Attending the finals and seeing amazing, inspiring ideas being developed by the students. I always come away with a sense of hope and awe at their ideas and their commitments.
Mark Lefkowitz: The best way to create peace and commerce is for all of us to join forces. Sharing is having more and building team magnifies our objective.
The Global Social Innovation Challenge is open to all USD undergraduate and graduate students who have an idea for how to improve the world. If you are interested in learning more, please visit us online or in person at KIPJ 121.