Announcing This Year's 2018/2019 Women PeaceMakers: Role of Women in Local and Global Peace Negotiations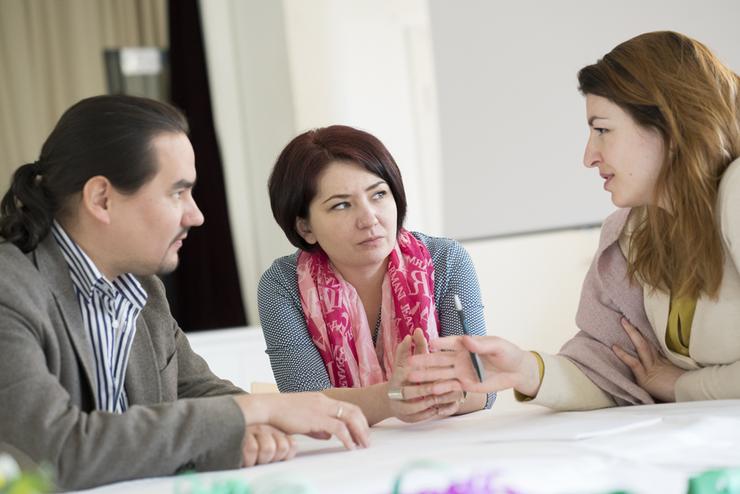 We are honored to be announcing this year's cohort of the four Women PeaceMakers (WPMs), who will be at the University of San Diego's Kroc Institute for Peace and Justice from September 29 to November 17, 2018.
As part of our reimagined WPMs program, each year we have a thematic focus. This year we asked our WPMs alumni (over 60 women in 35 different countries) to select the most pressing issue for this year's WPM program to focus on. The WPMs highlighted the top need for understanding: how WPMs and international partners can build more effective local/global collaborations to support women's meaningful participation in peace negotiations.
Therefore, this year the WPMs in partnership with Peace Researchers will be developing case studies that will capture key insights around this focus. These case studies will then be used by policy makers, practitioners and researchers to develop more gender-sensitive and effective peacebuilding programs.
Here are the four remarkable WPMs who will be driving forward this vital work:
Rosa Emilia Salamanca (Colombia) is the Executive Director of Corporación de Investigación y Acción Social y Económica (CIASE) in Colombia, a member of the Women, Peace and Security Collective for Reflection and Action, which ensures women are part of building a more peaceful Colombia. Salamanca also participates in Coalicion 1325, which advocates for a Colombian National Action Plan on Women, Peace and Security. Salamanca was one of the key women who played a part in the Colombian peace process and the final negotiations in Havana, which resulted in the signing of what has been called one of the most gender-inclusive peace agreements in history.


Roxana Cristescu (Eurasia) has spent many years facilitating high-level peace negotiations. As the Head of Crisis Management Initiative's (CMI) Programme in Eurasia, Cristescu leads CMI's program activities in the region, which focus on mediation at the state and sub-national level. A native of Romania, Cristescu worked in various conflict affected areas including Ethiopia, Sudan, Kosovo (Mitrovica Region), Moldova/Transdniestria, Ukraine and Lebanon before joining CMI. Cristescu is a member of the United Nations Mediation Roster and a member of the UN Women, Central and Southeastern Europe Sub-regional Roster of Experts.


Amira Abdulrahman Hussein Timan (Sudan) is currently the Humanitarian Affairs officer with UN /AU peace keeping mission in Darfur (UNAMID). During her work in Sudan, she was the Focal Point for civil society and community-based organizations, and helped to mobilize these groups to participate in the Doha peace negotiations between the Government of Sudan and the Darfur Armed Groups. Amira was able to play this vital role in this peace process given her years of work in humanitarian affairs, peace and security issues within internally displaced persons (IDPs) camps and civil society in Sudan. During this work she served as a lead on women issues in UNAMID's Humanitarian Liaison Section and was responsible for engaging women IDPs to participate in camp peace and security committees.


Mariam Yazdani (Pakistan)

is Senior Advisor for Programs and Partnerships at Viva Rio, a Brazilian NGO working in and with impoverished communities in countries experiencing violence. including Haiti and Brazil. Mariam has developed numerous programs related to peace-building and community policing. She collaborates closely with community based organisations, international organisations, and local government representatives in order to implement violence reduction strategies and foster improved coordination between community members and state agents to promote long-term sustainable peace. Mariam's career spans over the course of the past 15 years, including 10 years working on post-conflict approaches and violence reduction policies, with a focus on conflict mediation and peacebuilding projects in her home country of Pakistan as well as abroad. In all these efforts she strives to be a bridge between diverse groups and to identify the varied perspectives and needs of stakeholders, incorporating and magnifying the voices of those who are most often marginalised.
We look forward to ensuring you and these WPMs are able to learn from and with each other, while they are in San Diego. Download the flyer, and join us for three events featuring the Women PeaceMakers: