An Update From the Women PeaceMakers Program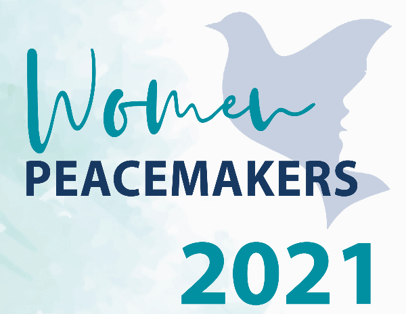 We hope this update from the Kroc IPJ: Women PeaceMaker team finds you well and healthy.
With the pandemic still upon us, the Women Peacemaker program has made vital virtual pivots to adapt to this new reality.
We have to say: Women PeaceMakers are made for such moments.
This year's cohort has spent decades responding and adapting to the most challenging, violent, and unpredictable environments. These women are resilient and their critical peacebuilding work continues. Therefore, the Women PeaceMakers program has successfully shifted to a fully remote Fellowship, and we are already three months into this year's 12-month journey.
We wanted to share how the Women PeaceMakers are learning from and with one another, identifying challenges they face, and co-developing evidence-based solutions to these challenges.
Also, our 2020-21 Women PeaceMakers wanted to say hello to you all. From Syria, Tanzania, Iraq, and Yemen - see below to watch videos from this year's Fellows.
Learning From and With One Another
Using a range of virtual tools, the Kroc IPJ has created an environment for the Women PeaceMakers Fellows to learn from and with each other. While we cannot be together on our beautiful University of San Diego campus, since October we have been gathering monthly on Zoom. During these meetings, we hear more about each other's work, background, and strategies for building peace. Finally, these calls hold space for the group to co-develop this year's research. Here is a photo from the monthly Zoom call:

Pictured left to right, top to bottom: Jennifer Bradshaw (Women PeaceMakers Program Officer), Slava Shikh Hasan (Syrian Women PeaceMakers Fellow), Mara Novakovic (Women PeaceMakers Practice Fellow), Amb. Liberata Mulamula (Tanzanian Women PeaceMakers Fellow), Nesreen Barwari (Iraqi/Kurdish Women PeaceMakers Fellow) and Muna Luqman (Yemeni Women PeaceMakers Fellow)
Next, a powerful part of the Kroc School residency has been the ability to share the "in-between" moments. Traditionally these moments occurred over a coffee, in the car to an event, walking to another meeting, or sharing a meal in the Casa de La Paz. To help recreate this space, we formed a WhatsApp messenger group. On this platform, almost daily, we share both personal and professional updates. One way that we have maintained these unique connections is through a Women PeaceMakers Fellow asking the group a question each week. This space has provided us the chance to learn about each other outside of our more formal monthly calls.
For example, here are some answers that our Fellows had from past questions:
"For me, I love green, it's the symbol of where I came from. I grew up in the green land and was raised to appreciate the nature. My city (Afrin) is known for Olive trees and oil and olive stays green all over the year."
-Slava Shikh Hasan (Syria)
"Personally, I love our colourful traditional African fabrics which speak to our heritage - green for vegetation, yellow represents natural resources, white means purity, blue is water - life and red is dignity. My favorite is of course red and blue which nowadays symbolizes peace."
-Amb. Liberata Mulamula (Tanzania)
"When I was growing up as a child in Baghdad, my parents used to take us during summers to our ancestor's village on the border with Turkey far north. Then no immediate road accessibility to my grandparent's village, so my relatives would be waiting for us on the last road points with mules to take us to the mountainous village. I used to ride in front of my mother in one mule…. Ohhhhh ladies, this animal exercise is bringing so many fond memories."
-Nesreen Barwari (Iraq)
"I breed birds, I have many. I love their colors, emotional intelligence, and happy chirping sounds. They have kept me sane through conflict and Covid."
-Muna Luqman (Yemen)
Driving Forward Evidence-Based Solutions and Actionable Research
Another critical aspect of the Fellowship is our research and our process for developing it. To ensure this work aligns with real-time needs and realities of women peacebuilders, we bring together the Fellows and leading international peacebuilding organizations (i.e., USAID and UN Women) to co-develop the research. This process strengthens the partnerships between these two groups and leads to compelling evidence-based solutions that can shift practice and policy.
We are at step one of this research process, and with the Fellows, we are co-developing the first iteration of the research question. This stage ensures the Fellows' feedback creates a research question and set of sub-questions that reflect the realities of women peacebuilders. Collaboratively, we have brought forth parts of the research question that need edits and have brainstormed potential changes. To do this, virtually and inclusively, we have used both Google Docs and our monthly calls.
Here is a sample from our process:
Engaging With Kroc School Students
Exciting news, last week was the start of Dr. Necla Tschirgi's War, Gender & Peacebuilding course, in which the Women Peacemakers will play a crucial part. This course directly ties into the Women PeaceMakers Fellowship as it aims to teach students about the peacebuilding roles that women have in conflict areas. Throughout the semester, students will research the conflict dynamics in one of the four countries/regions our Women PeaceMakers are from and spend time interviewing the Women PeaceMakers Fellow from that area to produce an in-depth case study. At the end of the semester, the students will give an oral presentation of the lived experiences their Women PeaceMakers Fellow has shared with them. Our 2020-2021 Women PeaceMakers have expressed their excitement for this course, and they are looking forward to working with students here at the Kroc School.
Student Event
This year's Kroc IPJ Women, Peace, and Security Practice Fellow, Mara Novakovic, is currently in the process of planning out the student event for this year's Women PeaceMakers Fellowship. Sign up to get updates about this virtual event here.
The Women PeaceMakers Want to Say Hello
Women PeaceMakers Virtual Event
We will have a Women PeaceMakers virtual event in April. The exact dates and times for the event are to be announced. If you would like to receive real-time updates about this opportunity to engage with and learn more from the Women PeaceMakers Fellows, click here
If you have any questions, do not hesitate to reach out to the Women PeaceMakers team:
Jennifer Bradshaw: Women, Peace and Security Program Officer (Jenniferbradshaw@sandiego.edu) and Mara Novakovic: Women, Peace, and Security Kroc Fellow (mnovakovic@sandiego.edu)