An Aspiring Lawyer's Route to Influencing Change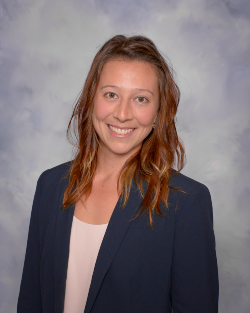 The following post was written by JD/MAPJ Dual Degree in Law and Peace & Justice student Emily Kawahara.
In April of 2007, I traveled to Japan, at the request of my bachan (grandmother). On this trip, the bullet train rides and moments sitting on park benches while cherry blossoms rained down, created a rare and small opening during which my bachan shared small glimpses, like slides in a carousel, into her past: growing up in Hiroshima, returning to the U.S. before World War II, relocating to the Tule Lake Internment Camp. In July of that same year, I joined a youth ambassador program to Europe to promote President Eisenhower's mission of enhancing intercultural understanding. In this one year, I saw the same coin from two sides — witnessing the personal and historical impacts of World War II on my family, contrasting with the forward moving measures taken by my nation — and I wondered what solutions could successfully prevent future conflicts and injustices. Akin to gut feelings, I find the concept of purpose to be similarly enigmatic: constantly developing and powerful when present. The combination of these two experiences ignited my resolve that communication, if used effectively, can educate, empower, and create community. But it is the Kroc School that will help me turn purpose into action.

Emily enjoying a meal with her family in Japan; from left to right, Auntie Grace, Emily, Auntie Linda, and Bachan.
In 2014, shortly after I returned from working in Thailand, I applied to several east coast graduate programs, hoping to build on my experiences in the Fulbright Program and to cultivate this developing purpose. When the time came to commit, I couldn't. Something told me is wasn't the right time or place. Instead of immediately pursuing a higher degree, I worked at UC Davis and UC San Diego, advising international students on visa regulations. I toggled between loving the complexities of the immigration regulations and loathing the interpretation inconsistencies. On one hand, I saw advising as a type of choose-your-own-adventure. I was a guide, leading students through the halls of legal jargon and complicated deadlines, and when we arrived at the three possible doors, the student knew which one to confidently walk through. On the other hand, when new guidance trickled down from federal departments, causing a flurry of reassessment for how to interpret and enforce regulations, we would arrive at the doors, but one would be missing.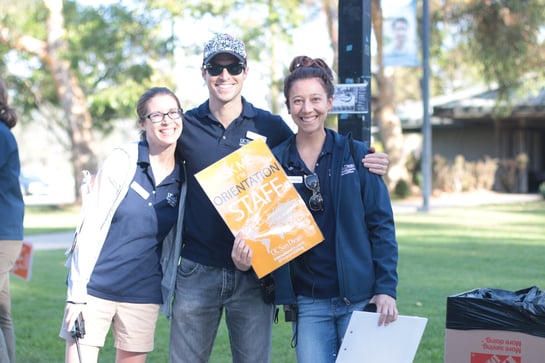 Emily and her colleagues while working at UC San Diego; International Student Orientation, 2017.
In my eyes, advising felt like guiding. In reality, it was enforcement and compliance. But in restructuring the act from enforcing to communicating in order to educate, my goal was to take something intimidating and turn it into something manageable for students. Although regulations created boundaries, I wanted students to understand the regulations so thoroughly that they could use their understanding as a foundation for making well-informed decisions within the regulations' parameters. When President Trump signed Executive Order 13767 (the first iteration of the travel ban) in 2017, I did not feel like a guide and the guise of adventure was gone. I felt, like many did, that history was repeating itself. And I found that my understanding of the rules and regulations controlling the U.S. was incomplete. I knew it was time to return to school.
This fall, I will begin my second year of the JD/MAPJ Dual Degree Program. The dual degree spans four years, with the first at the USD School of Law, the second at the Kroc School of Peace Studies, and the final two concurrently. I had never imagined combining these two disciplines, despite how clearly linked they are. From the School of Law, I am developing my foundational knowledge of the legal system and, in a way, learning the origin story of our country in a new light. From the Kroc School and the MA in Peace and Justice, I am excited to approach conflict and change from a peacebuilding lens. When seeking a graduate degree program, my priority was finding a space to listen, to learn, and to act. After shadowing Professor Michael Fryer's "Mediation and Communication" course and speaking to many current and previous MA in Peace and Justice (MAPJ) students, it was clear that the Kroc School encapsulates each of these necessities: a program that is inclusive of voices from local and global peace leaders and mediators of conflict; a program that digs deep into the national and global communities' history for how we, as global citizens, have succeeded and failed, and innovates far into the future for solutions; a program that requires application in practice and provides the tools necessary to effectively and compassionately incite development, improvement, and change.
My initial interest in how to prevent future conflicts and injustices has grown, developed, and turned into a clearer purpose to create opportunities for cross-cultural and intercultural communication in areas of conflict. While I anxiously await the start of my MAPJ classes in September, my gut feeling is present and powerful: The Kroc School is the place and the time is now.
Interested in learning more about the Kroc School and USD School of Law's JD/MAPJ Dual Degree program? Learn more here.